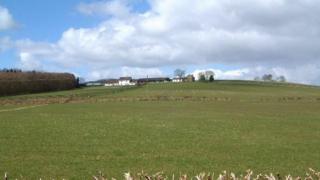 A 22-year-old woman has died after falling from a horse at a racing stables near Dumfries.
Iain Jardine Racing confirmed in a statement that team member Natasha Galpin, 22, had died after the "tragic accident" on Tuesday morning.
It said the "unavoidable and unpredictable accident" had been caused by a horse rupturing an artery.
Police are investigating the circumstances of the incident at the Hetland Hill yard in Carrutherstown.
The statement, issued via the National Trainers Federation, said staff at the yard were "distraught at the loss of a colleague and friend" but had been "extremely supportive of each other".
'Devastating situation'
"As a team here, we are doing our best to get through and cope with this devastating situation," it said.
"Natasha was an experienced and valued, full-time member of Team IJR.
"She was an accomplished event rider and ran her own livery yard. She worked alongside her boyfriend Olyn.
"Our thoughts and prayers are with Natasha's parents and sisters at this very sad time and we hope you will join us in respecting their privacy."
The Health and Safety Executive said it was aware of the incident and was "making initial inquiries".
The horse also died in the accident.