*:not([hidden]):not(style) ~ *:not([hidden]):not(style){margin-top:1rem;}]]>
*:not([hidden]):not(style) ~ *:not([hidden]):not(style){margin-top:1rem;}]]>
It's been four years since Donald Trump made a string of promises during his long 2016 campaign to be the 45th president of the United States. Four years later, his supporters often cite "promises made, promises kept" as a reason why they're backing him again.
Many of them made headlines – from banning all Muslims entering the US, to building a border wall paid for by Mexico.
But others went a little under the radar, like his pledge to eliminate the national debt.
So how has he done in keeping his promises?

Tax cuts

Before election: Trump promised to lower the corporate tax rate and bring in huge tax cuts for working Americans.
After: The Republican tax plan passed in December 2017, and it largely ticks the box for the president although its merits are hotly disputed. He has had to compromise on his pledge to bring corporation tax down from 35% to 15% (it will be 21% instead).
And the tax cuts for individuals will expire, although Republicans say future governments will simply renew them. But wealthy Americans are expected to benefit more than poorer ones.
Not everyone saw their taxes lowered. For some higher earners in urbanised, mostly Democratic states, taxes went up due to a cap on state and local property and income tax deductions.

Paris climate deal

Before: As a candidate, Mr Trump derided climate change as a hoax concocted by China, and the regulations of Paris as stifling to American growth.
After: After three months of hemming and hawing behind the closed doors of 1600 Pennsylvania Avenue, the president came down decisively on the side near the exits. Quitting the Paris deal, signed by nearly 200 countries, is unequivocally a promise kept. The exit officially takes effect 4 November, the day after the US election.

Reshaping the judiciary

Before: "I am looking for judges and have actually picked 20 of them. They'll respect the Second Amendment and what it stands for and what it represents."
After: He vowed to appoint a conservative justice and he has appointed two – Neil Gorsuch and Brett Kavanaugh.
Mr Gorsuch's appointment required a procedural change to Senate rules, but it was Mr Kavanaugh's appointment that was particularly controversial.
Mr Kavanaugh faced sexual assault allegations – which he denied – and was eventually voted through by 50-48 – the tightest nomination vote since 1881.
What's more, his third nominee, Amy Coney Barrett, is on course to be confirmed. If approved by the Republican-controlled Senate, she could ensure a conservative majority on the Supreme Court for decades to come.
In addition to making his mark on the top court, Mr Trump has appointed nearly 200 conservative judges to lower federal courts.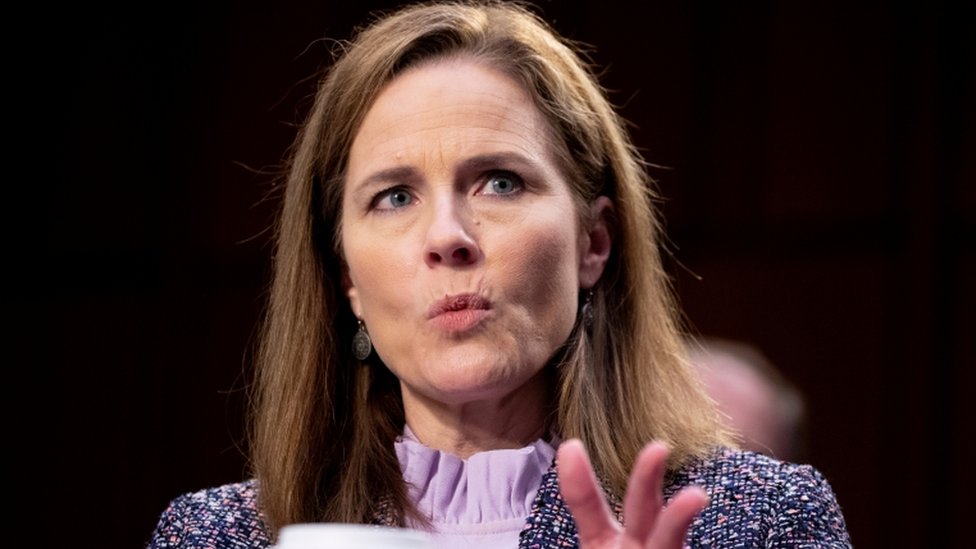 Repeal and replace Obamacare

Before: One of Mr Trump's trademark rally pledges was to repeal and replace Obamacare – his predecessor's attempt to extend healthcare to the estimated 15% of the country who are not covered.
It is widely hated by Republicans, who say the law imposes too many costs on business, with many describing it as a "job killer" and decrying the reforms – officially the Affordable Care Act – as an unwarranted intrusion into the affairs of private businesses and individuals.
After: Republicans have been unable to pass a repeal or reform bill.
That said, the Trump administration has managed to dismantle parts of the law – enrolment periods have been shortened, some subsidies have been axed, and the fine for people who did not purchase health insurance has been eliminated as part of the 2017 tax plan.
And in December 2018, a federal judge in Texas ruled that repealing this penalty, an "essential" part of the law, meant the entirety of Obamacare is therefore unconstitutional.
The law, however, remains in place as an appeal heads to the US Supreme Court, with a ruling expected sometime in 2021.

A border wall paid for by Mexico

Before: His vow to build a wall along the US-Mexican border was one of the most controversial of Mr Trump's campaign promises. Mr Trump also insisted that Mexico would pay for it.
After: Mexico poured scorn on the claim that it would pay for such a barrier, and even Mr Trump appears to have dropped that idea.
Democrats are vociferously opposed to a wall, whereas some Republicans have baulked at a bill that could reach $21.5bn (£17bn), according to a Department of Homeland Security internal report.
In December 2018 the US government went into shutdown after Democrats resisted Mr Trump's demands for $5bn to fund the wall. He has since redirected defence and some other funds to build or replace sections of the wall, a decision that has faced legal challenges.
As of late May, 194 miles of wall system had been built, mostly to shore up dilapidated or outdated designs of the barrier already in place – just three miles construction was part of an entirely new system.
Bombing IS

Before: During a speech in Iowa in November 2015, Mr Trump warned that he would, using an expletive, bomb the so-called Islamic State group into obliteration.
After: The president dropped the biggest non-nuclear bomb in the US arsenal on an IS-stronghold in Afghanistan. He also takes credit for driving IS out of parts of Iraq and Syria, saying the group has been "largely defeated", although that process was under way under Obama. Last year, IS leader Abu Bakr al-Baghdadi killed himself during a raid by US commandos.

Moving Israel embassy

Before: Mr Trump pledged during his campaign to move the embassy from Tel Aviv to Jerusalem, a divided city which both Israelis and Palestinians claim.
After: In 2017, he said he formally recognised Jerusalem as Israel's capital, and approved moving the US embassy. It opened in May 2018 to coincide with Israel's 70th anniversary. The construction of a permanent US embassy building in Jerusalem was approved in 2019.

Military spending

Before: "I'm going to build a military that's going to be much stronger than it is right now. It's going to be so strong, nobody's going to mess with us," Donald Trump said on the campaign trail in October 2015.
He promised to reverse defence cuts brought in by President Barack Obama in 2013. "We want to deter, avoid and prevent conflict through our unquestioned military dominance," he said.
After: Defence spending has indeed risen steadily throughout the Trump presidency – although overall levels remain below the first years of the Obama administration.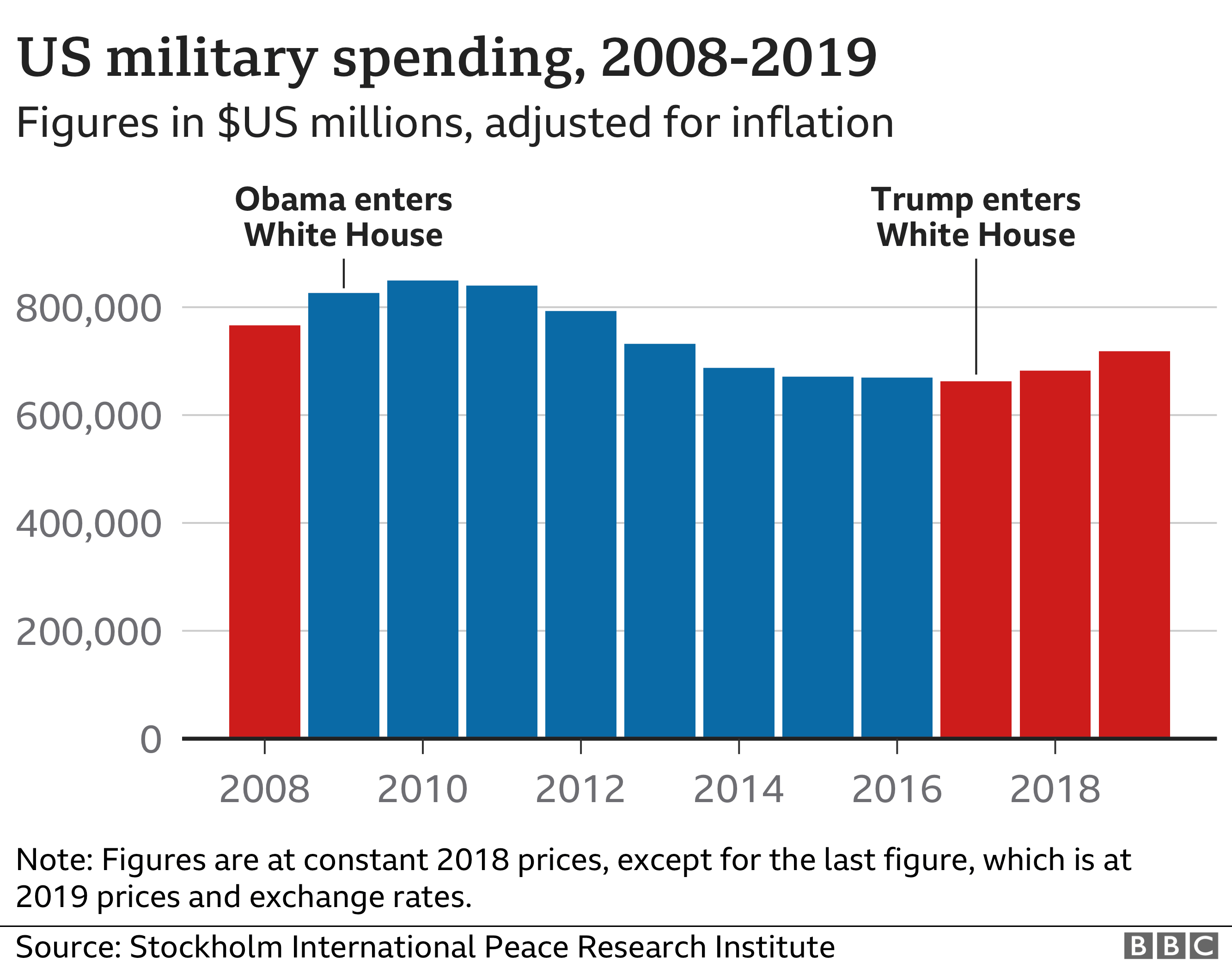 Military spending increased dramatically from 2002 as the US entered protracted wars in Iraq and Afghanistan. It peaked in 2010 as a percentage of GDP – the value of all goods and services – after which the US began stepping back from its engagement in the Middle East and Central Asia.

Cutting regulations

Before: Just a month before his election win in November 2016, Mr Trump said he could cut as many as 70% of US federal regulations if elected.
The promise drew him support from large and small businesses, who helped him to victory that year.
After: The president has slashed through regulations on everything from labour to the environment.
Just days after taking office he signed the Presidential Executive Order on Reducing Regulation and Controlling Regulatory Costs, which mandated that when government departments asked for a federal regulation, they had to specify two others they would drop.
Throughout his term he has continued to slash back red tape. In January 2020 he scrapped protections for US wetlands and streams, and in July he announced changes to the National Environmental Protection Act in a bid to speed up infrastructure projects.
"We are reclaiming America's proud heritage as a nation that gets things done," he said.
Bringing troops home

Before: Mr Trump has long called for the US to leave the Middle East. On the 2016 campaign trail, he said the region was a "total and complete mess" and wished the government had spent the trillions of dollars in the US instead.
His talk of an end to US military deployments overseas predates his presidential run. In 2013, he tweeted: "Our troops are being killed by the Afghanis we train and we waste billions there. Nonsense! Rebuild the USA." That same year, he said the US should "stay the hell out" of the Syrian war.
After: In September 2017, the Trump administration announced the deployment of 3,000 additional troops to Afghanistan. Mr Trump said his approach would be based on conditions on the ground. In Syria, the US had led a coalition against IS along with Syrian Kurdish and Arab fighters, with around 2,000 troops on the ground.
By December 2018, Mr Trump ordered the withdrawal of all US troops from Syria, though about half the troops, approximately 500, still remain.
Mr Trump recently said he has plans to further cut troops in Afghanistan – after reducing them to 8,600 from 13,000 over the spring and summer – before the 3 November election. In February, US and Nato allies agreed to withdraw all troops from the country within 14 months if Taliban militants uphold a new peace agreement.

Trade deals

Before: Mr Trump called Nafta "a disaster" and warned that the TPP "is going to be worse, so we will stop it". He also pledged to correct the trade deficit with China.
After: Mr Trump followed through in his first few days on his pledge to withdraw from the Trans Pacific Partnership (TPP). He later said he would consider re-joining the TPP if he got a better deal.
On 30 November, after protracted negotiations, the US, Canada and Mexico signed the US-Mexico-Canada Agreement, which was designed to replace Nafta and recently came into force. However, the US has reimposed aluminium tariffs on Canada, and Ottawa reciprocated with retaliatory tariffs.
The US and South Korea also signed a revised trade pact in September 2018.
The US and China, meanwhile, became embroiled in an escalating trade battle – with both sides imposing tariffs on billions of dollars' worth of goods.

Ban on Muslims

Before: Mr Trump initially promised to ban all Muslims entering the US – a "total and complete" shutdown should remain until the US authorities "can figure out what's going on".
But he switched to "extreme vetting" after he became the party's presidential candidate.
After: As president, he introduced two travel bans which became ensnarled in the courts – but the third had more luck. The US Supreme Court ruled President Trump's ban on six mainly Muslim countries can go into full effect, pending legal challenges.
The current ban restricts travellers from Iran, Libya, Somalia, Syria, Yemen, Venezuela and North Korea.
And in January, the US has announced it was expanding its curbs on immigration to include six more countries. Citizens from Nigeria, Eritrea, Sudan, Tanzania, Kyrgyzstan and Myanmar will now be blocked from obtaining certain types of visas.

Cuba thaw no more

Before: Mr Trump said in September 2016 that he would reverse the deal President Barack Obama had struck to reopen diplomatic relations and improve trade.
After: As president, he told an audience in Miami that he was "cancelling the Obama administration's one-sided deal."
In 2017, Mr Trump reimposed some trade and travel restrictions lifted by his predecessor. He kept the embassy open in Havana, although without naming an ambassador to the country.
Last year, the administration announced a ban on travel to Cuba for American group tours as well as cruise ships journeying to the island
Until then, US tourism to Cuba was not permitted, but certain forms of organised group travel, known as "people-to-people" travel, had been allowed.
This month the US administration announced further restrictions, saying it would suspend all private charter flights between the United States and Cuba, to increase economic pressure on Havana. The suspension comes into force on 13 October.

China as currency manipulator

Before: Mr Trump repeatedly pledged to label Beijing a "currency manipulator" on his first day in office, during an election campaign when he also accused the Asian powerhouse of "raping" the US. China has been accused of suppressing the yuan to make its exports more competitive with US goods.
After: In August 2019, the administration officially named China as a "currency manipulator". The US Treasury department defines currency manipulation as when countries deliberately influence the exchange rate between their currency and the US dollar to gain "unfair competitive advantage in international trade".
But in January, the US reversed its decision when China had agreed to refrain from devaluing its currency to make its own goods cheaper for foreign buyers.



National debt

Before: "I know the Wall Street people probably better than anybody knows them," Donald Trump told the Washington Post in 2016, and promised to clear the country's then-$19tn national debt "over a period of eight years".
After: Halfway through that eight-year promise, the US national debt has ballooned by more than a third, hitting $27tn in October 2020. Mr Trump increased the national debt ceiling in 2017, before suspending it until after the 2020 election in July 2019.
It is predicted the debt will rise even further once the full economic impact of the coronavirus pandemic becomes apparent.

Deporting all illegal immigrants

Before: Mr Trump repeatedly told his supporters that every single undocumented immigrant – of which there are estimated to be more than 11.3 million – "have to go".
After: As polling day approached, his stance began to soften slightly, then after the election he scaled it back to some two to three million deportations of people who "are criminal and have criminal records, gang members, drug dealers".
In fiscal year 2019 deportations were at 267,000, a slight rise on the year before, though not as high as the 2012 peak of 410,000 under the Obama administration.
Mr Trump's plans for immigration reform faced defeat this summer when the Supreme Court ruled against his administration's bid to rescind Deferred Action for Childhood Arrivals (Daca), which protects about 650,000 young people who entered the US without documents as children.

Rebuilding infrastructure

Before: The country's infrastructure "will become, by the way, second to none, and we will put millions of our people back to work as we rebuild it", he said in his victory speech in November.
After: Has repeated his vow to spend big on the country's roads, rail and airports, but as yet, there is little sign of action. By March 2018 Congress had allocated $21bn for infrastructure spending – far short of the $1.5tn Mr Trump has called for. The money will be spent on a wide range of upgrades and investments, according to a congressional graphic.
In April 2019, Mr Trump and Democratic leaders agreed to spend $2tn on infrastructure, an agreement that later fell apart. This June there were reports the Trump administration had a $1tn plan in the works, but no announcement has been made.

Ditching Nato

Before: Mr Trump repeatedly questioned the military alliance's purpose, calling it "obsolete". One issue that irked him was whether members were pulling their weight and "paying their bills". In one New York Times interview in July 2016, he even hinted that the US would not come to the aid of a member invaded by Russia.
After: But as he hosted Nato's secretary general at the White House in April 2018, the US president said the threat of terrorism had underlined the alliance's importance. "I said it [Nato] was obsolete," Mr Trump said. "It's no longer obsolete."
In July 2018, Mr Trump reiterated his support at the Nato summit, but suggested the US might still leave if allies did not acquiesce to his budget demands.
Mr Trump has continued to argue that Canada and European members of Nato are not spending enough to support the alliance, and recently said the US will move nearly 12,000 troops out of Germany.

Torture

Before: Mr Trump said he would approve waterboarding "immediately" and "make it also much worse", adding "torture works".
After: But after his inauguration, the president said he would defer to the countervailing belief, espoused by former Defence Secretary James Mattis and then-CIA director Mike Pompeo, who is now secretary of state.
Mr Pompeo said during his CIA confirmation hearing that he would "absolutely not" reinstate such methods.

Prosecuting Hillary Clinton

Before: "Lock her up" was one of the main rallying cries of Mr Trump's supporters.
They wanted to see Democratic rival Hillary Clinton in prison over the use of her private email server while secretary of state.
And Mr Trump was more than willing to back their calls for, at the very least, a fresh investigation. During the debates, he told Mrs Clinton: "If I win, I am going to instruct my attorney general to get a special prosecutor to look into your situation."
After: The president-elect's tone changed almost as soon as he had won, describing the woman he had said was "such a nasty woman" as someone the country owed "a debt of gratitude". Later, he said he "hadn't given [the prosecution] a lot of thought" and had other priorities.
In November 2016 Mr Trump's spokeswoman said he would not pursue a further investigation – to help Mrs Clinton "heal".
Related Topics
*{margin:calc(0.5rem / 2);}]]>