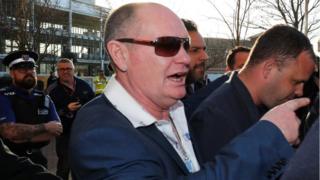 Ex-footballer Paul Gascoigne, who is accused of sexually assaulting a woman on a train, told a court he has "done nothing wrong".
The former England midfielder, 51, is accused of kissing the woman without her consent on board the service from York to Durham.
During a 10-minute hearing at Teesside Crown Court, he elected to be tried by a jury and will stand trial in October.
He repeated his not guilty plea to a charge of sexual assault by touching.
During the hearing he was warned by the judge to be quiet, after calling out: "Sir, Your Honour", when told his trial would take place from 14 October.
He then said he was "worried to bits", and "scared".
When asked for his nationality in court, Mr Gascoigne replied: "England, Protestant."
Recorder of Middlesbrough Simon Bourne-Arton granted him unconditional bail and warned him he must turn up for the trial.
He said: "I will do, your lord. I cannot wait.
"I have done nothing wrong."
Mr Gascoigne was arrested at Durham station in August and later charged with the offence.
The former footballer shot to international fame during the 1990 World Cup and played for Newcastle United, Tottenham Hotspur, Middlesbrough, Lazio and Rangers.