Lewis Hamilton set the fastest ever lap around Silverstone to beat Mercedes team-mate Valtteri Bottas to pole position at the British Grand Prix.
Hamilton, faster on both runs in the final session, was 0.313 seconds clear of Bottas while Red Bull's Max Verstappen pipped Charles Leclerc's improved Ferrari to third.
McLaren's Lando Norris starred with fifth place, ahead of the so-called 'pink Mercedes' Racing Point of Lance Stroll.
Ferrari's Sebastian Vettel could manage only 10th after struggling all weekend.
Mercedes untouchable
The Mercedes cars were expected to fly around the high-speed Silverstone sweeps and so it proved, with Hamilton ending qualifying 1.022secs quicker than Verstappen.
The black cars have such an advantage – exacerbated by Red Bull and Ferrari falling back compared to last year – that at this stage it seems hard to see them being beaten at all this year.
Hamilton's pole was his fifth at Silverstone in six years and he is aiming to extend his record of home victories to seven on Sunday.
But it was far from plain sailing – Hamilton was beaten by Bottas in the first two sessions of qualifying and even had a spin early in the second, but he pulled the laps out of the bag when it mattered in the top 10 shoot-out.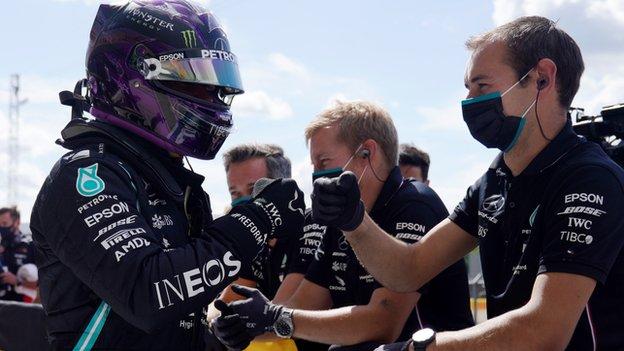 Hamilton said: "There is a relatively big gap between us and third place but it doesn't matter. Valtteri is pushing me right to the limit. He has been pushing me all weekend.
"I made some changes before qualifying and it was worse. It was a real struggle out there.
"This track is difficult with the wind and it is like juggling balls while spinning plates at high speed.
"I had that spin but with some deep breaths I managed to compose myself. It never gets old."
Bottas said: "I was just waiting for Q3 but then I started to drift bit more with the rear end. I don't know what happened, Lewis found more than me."
Hamilton said he had missed the 100,000-plus fans who would normally flock to Silverstone for this weekend but said: "Hopefully back home they enjoyed it today."
Positive signs for Ferrari – but for how long?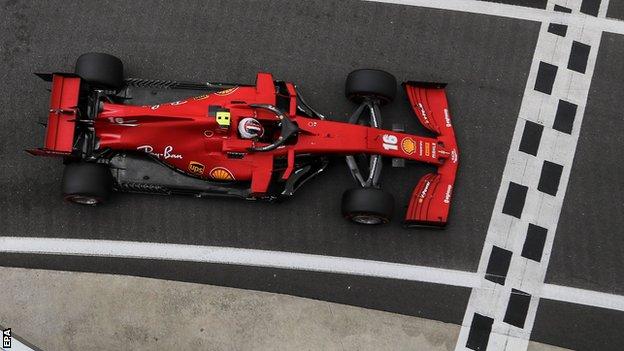 Verstappen said that there was no way of challenging the Mercedes, but Red Bull will be just as concerned that while Hamilton's time was 0.7secs quicker than Bottas' pole from last year, Verstappen himself was a fraction slower than he was in 2019.
"Very early in qualifying there were just way too fast," he said. "You try to accept that and do the best you can. To be P3 is a good start.
"We are little but closer in the race. I don't say I am going fight them but at least you have a fighting chance starting third."
His team-mate Alexander Albon was struggling after a crash on Friday and missing much of the final practice session with a battery problem and qualified only 12th.
Verstappen had to fight to beat Leclerc, in Ferrari's best qualifying performance of the year.
The Italian team have chosen a low-downforce set-up for this weekend, finding that it gives them strong one-lap pace, but they have been struggling on long runs and expect to be less competitive in the race.
Behind them, Norris excelled for McLaren, wearing a charming helmet design created by a six-year-old female fan for the weekend.
He took fifth on the grid, ahead of Stroll and just under 0.2secs quicker than team-mate Carlos Sainz.
The upgraded Renaults of Daniel Ricciardo and Esteban Ocon were eighth and ninth, with Vettel taking the final top 10 spot nearly a second adrift of team-mate Leclerc after losing significant amounts of track time through the weekend owing to a series of reliability problems.
Williams' George Russell was 15th, but is under investigation for failing to slow for yellow caution flags and will drop three places if he is found guilty.
Morph.toInit.bundles.push(function() { !function(e){function t(r){if(n[r])return n[r].exports;var o=n[r]={i:r,l:!1,exports:{}};return e[r].call(o.exports,o,o.exports,t),o.l=!0,o.exports}var n={};t.m=e,t.c=n,t.d=function(e,n,r){t.o(e,n)||Object.defineProperty(e,n,{configurable:!1,enumerable:!0,get:r})},t.n=function(e){var n=e&&e.__esModule?function(){return e.default}:function(){return e};return t.d(n,"a",n),n},t.o=function(e,t){return Object.prototype.hasOwnProperty.call(e,t)},t.p="",t(t.s=3)}([function(e,t){e.exports=React},function(e,t,n){e.exports=n(5)()},function(e,t,n){"use strict";function r(e){return e&&e.__esModule?e:{default:e}}function o(){return this.url}function u(e,t){return e.url.replace("{identifier}",t[1])}var i=r(n(9)),a=r(n(10)),c=r(n(11));e.exports={youtube:{regex:/http(?:s)?://(?:www.)?youtu(?:be.com|.be)/(?:watch)?(?:/?)?(?:.*v=)?(.[^&#]*)/i,url:"https://www.youtube.com/embed/{identifier}",transform:u,component:a.default},twitter:{regex:/^http.+twitter.com/.*/status/(.*)/i,transform:o,component:i.default,cssClasses:"twitter-tweet",componentMount:function(){c.default.twitter()}},instagram:{regex:/^http.+instagr(?:.am|am.com)/i,transform:o,component:i.default,cssClasses:"instagram-media instagram-iframe-container",componentMount:function(e){c.default.instagram(e)}}}},function(e,t,n){"use strict";var r=function(e){return e&&e.__esModule?e:{default:e}}(n(4));Morph.modules["bbc-morph-sport-social-media-embed@2.3.2"]=r.default},function(e,t,n){"use strict";function r(e){return e&&e.__esModule?e:{default:e}}function o(){if("function"!=typeof WeakMap)return null;var e=new WeakMap;return o=function(){return e},e}function u(e){"@babel/helpers – typeof";return(u="function"==typeof Symbol&&"symbol"==typeof Symbol.iterator?function(e){return typeof e}:function(e){return e&&"function"==typeof Symbol&&e.constructor===Symbol&&e!==Symbol.prototype?"symbol":typeof e})(e)}function i(e,t){if(!(e instanceof t))throw new TypeError("Cannot call a class as a function")}function a(e,t){for(var n=0;n<t.length;n++){var r=t[n];r.enumerable=r.enumerable||!1,r.configurable=!0,"value"in r&&(r.writable=!0),Object.defineProperty(e,r.key,r)}}function c(e,t,n){return t&&a(e.prototype,t),n&&a(e,n),e}function l(e,t){if("function"!=typeof t&&null!==t)throw new TypeError("Super expression must either be null or a function");e.prototype=Object.create(t&&t.prototype,{constructor:{value:e,writable:!0,configurable:!0}}),t&&s(e,t)}function s(e,t){return(s=Object.setPrototypeOf||function(e,t){return e.__proto__=t,e})(e,t)}function f(e){return function(){var t,n=y(e);if(m()){var r=y(this).constructor;t=Reflect.construct(n,arguments,r)}else t=n.apply(this,arguments);return p(this,t)}}function p(e,t){return!t||"object"!==u(t)&&"function"!=typeof t?d(e):t}function d(e){if(void 0===e)throw new ReferenceError("this hasn't been initialised – super() hasn't been called");return e}function m(){if("undefined"==typeof Reflect||!Reflect.construct)return!1;if(Reflect.construct.sham)return!1;if("function"==typeof Proxy)return!0;try{return Date.prototype.toString.call(Reflect.construct(Date,[],function(){})),!0}catch(e){return!1}}function y(e){return(y=Object.setPrototypeOf?Object.getPrototypeOf:function(e){return e.__proto__||Object.getPrototypeOf(e)})(e)}function b(e,t,n){return t in e?Object.defineProperty(e,t,{value:n,enumerable:!0,configurable:!0,writable:!0}):e[t]=n,e}Object.defineProperty(t,"__esModule",{value:!0}),t.default=void 0;var h=function(e){if(e&&e.__esModule)return e;if(null===e||"object"!==u(e)&&"function"!=typeof e)return{default:e};var t=o();if(t&&t.has(e))return t.get(e);var n={},r=Object.defineProperty&&Object.getOwnPropertyDescriptor;for(var i in e)if(Object.prototype.hasOwnProperty.call(e,i)){var a=r?Object.getOwnPropertyDescriptor(e,i):null;a&&(a.get||a.set)?Object.defineProperty(n,i,a):n[i]=e[i]}return n.default=e,t&&t.set(e,n),n}(n(0)),v=r(n(1)),g=n(7),_=r(n(8)),w=r(n(12)),O=r(n(13)),j=function(e){function t(e){var r;i(this,t),r=n.call(this,e),b(d(r),"getCaption",function(e){return e?h.default.createElement("figcaption",{className:"sp-c-media-asset__caption gel-brevier"},e):null});var o=e.url,u=e.brandingTool;return r.state={embed:h.default.createElement(_.default,{url:o,brandingTool:u}),showReportButton:!1},r}l(t,e);var n=f(t);return c(t,[{key:"componentDidMount",value:function(){if((0,g.getCookiePolicy)()){var e=this.props,t=e.url,n=e.title;this.setState({embed:new O.default(t,n),showReportButton:!0})}}},{key:"render",value:function(){var e=this.state,t=e.embed,n=e.showReportButton,r=this.props,o=r.caption,u=r.nopal;return h.default.createElement("div",{className:u?"sp-sport-embed-no-pal":""},h.default.createElement("div",{className:"sp-qa-sport-embed-container"},t,n&&h.default.createElement(w.default,{text:"Report"}),this.getCaption(o)))}}]),t}(h.Component);j.propTypes={url:v.default.string.isRequired,brandingTool:v.default.string,caption:v.default.string,title:v.default.string,nopal:v.default.bool},j.defaultProps={brandingTool:"",caption:"",title:"",nopal:!1};var E=j;t.default=E},function(e,t,n){"use strict";function r(){}function o(){}var u=n(6);o.resetWarningCache=r,e.exports=function(){function e(e,t,n,r,o,i){if(i!==u){var a=new Error("Calling PropTypes validators directly is not supported by the `prop-types` package. Use PropTypes.checkPropTypes() to call them. Read more at http://fb.me/use-check-prop-types");throw a.name="Invariant Violation",a}}function t(){return e}e.isRequired=e;var n={array:e,bool:e,func:e,number:e,object:e,string:e,symbol:e,any:e,arrayOf:t,element:e,elementType:e,instanceOf:t,node:e,objectOf:t,oneOf:t,oneOfType:t,shape:t,exact:t,checkPropTypes:o,resetWarningCache:r};return n.PropTypes=n,n}},function(e,t,n){"use strict";e.exports="SECRET_DO_NOT_PASS_THIS_OR_YOU_WILL_BE_FIRED"},function(e,t){e.exports=Morph.modules["bbc-morph-cookie-config@3.0.1"]},function(e,t,n){"use strict";function r(e){return e&&e.__esModule?e:{default:e}}var o=r(n(0)),u=r(n(1)),i=r(n(2)),a=function(e){return Object.keys(i.default).filter(function(t){return e.match(i.default[t].regex)})},c=function(e){var t=e.url,n=a(t)[0];return o.default.createElement("div",{className:"gs-u-clearfix"},o.default.createElement("a",{className:"sport-social-media-embed__cta gel-long-primer-bold",href:t},o.default.createElement("span",{className:"qa-cta-text gs-o-bullet"},o.default.createElement("span",{className:"gs-o-bullet__icon gel-icon sport-social-media-embed__cta-icon–embed"},o.default.createElement("svg",{viewBox:"0 0 32 32"},o.default.createElement("path",{d:"M12 0v5h11.5l-5 5H0v22h22V17.5l-2 2V30H2V12h14.5l-7.8 7.7 3.6 3.6L27 8.5V20h5V0"}))),o.default.createElement("span",{className:"gs-o-bullet__text gs-u-pl"},o.default.createElement("span",null,"View more on "),o.default.createElement("span",{className:"sport-social-media-embed__cta–embed-type"},n)))))};c.propTypes={url:u.default.string.isRequired},e.exports=c},function(e,t,n){"use strict";function r(e){return e&&e.__esModule?e:{default:e}}function o(e){"@babel/helpers – typeof";return(o="function"==typeof Symbol&&"symbol"==typeof Symbol.iterator?function(e){return typeof e}:function(e){return e&&"function"==typeof Symbol&&e.constructor===Symbol&&e!==Symbol.prototype?"symbol":typeof e})(e)}function u(e,t){if(!(e instanceof t))throw new TypeError("Cannot call a class as a function")}function i(e,t){for(var n=0;n<t.length;n++){var r=t[n];r.enumerable=r.enumerable||!1,r.configurable=!0,"value"in r&&(r.writable=!0),Object.defineProperty(e,r.key,r)}}function a(e,t,n){return t&&i(e.prototype,t),n&&i(e,n),e}function c(e,t){if("function"!=typeof t&&null!==t)throw new TypeError("Super expression must either be null or a function");e.prototype=Object.create(t&&t.prototype,{constructor:{value:e,writable:!0,configurable:!0}}),t&&l(e,t)}function l(e,t){return(l=Object.setPrototypeOf||function(e,t){return e.__proto__=t,e})(e,t)}function s(e){return function(){var t,n=m(e);if(d()){var r=m(this).constructor;t=Reflect.construct(n,arguments,r)}else t=n.apply(this,arguments);return f(this,t)}}function f(e,t){return!t||"object"!==o(t)&&"function"!=typeof t?p(e):t}function p(e){if(void 0===e)throw new ReferenceError("this hasn't been initialised – super() hasn't been called");return e}function d(){if("undefined"==typeof Reflect||!Reflect.construct)return!1;if(Reflect.construct.sham)return!1;if("function"==typeof Proxy)return!0;try{return Date.prototype.toString.call(Reflect.construct(Date,[],function(){})),!0}catch(e){return!1}}function m(e){return(m=Object.setPrototypeOf?Object.getPrototypeOf:function(e){return e.__proto__||Object.getPrototypeOf(e)})(e)}Object.defineProperty(t,"__esModule",{value:!0}),t.default=void 0;var y=r(n(0)),b=r(n(1)),h=function(e){function t(){return u(this,t),n.apply(this,arguments)}c(t,e);var n=s(t);return a(t,[{key:"componentDidMount",value:function(){var e=this.props.componentMount;e&&e.bind(this)()}},{key:"render",value:function(){var e=this.props,t=e.cssClasses,n=e.title,r=e.url;return y.default.createElement("div",{className:"sp-qa-sport-social-media-embed"},y.default.createElement("blockquote",{"data-instgrm-captioned":!0,scrolling:"no",className:t},y.default.createElement("a",{href:r},n)))}}]),t}(y.default.Component);h.propTypes={componentMount:b.default.func.isRequired,cssClasses:b.default.string,title:b.default.string,url:b.default.string.isRequired},h.defaultProps={cssClasses:"",title:""};var v=h;t.default=v},function(e,t,n){"use strict";function r(e){return e&&e.__esModule?e:{default:e}}function o(e){"@babel/helpers – typeof";return(o="function"==typeof Symbol&&"symbol"==typeof Symbol.iterator?function(e){return typeof e}:function(e){return e&&"function"==typeof Symbol&&e.constructor===Symbol&&e!==Symbol.prototype?"symbol":typeof e})(e)}function u(e,t){if(!(e instanceof t))throw new TypeError("Cannot call a class as a function")}function i(e,t){for(var n=0;n0))return a.default.createElement(n.component,{url:n.transform.call(this,n,e),title:this.title,cssClasses:n.cssClasses,componentMount:n.componentMount});return a.default.createElement(c.default,{url:this.url,title:this.title})}function i(e,t){return this.url=o(e),this.title=t,u.call(this)}var a=r(n(0)),c=r(n(14)),l=r(n(2));e.exports=i},function(e,t,n){"use strict";function r(e){return e&&e.__esModule?e:{default:e}}Object.defineProperty(t,"__esModule",{value:!0}),t.default=void 0;var o=r(n(0)),u=r(n(1)),i=function(e){var t=e.url,n=e.title;return o.default.createElement("a",{href:t},n)};i.propTypes={url:u.default.string.isRequired,title:u.default.string},i.defaultProps={title:""};var a=i;t.default=a}]);
//# sourceMappingURL=bundle.js.map;
});