1883
Canada's first prime minister, Sir John A Macdonald, authorises the creation of a residential school system, established by Christian churches and the federal government, with the intent to assimilate indigenous peoples in Canada.
1920
Residential schools are made compulsory for children from age seven to 15. Some 150,000 First Nations, Metis and Inuit children are eventually taken from their homes, with many parents surrendering them under threat of prosecution.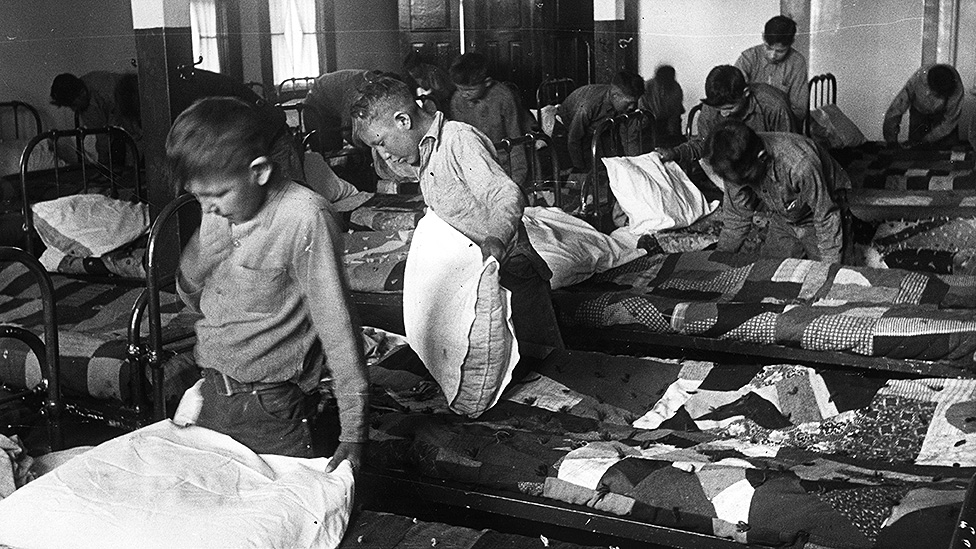 1960s
The residential school system begins to wind down – though the last school will close in 1996 – as the psychological and cultural impacts of the schools come under growing scrutiny.
An estimated 6,000 children die at the schools, according to the former chair of Canada's Truth and Reconciliation Commission Murray Sinclair. They die from causes like disease, neglect, or accidents. Physical and sexual abuse is also common.
There is still no full picture of the number of children who died or where many of them are buried.
2008
Canadian Prime Minister Stephen Harper issues a formal apology for the residential school system, which saw over 130 such institutions operating across Canada.
"Today, we recognise that this policy of assimilation was wrong, has caused great harm, and has no place in our country," he says.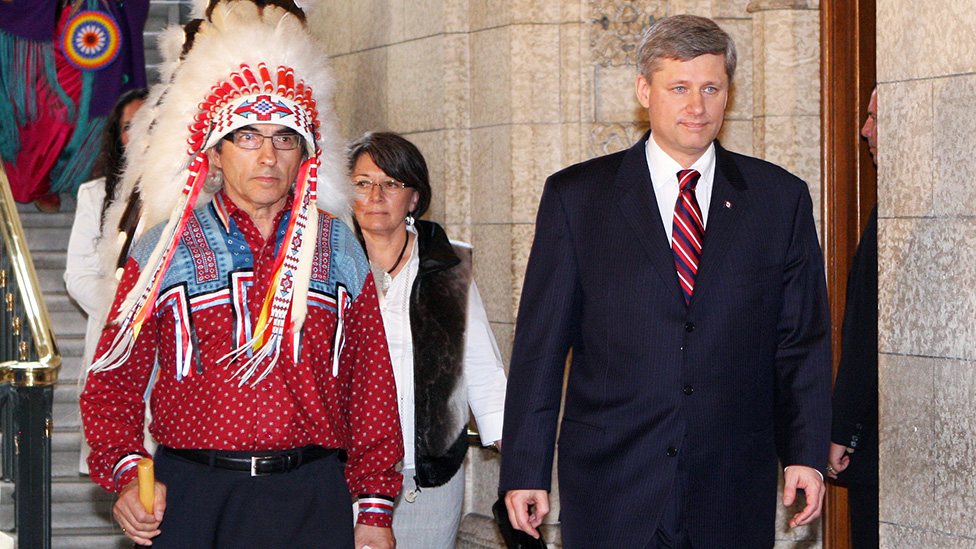 2015
The Truth and Reconciliation Commission of Canada releases its final report on the legacy of residential schools and describes the central policy behind the system as one of  "cultural genocide". It recommends funding to find burial sites and commemorate the children who died away from home.
2021
Tk'emlúps te Secwe̓pemc First Nation in British Columbia announces that a preliminary investigation, using ground penetrating radar, has found an estimated 215 unmarked graves at the site of a former residential school. Other First Nations in Canada are conducting similar research.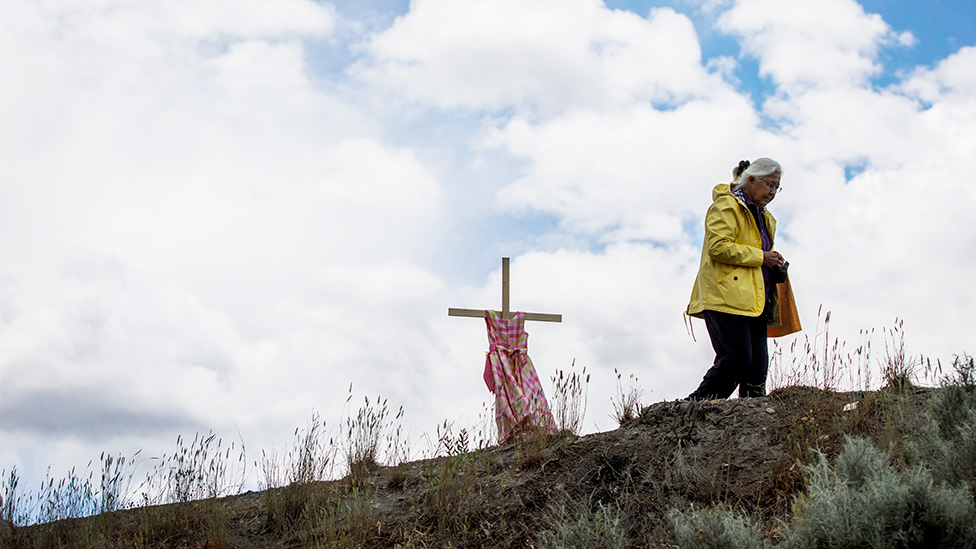 window.__INITIAL_DATA__={"data":{"global-navigation?country=us&language=en-GB":{"name":"global-navigation","props":{"country":"us","language":"en-GB"},"data":{"accessibilityLinks":[{"label":"Skip to content","url":"#main-heading"},{"label":"Accessibility Help","url":"https://www.bbc.co.uk/accessibility/"}],"signInLabel":"Sign in","accountLabel":"Your account","menuLabel":"Menu","moreLabel":"More","closeButtonLabel":"Close menu","legalLinks":[{"url":"https://www.bbc.co.uk/usingthebbc/terms","label":"Terms of Use"},{"url":"https://www.bbc.co.uk/aboutthebbc","label":"About the BBC"},{"url":"https://www.bbc.co.uk/usingthebbc/privacy","label":"Privacy Policy"},{"url":"https://www.bbc.co.uk/usingthebbc/cookies","label":"Cookies"},{"url":"https://www.bbc.co.uk/accessibility","label":"Accessibility Help"},{"url":"https://www.bbc.co.uk/iplayer/guidance","label":"Parental Guidance"},{"url":"https://www.bbc.co.uk/contact","label":"Contact the BBC"},{"url":"https://www.bbc.co.uk/bbcnewsletter","label":"Get Personalised Newsletters"},{"url":"https://www.bbc.co.uk/news/help-41670342″,"label":"Why you can trust the BBC"},{"url":"https://www.bbcglobalnews.com/home/","label":"Advertise with us"},{"url":"https://www.bbc.com/usingthebbc/cookies/how-does-the-bbc-use-cookies-for-advertising/","label":"AdChoices / Do Not Sell My Info"}],"disclaimer":{"text":"© 2021 BBC. The BBC is not responsible for the content of external sites.","link":{"url":"https://www.bbc.co.uk/editorialguidelines/guidance/feeds-and-links","text":"Read about our approach to external linking."}},"homepageLink":{"label":"BBC Homepage","url":"https://www.bbc.com"},"searchLink":{"label":"Search","url":"https://www.bbc.co.uk/search"},"chameleonSearchLink":{"label":"Search BBC","url":"https://www.bbc.co.uk/search"},"navigationLinks":[{"label":"Home","url":"https://www.bbc.com","accent":"#007BC7″},{"label":"News","url":"https://www.bbc.com/news","accent":"#BB1919″},{"label":"Sport","url":"https://www.bbc.com/sport","accent":"#FFD230″},{"label":"Reel","url":"https://www.bbc.com/reel","accent":"#0068FF"},{"label":"Worklife","url":"https://www.bbc.com/worklife","accent":"#0052A1″},{"label":"Travel","url":"https://www.bbc.com/travel","accent":"#589E50″},{"label":"Future","url":"https://www.bbc.com/future","accent":"#002856″},{"label":"Culture","url":"https://www.bbc.com/culture","accent":"#482878″},{"label":"Music","url":"https://www.bbc.com/culture/music"},{"label":"TV","url":"https://www.bbc.co.uk/schedules/p00fzl9m"},{"label":"Weather","url":"https://www.bbc.com/weather","accent":"#88CCEE"},{"label":"Sounds","url":"https://www.bbc.co.uk/sounds","accent":"#FF4900″}],"chameleonNavigationLinks":[{"label":"Home","url":"https://www.bbc.com","accent":"#007BC7″},{"label":"News","url":"https://www.bbc.com/news","accent":"#EB1212″},{"label":"Sport","url":"https://www.bbc.com/sport","accent":"#FFD230″},{"label":"Reel","url":"https://www.bbc.com/reel","accent":"#0068FF"},{"label":"Worklife","url":"https://www.bbc.com/worklife","accent":"#0052A1″},{"label":"Travel","url":"https://www.bbc.com/travel","accent":"#589E50″},{"label":"Future","url":"https://www.bbc.com/future","accent":"#002856″},{"label":"Culture","url":"https://www.bbc.com/culture","accent":"#482878″},{"label":"Music","url":"https://www.bbc.com/culture/music"},{"label":"TV","url":"https://www.bbc.co.uk/schedules/p00fzl9m"},{"label":"Weather","url":"https://www.bbc.com/weather","accent":"#149EDC"},{"label":"Sounds","url":"https://www.bbc.co.uk/sounds","accent":"#FA6400″}]},"importance":"PRIMARY","hasFetcher":true},"product-navigation?assetUri=%2Fnews%2Fworld%2Fus_and_canada&country=us&product=news&sectionName=US%20%26%20Canada&showProductNavigation=true":{"name":"product-navigation","props":{"country":"us","product":"news","assetUri":"/news/world/us_and_canada","sectionName":"US & Canada","showProductNavigation":true},"data":{"masthead":{"link":{"url":"/news"},"logo":"logo:news","text":"BBC News"},"productNav":{"primary":[{"label":"Home","url":"/news","selected":false,"hidden":false},{"label":"Coronavirus","url":"/news/coronavirus","selected":false,"hidden":false},{"label":"Video","url":"/news/av/10462520″,"selected":false,"hidden":false},{"label":"World","url":"/news/world","selected":false,"hidden":false},{"label":"US & Canada","url":"/news/world/us_and_canada","selected":true,"hidden":false},{"label":"UK","url":"/news/uk","selected":false,"hidden":false},{"label":"Business","url":"/news/business","selected":false,"hidden":false},{"label":"Tech","url":"/news/technology","selected":false,"hidden":false},{"label":"Science","url":"/news/science_and_environment","selected":false,"hidden":false},{"label":"Stories","url":"/news/stories","selected":false,"hidden":false},{"label":"Entertainment & Arts","url":"/news/entertainment_and_arts","selected":false,"hidden":false}],"secondary":[{"label":"US & Canada","url":"/news/world/us_and_canada","selected":true,"hidden":false}],"more":[{"title":"","items":[{"label":"Health","url":"/news/health","selected":false,"hidden":false},{"label":"In Pictures","url":"/news/in_pictures","selected":false,"hidden":false},{"label":"Reality Check","url":"/news/reality_check","selected":false,"hidden":false},{"label":"World News TV","url":"/news/world_radio_and_tv","selected":false,"hidden":false},{"label":"Newsbeat","url":"/news/newsbeat","selected":false,"hidden":false},{"label":"Long Reads","url":"/news/the_reporters","selected":false,"hidden":false}]}],"breadcrumbs":[],"noJSLink":null}},"importance":"SECONDARY","hasFetcher":true},"article?currentPageAnalyticsDestination=NEWS_GNL&env=live&host=www.bbc.co.uk&isAdvertisingEnabled=false&language=en-GB&uri=%2Fnews%2Fworld-us-canada-57855952″:{"name":"article","props":{"uri":"/news/world-us-canada-57855952″,"language":"en-GB","host":"www.bbc.co.uk","env":"live","currentPageAnalyticsDestination":"NEWS_GNL","isAdvertisingEnabled":false},"data":{"metadata":{"id":"urn:bbc:ares::asset:news/world-us-canada-57855952″,"assetId":"57855952″,"curie":"http://www.bbc.co.uk/asset/f3da841b-e65b-4f4b-b7a1-52c4d5b4a06c","locators":{"canonicalUrl":"https://www.bbc.co.uk/news/world-us-canada-57855952″},"seoHeadline":"Canada: More unmarked graves likely at former residential school site","indexImage":{"alt":"Women mourn after the discovery of the remains of children at former residential schools","originalSrc":"https://c.files.bbci.co.uk/D93D/production/_119431655_indexindigenous.jpg","iChefRecipe":"https://ichef.bbci.co.uk/news/$recipe/branded_news/D93D/production/_119431655_indexindigenous.jpg","width":976,"height":549},"type":"STY","options":{"isIgorSeoTagsEnabled":false,"includeComments":false,"allowRightHandSide":true,"isFactCheck":false,"allowDateStamp":true,"suitableForSyndication":true,"hasNewsTracker":false,"allowRelatedStoriesBox":true,"isKeyContent":false,"allowHeadline":true,"allowAdvertising":true,"hasContentWarning":false,"isBreakingNews":false,"allowPrintingSharingLinks":true},"languageCode":"en-gb","assetUri":"/news/world-us-canada-57855952″,"description":"An indigenous group said in May it had found the probable remains of 215 children in unmarked graves.","lastUpdated":1626381917059,"firstPublished":1626374006000,"lastPublished":1626374006000,"analytics":{"page":{"name":"news.world.us_and_canada.story.57855952.page","contentId":"urn:bbc:cps:f3da841b-e65b-4f4b-b7a1-52c4d5b4a06c","section":"world::us_and_canada","producer":"NEWS","additionalProperties":{"custom_var_1″:"2021-07-15T18:33:26.000Z","custom_var_2″:"2021-07-15T18:33:26.000Z"}}},"site":{"name":"BBC News","uri":"/news"},"section":{"name":"US & Canada","uri":"/news/world/us_and_canada"},"timestampRelative":"17 hours ago","publishedDateTime":"2021-07-15T18:33:26.000Z","translations":{"seeAlsos":"More on this story","tagList":"Related Topics","relatedInternetLinks":"Related Internet Links","aroundTheBBC":"Around the BBC","externalLinksWarningText":"The BBC is not responsible for the content of external sites.","socialEmbed":{"instagram":{"warningText":null,"linkText":null},"facebook":{"warningText":"The BBC is not responsible for the content of external sites.","linkText":"View original post on Facebook"},"twitter":{"warningText":"The BBC is not responsible for the content of external sites.","linkText":"View original tweet on Twitter"},"youtube":{"warningText":"Warning: Third party content may contain adverts","linkText":null}}}},"headline":"Canada: More unmarked graves likely at former residential school site","content":{"model":{"blocks":[{"type":"image","model":{"caption":{"type":"text","model":{"blocks":[{"type":"fragment","model":{"text":"A makeshift memorial grows to honour the children whose remains were found at the former Kamloops school","attributes":[]}}]}},"image":{"alt":"A makeshift memorial to honour the 215 children whose remains have been discovered buried near the facility is seen as orange light drapes the facade of the former Kamloops Indian Residential School in Kamloops, British Columbia, Canada, on June 2, 2021.","copyright":"Getty Images","height":549,"width":976,"src":"https://ichef.bbci.co.uk/news/976/cpsprodpb/1275D/production/_119431657_canadatop.jpg","srcSet":"https://ichef.bbci.co.uk/news/240/cpsprodpb/1275D/production/_119431657_canadatop.jpg 240w, https://ichef.bbci.co.uk/news/320/cpsprodpb/1275D/production/_119431657_canadatop.jpg 320w, https://ichef.bbci.co.uk/news/480/cpsprodpb/1275D/production/_119431657_canadatop.jpg 480w, https://ichef.bbci.co.uk/news/624/cpsprodpb/1275D/production/_119431657_canadatop.jpg 624w, https://ichef.bbci.co.uk/news/800/cpsprodpb/1275D/production/_119431657_canadatop.jpg 800w, https://ichef.bbci.co.uk/news/976/cpsprodpb/1275D/production/_119431657_canadatop.jpg 976w"},"emphasiseImage":true}},{"type":"text","model":{"blocks":[{"type":"paragraph","model":{"text":"A indigenous nation has called on the Canadian government to release residential school attendance records to help identify unmarked graves. ","blocks":[{"type":"fragment","model":{"text":"A indigenous nation has called on the Canadian government to release residential school attendance records to help identify unmarked graves. ","attributes":["bold"]}}]}}]}},{"type":"text","model":{"blocks":[{"type":"paragraph","model":{"text":"In May, the Tk'emlúps te Secwépemc First Nation announced the initial discovery of 215 unmarked graves near the Kamloops Indian Residential School. ","blocks":[{"type":"fragment","model":{"text":"In May, the Tk'emlúps te Secwépemc First Nation announced the initial discovery of 215 unmarked graves near the Kamloops Indian Residential School. ","attributes":[]}}]}}]}},{"type":"text","model":{"blocks":[{"type":"paragraph","model":{"text":"Presenting the full report on Thursday, the nation said they expect more graves to be found as the search continues. ","blocks":[{"type":"fragment","model":{"text":"Presenting the full report on Thursday, the nation said they expect more graves to be found as the search continues. ","attributes":[]}}]}}]}},{"type":"text","model":{"blocks":[{"type":"paragraph","model":{"text":"An early discovery of children's bones helped guide the search.","blocks":[{"type":"fragment","model":{"text":"An early discovery of children's bones helped guide the search.","attributes":[]}}]}}]}},{"type":"text","model":{"blocks":[{"type":"paragraph","model":{"text":"The initial findings from the Tk'emlúps this spring triggered a national reckoning over Canada's legacy of residential schools. In the months that followed, the tally of these unmarked graves across the country has increased to more than 1,100. ","blocks":[{"type":"fragment","model":{"text":"The initial findings from the Tk'emlúps this spring triggered a national reckoning over Canada's legacy of residential schools. In the months that followed, the tally of these unmarked graves across the country has increased to more than 1,100. ","attributes":[]}}]}}]}},{"type":"text","model":{"blocks":[{"type":"paragraph","model":{"text":"These government-funded boarding schools were part of a policy to attempt to assimilate indigenous children and destroy indigenous cultures and languages. ","blocks":[{"type":"fragment","model":{"text":"These government-funded boarding schools were part of a policy to attempt to assimilate indigenous children and destroy indigenous cultures and languages. ","attributes":[]}}]}}]}},{"type":"text","model":{"blocks":[{"type":"paragraph","model":{"text":"Kamloops Residential School in British Columbia was the largest in the country. Opened under a Roman Catholic administration in 1890, the school had as many as 500 students until its closure in 1978. ","blocks":[{"type":"fragment","model":{"text":"Kamloops Residential School in British Columbia was the largest in the country. Opened under a Roman Catholic administration in 1890, the school had as many as 500 students until its closure in 1978. ","attributes":[]}}]}}]}},{"type":"text","model":{"blocks":[{"type":"paragraph","model":{"text":""The residential schools were specifically built to take the Indian out of us," said residential school survivor Evelyn Camille. She became ashamed of her identity, she said. "That's what residential schools taught me." ","blocks":[{"type":"fragment","model":{"text":""The residential schools were specifically built to take the Indian out of us," said residential school survivor Evelyn Camille. She became ashamed of her identity, she said. "That's what residential schools taught me." ","attributes":[]}}]}}]}},{"type":"text","model":{"blocks":[{"type":"paragraph","model":{"text":"Ground-surveying teams have identified more than 200 potential grave sites after searching two acres near the school. More than 160 acres still require investigations. ","blocks":[{"type":"fragment","model":{"text":"Ground-surveying teams have identified more than 200 potential grave sites after searching two acres near the school. More than 160 acres still require investigations. ","attributes":[]}}]}}]}},{"type":"unorderedList","model":{"blocks":[{"type":"listItem","model":{"blocks":[{"type":"urlLink","model":{"text":"The child graves behind Canada's national reckoning","locator":"https://www.bbc.co.uk/news/world-us-canada-57325653″,"blocks":[{"type":"fragment","model":{"text":"The child graves behind Canada's national reckoning","attributes":[]}}]}}]}}]}},{"type":"text","model":{"blocks":[{"type":"paragraph","model":{"text":""There are very likely to be a number of human burials in the area," said ground-penetrating radar specialist Sarah Beaulieu, who presented the findings. "This investigation has barely scratched the surface."","blocks":[{"type":"fragment","model":{"text":""There are very likely to be a number of human burials in the area," said ground-penetrating radar specialist Sarah Beaulieu, who presented the findings. "This investigation has barely scratched the surface."","attributes":[]}}]}}]}},{"type":"text","model":{"blocks":[{"type":"paragraph","model":{"text":"The initial area of interest was was chosen after Tk'emlúps elders recalled children, some as young as six, being asked to dig holes there, Ms Beaulieu said. ","blocks":[{"type":"fragment","model":{"text":"The initial area of interest was was chosen after Tk'emlúps elders recalled children, some as young as six, being asked to dig holes there, Ms Beaulieu said. ","attributes":[]}}]}}]}},{"type":"text","model":{"blocks":[{"type":"paragraph","model":{"text":"Tk'emlúps te Secwépem Chief Rosanne Casimir appealed to both the federal government and the Catholic Church to release attendance records from the school to help identify the remains. ","blocks":[{"type":"fragment","model":{"text":"Tk'emlúps te Secwépem Chief Rosanne Casimir appealed to both the federal government and the Catholic Church to release attendance records from the school to help identify the remains. ","attributes":[]}}]}}]}},{"type":"text","model":{"blocks":[{"type":"paragraph","model":{"text":"She said providing the records would be a "first step" in assisting the investigation.","blocks":[{"type":"fragment","model":{"text":"She said providing the records would be a "first step" in assisting the investigation.","attributes":[]}}]}}]}},{"type":"text","model":{"blocks":[{"type":"paragraph","model":{"text":""We are not here for retaliation, we're here for truth-telling," she said. ","blocks":[{"type":"fragment","model":{"text":""We are not here for retaliation, we're here for truth-telling," she said. ","attributes":[]}}]}}]}},{"type":"text","model":{"blocks":[{"type":"paragraph","model":{"text":"Estimates by indigenous leaders suggest over 6,000 children died at residential schools from causes like disease, accident or suicide.","blocks":[{"type":"fragment","model":{"text":"Estimates by indigenous leaders suggest over 6,000 children died at residential schools from causes like disease, accident or suicide.","attributes":[]}}]}}]}},{"type":"media","model":{"caption":""No reconciliation without truth": A survivor recounts abuse in Canadian residential school","media":{"__typename":"ElementsMediaPlayer","items":[{"id":"p09kpg2k","title":"'There's no reconciliation without truth'","holdingImageUrl":"https://ichef.bbci.co.uk/images/ic/$recipe/p09kpvf3.jpg","kind":"programme","isEmbeddingAllowed":true,"isAdvertisingAllowed":true}]}}},{"type":"text","model":{"blocks":[{"type":"paragraph","model":{"text":"The record-keeping at residential schools when children died was often poor – the child's name, gender or cause of death were not always recorded. The common practice was not to send the bodies back home.","blocks":[{"type":"fragment","model":{"text":"The record-keeping at residential schools when children died was often poor – the child's name, gender or cause of death were not always recorded. The common practice was not to send the bodies back home.","attributes":[]}}]}}]}},{"type":"text","model":{"blocks":[{"type":"paragraph","model":{"text":"Many children were buried in neglected graves.","blocks":[{"type":"fragment","model":{"text":"Many children were buried in neglected graves.","attributes":[]}}]}}]}},{"type":"text","model":{"blocks":[{"type":"paragraph","model":{"text":"To this day there is no complete picture of the number of children who died in residential schools, the circumstances of their deaths, or where they are buried. ","blocks":[{"type":"fragment","model":{"text":"To this day there is no complete picture of the number of children who died in residential schools, the circumstances of their deaths, or where they are buried. ","attributes":[]}}]}}]}},{"type":"include","model":{"href":"/include/vjeastasia/800-timeline_on_slack/english/newsspec-31238?responsive=true&newsapps=true&app-image=https://c.files.bbci.co.uk/8033/production/_117391823_projectname_app_launcher_640-nc.png&app-clickable=true&amp-clickable=true&amp-image-height=360&amp-image-width=640&amp-image=https://c.files.bbci.co.uk/8033/production/_117391823_projectname_app_launcher_640-nc.png&app-image-alt-text=Click%20or%20tap%20here%20to%20see%20interactive%20content","html":"u003cscript>n window.vjConfigObject = window.vjConfigObject || {};n window.vjConfigObject['vjeastasia-800-timeline_on_slack-newsspec-31238'] = {"js":true,"output":{"wrapper":"embed"},"name":"vjeastasia-800-timeline_on_slack","version":"1.0.202107141341″,"urlToOutputDir":"https://news.files.bbci.co.uk/include/vjeastasia/800-timeline_on_slack","assetsPath":"https://news.files.bbci.co.uk/include/vjeastasia/800-timeline_on_slack/assets/newsspec-31238-project-assets","includeName":"newsspec-31238″,"language":"english","languageCode":"en","loremText":["Lorem ipsum dolor sit amet, consectetur adipiscing elit. Integer a purus eu nisl porta aliquam. Morbi pharetra aliquet dolor a cursus. In auctor dolor a felis feugiat ultrices. Phasellus sagittis aliquet mattis. Etiam turpis neque, auctor a pulvinar a, vestibulum consequat ante. Morbi ut dui eget sapien vulputate viverra. Curabitur luctus malesuada nunc.","Nullam gravida erat ut porttitor sollicitudin. Aliquam feugiat odio rutrum arcu tincidunt vehicula. Donec nec dolor rhoncus, consectetur metus eget, consectetur enim. Duis euismod, arcu non efficitur porta, nibh eros viverra risus, ac gravida lorem ex in dui. Morbi pulvinar varius erat, quis facilisis ligula mollis vel. Nulla efficitur augue quam, ac aliquet mi ornare vitae. In ornare nisl eget tortor aliquam consectetur id nec lorem. Pellentesque massa dolor, placerat ac risus a, aliquam rhoncus nulla.","Ut et suscipit enim. Nam aliquam porttitor sapien elementum mollis. In quis turpis ante. Morbi et ex aliquam, ornare neque sit amet, porttitor est. Quisque eleifend consequat turpis. Curabitur ultrices luctus quam, et dapibus quam bibendum non. Praesent facilisis augue magna, eu volutpat nibh gravida et. Cras pulvinar, ligula vel consectetur molestie, lorem eros euismod arcu, sed condimentum leo metus efficitur ante. Duis eu diam semper, hendrerit est porta, tincidunt odio. Maecenas sagittis justo lacus, ac varius est dictum sit amet. Nam vitae turpis dignissim, tincidunt felis sit amet, dignissim sapien. Integer et iaculis ex. Sed rhoncus elit vitae massa facilisis venenatis.","Curabitur lorem ligula, aliquet id lorem ut, molestie consequat sem. Donec sit amet lacus sagittis, gravida nunc a, volutpat elit. Nullam elementum, leo sed gravida euismod, enim leo venenatis dolor, eget consequat nisi nisl vel tortor. Ut hendrerit non justo nec porttitor. Aenean et dolor laoreet augue vulputate commodo ac ut turpis. Morbi luctus lacinia felis at pellentesque. Interdum et malesuada fames ac ante ipsum primis in faucibus. Nullam tristique faucibus mauris, sed volutpat ante consequat nec. Proin fermentum vehicula tortor, sed bibendum lectus volutpat ac. Cras dignissim elit id aliquam consectetur."],"metaCSP":"default-src 'none';script-src 'unsafe-inline' 'self' *.local.bbc.co.uk:* news.files.bbci.co.uk news.test.files.bbci.co.uk assets.wearehearken.com cdn.syndication.twimg.com connect.facebook.net emp.bbci.co.uk ems.wearehearken.com modules.wearehearken.com mybbcanalytics.files.bbci.co.uk nav.files.bbci.co.uk news.files.bbci.co.uk news.test.files.bbci.co.uk platform.twitter.com public.flourish.studio static.bbc.co.uk static.bbci.co.uk static.files.bbci.co.uk static.chartbeat.com static2.chartbeat.com www.bbc.co.uk www.instagram.com www.ons.gov.uk gnwebassets.api.bbc.com www.googleanalytics.com static.files.bbci.co.uk static.test.files.bbci.co.uk;img-src 'self' c.files.bbci.co.uk data: https://a1.api.bbc.co.uk i.ytimg.com ichef.bbci.co.uk logws1363.atihost.net logws1363.ati-host.net news.bbcimg.co.uk news.files.bbci.co.uk news.test.files.bbci.co.uk newsimg.bbc.co.uk pbs.twimg.com ping.chartbeat.net platform.twitter.com r.bbci.co.uk syndication.twitter.com ton.twimg.com www.googleanalytics.com static.files.bbci.co.uk;font-src gel.files.bbci.co.uk static.bbci.co.uk static.files.bbci.co.uk news.files.bbci.co.uk news.test.files.bbci.co.uk wsdownloads.files.bbci.co.uk;style-src 'self' 'unsafe-inline' *.local.bbc.co.uk:* cdn.riddle.com flo.uri.sh news.files.bbci.co.uk news.test.files.bbci.co.uk platform.twitter.com static.bbc.co.uk static.bbci.co.uk static.files.bbci.co.uk ton.twimg.com www.riddle.com;frame-src 'self' bbc001.carto.com bbc003.carto.com bbc-maps.carto.com cdn.riddle.com chartbeat.com emp.bbc.co.uk emp.bbc.com flo.uri.sh news.files.bbci.co.uk news.test.files.bbci.co.uk static.files.bbci.co.uk static.test.files.bbci.co.uk personaltaxcalculator2.deloittecloud.co.uk platform.twitter.com public.flourish.studio static2.chartbeat.com syndication.twitter.com web.facebook.com www.bbc.co.uk www.facebook.com www.instagram.com www.ons.gov.uk www.riddle.com www.youtube.com;object-src 'none';worker-src 'self' blob:;manifest-src static.files.bbci.co.uk;connect-src 'self' wss://*.local.bbc.co.uk:* https://*.local.bbc.co.uk:* https://mybbc-analytics.files.bbci.co.uk cookieoven.api.bbc.co.uk cookieoven.api.bbc.com ems.wearehearken.com https://a1.api.bbc.co.uk locator-service.api.bbci.co.uk logws1363.atihost.net logws1363.ati-host.net modules.wearehearken.com mybbcanalytics.files.bbci.co.uk news.files.bbci.co.uk news.test.files.bbci.co.uk platform.twitter.com search.api.bbci.co.uk search.api.bbci.com static.files.bbci.co.uk static.test.files.bbci.co.uk www.bbc.co.uk www.bbc.com www.googleanalytics.com idcta.api.bbc.co.uk;child-src blob:;base-uri 'none';form-action 'self' platform.twitter.com syndication.twitter.com;upgrade-insecure-requests","textDirection":"ltr","serviceName":"news","serviceNameNative":"News","AtiSiteStringTest":"news_ps_test","AtiSiteStringLive":"news_ps","AtiSiteStringExtraUkTest":"gnl_news_test","AtiSiteStringExtraUkLive":"gnl_news","AtiProducerString":"news","vocab":{"image_copyright":"Image copyright by","image_caption":"Image caption","see_more":"Show more","timeline_1-header":"Timeline: The key dates","timeline_1-leadin":"","timeline__element_2-header":"","timeline__element_2-date":"1883″,"text_3-value":"Canada's first prime minister, Sir John A Macdonald, authorises the creation of a residential school system, established by Christian churches and the federal governmentu003cstrong>,u003c/strong> with the intent to assimilate indigenous peoples in Canada.","figure_4-caption":"Macdonald was prime minister from 1867-1873 and again from 1878-1891″,"figure_4-attribution":"Getty Images","figure_4-src":"https://c.files.bbci.co.uk/73EE/production/_119387692_crop_gettyimages-517727530.jpg","timeline__element_5-header":"","timeline__element_5-date":"1920″,"text_6-value":"Residential schools are made compulsory for children from age seven to 15. Some 150,000 First Nations, Metis and Inuit children are eventually taken from their homes, with many parents surrendering them under threat of prosecution.","figure_7-caption":"Children in a residential school dormitory in the 1950s","figure_7-attribution":"Getty Images","figure_7-src":"https://c.files.bbci.co.uk/25CE/production/_119387690_crop_gettyimages-3268482.jpg","timeline__element_8-header":"","timeline__element_8-date":"1960s","text_9-value":"The residential school system begins to wind down – though the last school will close in 1996 – as the psychological and cultural impacts of the schools come under growing scrutiny.","text_10-value":"An estimated 6,000 children die at the schools, according to the former chair of Canada's Truth and Reconciliation Commission Murray Sinclair. They die from causes like disease, neglect, or accidents. Physical and sexual abuse is also common.","text_11-value":"There is still no full picture of the number of children who died or where many of them are buried.","timeline__element_12-header":"","timeline__element_12-date":"2008″,"text_13-value":"Canadian Prime Minister Stephen Harper issues a formal apology for the residential school system, which saw over 130 such institutions operating across Canada.","text_14-value":""Today, we recognise that this policy of assimilation was wrong, has caused great harm, and has no place in our country," he says.","figure_15-caption":"Prime Minister Harper with Phil Fontaine, a Canadian Indigenous leader, in 2008″,"figure_15-attribution":"Getty Images","figure_15-src":"https://c.files.bbci.co.uk/4CDE/production/_119387691_crop_gettyimages-81532425.jpg","timeline__element_16-header":"","timeline__element_16-date":"2015″,"text_17-value":"The Truth and Reconciliation Commission of Canada releases its final report on the legacy of residential schools and describes the central policy behind the system as one of  "cultural genocide". It recommends funding to find burial sites and commemorate the children who died away from home.","timeline__element_18-header":"","timeline__element_18-date":"2021″,"text_19-value":"Tk'emlúps te Secwe̓pemc First Nation in British Columbia announces that a preliminary investigation, using ground penetrating radar, has found an estimated 215 unmarked graves at the site of a former residential school. Other First Nations in Canada are conducting similar research.","figure_20-caption":"A memorial near the spot where the remains of the children were discovered","figure_20-attribution":"Getty Images","figure_20-src":"https://c.files.bbci.co.uk/9AFE/production/_119387693_crop_gettyimages-1233291821.jpg"},"outputs":[{"wrapper":"embed"},{"wrapper":"core"},{"wrapper":"envelope"},{"wrapper":"amp"},{"wrapper":"news-app"},{"wrapper":"syndication","photoCaption":"","photoURL":"","hyperlinkCallToAction":"Click here to see the BBC interactive"},{"wrapper":"facebook","height":960,"withMargins":"yes"},{"wrapper":"applenews","photoCaption":"","photoURL":"","hyperlinkCallToAction":"Click or tap here to see interactive content"}],"autoFixLintingErrors":false,"polyfill":false,"dynamicImports":false,"reactProject":false,"failFast":false,"includePath":{"responsive":true,"newsapps":true,"app-image":"https://placehold.it/640×360″,"app-clickable":true,"amp-clickable":true,"amp-image-height":360,"amp-image-width":640,"amp-image":"https://placehold.it/640×360″,"app-image-alt-text":"Click or tap here to see interactive content"},"languages":["english"],"destinationSection":{"english":"uk"},"uncompressedAppBudget":"(1024 * 1000) * 0.5″,"meta":{"title":{"english":""},"images":[{"thumbnail":""}],"hasBeenDeployed":false,"publication_date":null,"publication_date_iso":null,"last_modified":null,"last_modified_iso":null,"data_last_modified":null,"data_last_modified_iso":null,"keywords":["vj","visual-journalism","visualjournalism","visual journalism"],"locations":{"regions":[]}},"defaultPort":1031,"usedPort":1031,"generateForMozart":true,"shadowDom":true,"projectNamespace":"vjeastasia-800-timeline_on_slack","outputDir":"include/vjeastasia/800-timeline_on_slack","optimiseImagesOnEveryBuild":false,"includes":{"app":{"uuid":"06c42180-dddb-4c6a-9ca2-d0deefca9b19″},"newsspec-30782″:{"uuid":"bb310688-7dbc-4b29-bd5e-4d16db96d322″},"newsspec-30898″:{"uuid":"6ce66b80-7ab8-4353-9dfe-e8a36b6ccc8d"},"newsspec-31035″:{"uuid":"80f4b12f-42ea-45db-9ddd-300da4c353ee"},"newsspec-31092″:{"uuid":"b92528c5-0771-40d6-988c-a1a209ec7ba2″},"newsspec-31238″:{"uuid":"f7355de6-5b88-40c9-b4d3-a86ec156d5ab"},"vjafwest-763″:{"uuid":"d964f6a0-2122-428b-8506-2d4be3813d54″},"vjeastasia-820″:{"uuid":"d7228ba4-555c-48ec-b5c3-82436e3817a5″},"vjeastasia-859″:{"uuid":"2c972817-1b32-4925-b4f5-6ce9b23ccf96″},"vjeastasia-865″:{"uuid":"5a55a964-bc27-4e81-a30a-96e1b4ce1c6f"},"vjeastasia-867″:{"uuid":"04978909-74d9-40a2-afa5-4e0e6e01eb22″},"vjeastasia-881″:{"uuid":"3abeb20c-ce5a-4c73-b822-1ee5e62be8e9″},"vjeurope-437″:{"uuid":"16b342e9-0ba7-4ffc-a662-a049fa2998bc"},"vjneareast-626″:{"uuid":"b4b4eb74-5d2a-4d07-9a0f-d2c1b1a14638″},"vjsthasia-1146″:{"uuid":"db666313-06bf-412d-a0db-c11b3ef00806″},"vjsthasia-1147″:{"uuid":"92bdcce8-cac6-425c-b1da-d326d7d10b8c"},"vjsthasia-1149″:{"uuid":"fcb52c7c-2bbd-41fa-9e26-da83471a6e3f"},"vjeastasia-677″:{"uuid":"89be3ab7-fb51-498b-87d0-e9a58153cb68″},"vjeurope-730″:{"uuid":"9817bff5-982c-427f-8ab3-81783ada6eda"}},"pathToWrapperAssets":"https://news.files.bbci.co.uk/include/vjeastasia/800-timeline_on_slack/assets/embed","pathToInclude":"https://news.files.bbci.co.uk/include/vjeastasia/800-timeline_on_slack/english/newsspec-31238/embed","pathToWrapperAssetsToInclude":"https://news.files.bbci.co.uk/include/vjeastasia/800-timeline_on_slack/english/newsspec-31238/embed"};nu003c/script>nu003clink rel="stylesheet" href="https://news.files.bbci.co.uk/include/vjeastasia/800-timeline_on_slack/assets/embed/css/inline.css??v=1.0.202107141341.202107141341″>nu003cdiv id="responsive-embed-vjeastasia-800-timeline_on_slack-newsspec-31238″ class="bbc-news-vj-embed-wrapper">n u003cdiv id="responsive-embed-vjeastasia-800-timeline_on_slack-newsspec-31238-core-content">n u003cdiv class="gel-wrap">n u003cdiv class="gel-layout">n u003cdiv class="gel-layout__item gel-1/1″>n n u003cdiv class="timeline__container ">n u003ch2 class="timeline__main-header">Timeline: The key datesu003c/h2>n u003cdiv class="timeline__content">n u003cdiv class="timeline__sideline timeline__sideline–bg">u003c/div>n n u003cdiv class="timeline">n u003cdiv class="timeline__indicator">n u003c/div>n u003cp class="timeline__date">n u003ctime>1883u003c/time>n u003c/p>n n u003cp>Canada's first prime minister, Sir John A Macdonald, authorises the creation of a residential school system, established by Christian churches and the federal governmentu003cstrong>,u003c/strong> with the intent to assimilate indigenous peoples in Canada.u003c/p>n n n n u003cfigure class="figure">n u003cpicture>n u003cimg class="figure__img"n src="https://c.files.bbci.co.uk/73EE/production/_119387692_crop_gettyimages-517727530.jpg??v=1.0.202107141341.202107141341″n alt="Macdonald was prime minister from 1867-1873 and again from 1878-1891″ />n u003c/picture>n u003cfigcaption class="figure__figcaption gel-brevier" >n u003cspan class="off-screen">Image captionu003c/span> Macdonald was prime minister from 1867-1873 and again from 1878-1891n u003cspan class="figure__attribution">n u003cspan class="off-screen">Image copyright byu003c/span> Getty Imagesn u003c/span>n u003c/figcaption>n u003c/figure>n n n u003c/div>n n u003cdiv class="timeline">n u003cdiv class="timeline__indicator">n u003c/div>n u003cp class="timeline__date">n u003ctime>1920u003c/time>n u003c/p>n n u003cp>Residential schools are made compulsory for children from age seven to 15. Some 150,000 First Nations, Metis and Inuit children are eventually taken from their homes, with many parents surrendering them under threat of prosecution.u003c/p>n n n n u003cfigure class="figure">n u003cpicture>n u003cimg class="figure__img"n src="https://c.files.bbci.co.uk/25CE/production/_119387690_crop_gettyimages-3268482.jpg??v=1.0.202107141341.202107141341″n alt="Children in a residential school dormitory in the 1950s" />n u003c/picture>n u003cfigcaption class="figure__figcaption gel-brevier" >n u003cspan class="off-screen">Image captionu003c/span> Children in a residential school dormitory in the 1950sn u003cspan class="figure__attribution">n u003cspan class="off-screen">Image copyright byu003c/span> Getty Imagesn u003c/span>n u003c/figcaption>n u003c/figure>n n n u003c/div>n n u003cdiv class="timeline">n u003cdiv class="timeline__indicator">n u003c/div>n u003cp class="timeline__date">n u003ctime>1960su003c/time>n u003c/p>n n u003cp>The residential school system begins to wind down – though the last school will close in 1996 – as the psychological and cultural impacts of the schools come under growing scrutiny.u003c/p>n n n n u003cp>An estimated 6,000 children die at the schools, according to the former chair of Canada's Truth and Reconciliation Commission Murray Sinclair. They die from causes like disease, neglect, or accidents. Physical and sexual abuse is also common.u003c/p>n n n n u003cp>There is still no full picture of the number of children who died or where many of them are buried.u003c/p>n n n u003c/div>n n u003cdiv class="timeline">n u003cdiv class="timeline__indicator">n u003c/div>n u003cp class="timeline__date">n u003ctime>2008u003c/time>n u003c/p>n n u003cp>Canadian Prime Minister Stephen Harper issues a formal apology for the residential school system, which saw over 130 such institutions operating across Canada.u003c/p>n n n n u003cp>"Today, we recognise that this policy of assimilation was wrong, has caused great harm, and has no place in our country," he says.u003c/p>n n n n u003cfigure class="figure">n u003cpicture>n u003cimg class="figure__img"n src="https://c.files.bbci.co.uk/4CDE/production/_119387691_crop_gettyimages-81532425.jpg??v=1.0.202107141341.202107141341″n alt="Prime Minister Harper with Phil Fontaine, a Canadian Indigenous leader, in 2008″ />n u003c/picture>n u003cfigcaption class="figure__figcaption gel-brevier" >n u003cspan class="off-screen">Image captionu003c/span> Prime Minister Harper with Phil Fontaine, a Canadian Indigenous leader, in 2008n u003cspan class="figure__attribution">n u003cspan class="off-screen">Image copyright byu003c/span> Getty Imagesn u003c/span>n u003c/figcaption>n u003c/figure>n n n u003c/div>n n u003cdiv class="timeline">n u003cdiv class="timeline__indicator">n u003c/div>n u003cp class="timeline__date">n u003ctime>2015u003c/time>n u003c/p>n n u003cp>The Truth and Reconciliation Commission of Canada releases its final report on the legacy of residential schools and describes the central policy behind the system as one of  "cultural genocide". It recommends funding to find burial sites and commemorate the children who died away from home.u003c/p>n n n u003c/div>n n u003cdiv class="timeline">n u003cdiv class="timeline__indicator">n u003c/div>n u003cp class="timeline__date">n u003ctime>2021u003c/time>n u003c/p>n n u003cp>Tk'emlúps te Secwe̓pemc First Nation in British Columbia announces that a preliminary investigation, using ground penetrating radar, has found an estimated 215 unmarked graves at the site of a former residential school. Other First Nations in Canada are conducting similar research.u003c/p>n n n n u003cfigure class="figure">n u003cpicture>n u003cimg class="figure__img"n src="https://c.files.bbci.co.uk/9AFE/production/_119387693_crop_gettyimages-1233291821.jpg??v=1.0.202107141341.202107141341″n alt="A memorial near the spot where the remains of the children were discovered" />n u003c/picture>n u003cfigcaption class="figure__figcaption gel-brevier" >n u003cspan class="off-screen">Image captionu003c/span> A memorial near the spot where the remains of the children were discoveredn u003cspan class="figure__attribution">n u003cspan class="off-screen">Image copyright byu003c/span> Getty Imagesn u003c/span>n u003c/figcaption>n u003c/figure>n n n u003c/div>n u003c/div>n u003cdiv class="timeline__drawer hidden">n u003cbutton class="timeline__button timeline__button–reveal">n Show moren u003c/button>n u003c/div>n u003c/div>n u003c/div>n u003c/div>n u003c/div>n u003c/div>nu003c/div>nu003cstyle id="responsive-embed-vjeastasia-800-timeline_on_slack-newsspec-31238-inline-css">n @-moz-keyframes gel-spin{0%{-moz-transform:rotate(0deg)}100%{-moz-transform:rotate(360deg)}}@-webkit-keyframes gel-spin{0%{-webkit-transform:rotate(0deg)}100%{-webkit-transform:rotate(360deg)}}@-ms-keyframes gel-spin{0%{-ms-transform:rotate(0deg)}100%{-ms-transform:rotate(360deg)}}@keyframes gel-spin{0%{transform:rotate(0deg)}100%{transform:rotate(360deg)}}.bbc-news-visual-journalism-loading-spinner{display:block;margin:8px auto;width:32px;height:32px;max-width:32px;fill:#323232;-webkit-animation-name:gel-spin;-webkit-animation-duration:1s;-webkit-animation-iteration-count:infinite;-webkit-animation-timing-function:linear;-moz-animation-name:gel-spin;-moz-animation-duration:1s;-moz-animation-iteration-count:infinite;-moz-animation-timing-function:linear;animation-name:gel-spin;animation-duration:1s;animation-iteration-count:infinite;animation-timing-function:linear}n@font-face{font-display:swap;font-family:"ReithSans";src:url("https://gel.files.bbci.co.uk/r2.512/BBCReithSans_W_Rg.woff2") format("woff2"),url("https://gel.files.bbci.co.uk/r2.512/BBCReithSans_W_Rg.woff") format("woff")}@font-face{font-display:swap;font-family:"ReithSans";font-style:italic;src:url("https://gel.files.bbci.co.uk/r2.512/BBCReithSans_W_It.woff2") format("woff2"),url("https://gel.files.bbci.co.uk/r2.512/BBCReithSans_W_It.woff") format("woff")}@font-face{font-display:swap;font-family:"ReithSans";font-weight:bold;src:url("https://gel.files.bbci.co.uk/r2.512/BBCReithSans_W_Bd.woff2") format("woff2"),url("https://gel.files.bbci.co.uk/r2.512/BBCReithSans_W_Bd.woff") format("woff")}@font-face{font-display:swap;font-family:"ReithSans";font-style:italic;font-weight:bold;src:url("https://gel.files.bbci.co.uk/r2.512/BBCReithSans_W_BdIt.woff2") format("woff2"),url("https://gel.files.bbci.co.uk/r2.512/BBCReithSans_W_BdIt.woff") format("woff")}@font-face{font-display:swap;font-family:"ReithSans";font-weight:300;src:url("https://gel.files.bbci.co.uk/r2.512/BBCReithSans_W_Lt.woff2") format("woff2"),url("https://gel.files.bbci.co.uk/r2.512/BBCReithSans_W_Lt.woff") format("woff")}@font-face{font-display:swap;font-family:"ReithSans";font-style:italic;font-weight:300;src:url("https://gel.files.bbci.co.uk/r2.512/BBCReithSans_W_LtIt.woff2") format("woff2"),url("https://gel.files.bbci.co.uk/r2.512/BBCReithSans_W_LtIt.woff") format("woff")}@font-face{font-display:swap;font-family:"ReithSans";font-weight:500;src:url("https://gel.files.bbci.co.uk/r2.512/BBCReithSans_W_Md.woff2") format("woff2"),url("https://gel.files.bbci.co.uk/r2.512/BBCReithSans_W_Md.woff") format("woff")}@font-face{font-display:swap;font-family:"ReithSans";font-style:italic;font-weight:500;src:url("https://gel.files.bbci.co.uk/r2.512/BBCReithSans_W_MdIt.woff2") format("woff2"),url("https://gel.files.bbci.co.uk/r2.512/BBCReithSans_W_MdIt.woff") format("woff")}@font-face{font-display:swap;font-family:"ReithSans";font-weight:800;src:url("https://gel.files.bbci.co.uk/r2.512/BBCReithSans_W_ExBd.woff2") format("woff2"),url("https://gel.files.bbci.co.uk/r2.512/BBCReithSans_W_ExBd.woff") format("woff")}@font-face{font-display:swap;font-family:"ReithSans";font-style:italic;font-weight:800;src:url("https://gel.files.bbci.co.uk/r2.512/BBCReithSans_W_ExBdIt.woff2") format("woff2"),url("https://gel.files.bbci.co.uk/r2.512/BBCReithSans_W_ExBdIt.woff") format("woff")}@font-face{font-display:swap;font-family:"ReithSerif";src:url("https://gel.files.bbci.co.uk/r2.512/BBCReithSerif_W_Rg.woff2") format("woff2"),url("https://gel.files.bbci.co.uk/r2.512/BBCReithSerif_W_Rg.woff") format("woff")}@font-face{font-display:swap;font-family:"ReithSerif";font-style:italic;src:url("https://gel.files.bbci.co.uk/r2.512/BBCReithSerif_W_It.woff2") format("woff2"),url("https://gel.files.bbci.co.uk/r2.512/BBCReithSerif_W_It.woff") format("woff")}@font-face{font-display:swap;font-family:"ReithSerif";font-weight:bold;src:url("https://gel.files.bbci.co.uk/r2.512/BBCReithSerif_W_Bd.woff2") format("woff2"),url("https://gel.files.bbci.co.uk/r2.512/BBCReithSerif_W_Bd.woff") format("woff")}@font-face{font-display:swap;font-family:"ReithSerif";font-style:italic;font-weight:bold;src:url("https://gel.files.bbci.co.uk/r2.512/BBCReithSerif_W_BdIt.woff2") format("woff2"),url("https://gel.files.bbci.co.uk/r2.512/BBCReithSerif_W_BdIt.woff") format("woff")}@font-face{font-display:swap;font-family:"ReithSerif";font-weight:300;src:url("https://gel.files.bbci.co.uk/r2.512/BBCReithSerif_W_Lt.woff2") format("woff2"),url("https://gel.files.bbci.co.uk/r2.512/BBCReithSerif_W_Lt.woff") format("woff")}@font-face{font-display:swap;font-family:"ReithSerif";font-style:italic;font-weight:300;src:url("https://gel.files.bbci.co.uk/r2.512/BBCReithSerif_W_LtIt.woff2") format("woff2"),url("https://gel.files.bbci.co.uk/r2.512/BBCReithSerif_W_LtIt.woff") format("woff")}@font-face{font-display:swap;font-family:"ReithSerif";font-weight:500;src:url("https://gel.files.bbci.co.uk/r2.512/BBCReithSerif_W_Md.woff2") format("woff2"),url("https://gel.files.bbci.co.uk/r2.512/BBCReithSerif_W_Md.woff") format("woff")}@font-face{font-display:swap;font-family:"ReithSerif";font-style:italic;font-weight:500;src:url("https://gel.files.bbci.co.uk/r2.512/BBCReithSerif_W_MdIt.woff2") format("woff2"),url("https://gel.files.bbci.co.uk/r2.512/BBCReithSerif_W_MdIt.woff") format("woff")}@font-face{font-display:swap;font-family:"ReithSerif";font-weight:800;src:url("https://gel.files.bbci.co.uk/r2.512/BBCReithSerif_W_ExBd.woff2") format("woff2"),url("https://gel.files.bbci.co.uk/r2.512/BBCReithSerif_W_ExBd.woff") format("woff")}@font-face{font-display:swap;font-family:"ReithSerif";font-style:italic;font-weight:800;src:url("https://gel.files.bbci.co.uk/r2.512/BBCReithSerif_W_ExBdIt.woff2") format("woff2"),url("https://gel.files.bbci.co.uk/r2.512/BBCReithSerif_W_ExBdIt.woff") format("woff")}nnu003c/style>nnu003cscript>n (function(){nnfunction cutsTheMustard() {n return (n document.implementation.hasFeature('http://www.w3.org/TR/SVG11/feature#BasicStructure', '1.1') &&n 'querySelector' in document &&n 'localStorage' in window &&n 'addEventListener' in window &&n 'MutationObserver' in window // not supported in IE9 & IE10n );n}nn if (cutsTheMustard()) {n function initEmbed() {n require(['https://news.files.bbci.co.uk/include/vjeastasia/800-timeline_on_slack/assets/embed/js/embed-init.js??v=1.0.202107141341.202107141341'], function (initFullFatApplication) {n initFullFatApplication(vjConfigObject['vjeastasia-800-timeline_on_slack-newsspec-31238']);n });n }nn if (typeof require === 'undefined') {n var headTag = document.getElementsByTagName('head')[0],n requireTag = document.createElement('script');n requireTag.type = 'text/javascript';n requireTag.src = 'https://news.files.bbci.co.uk/include/vjassets/js/vendor/require-2.1.20b.min.js';n requireTag.onload = initEmbed;n headTag.appendChild(requireTag);n } else {n initEmbed();n }nn }n else if (window.require) {n require(['istats-1'], function (istats) {n istats.log('browser does not cut the mustard', 'newsspec-nonuser');n });n } })();nu003c/script>n","type":"vj"}}]}},"contributor":null,"blocks":[{"type":"image","model":{"emphasiseImage":true,"caption":"A makeshift memorial grows to honour the children whose remains were found at the former Kamloops school","copyright":"Getty Images","media":{"__typename":"ComponentsImage","originalSrc":"https://c.files.bbci.co.uk/1275D/production/_119431657_canadatop.jpg","iChefRecipe":"https://ichef.bbci.co.uk/news/$recipe/cpsprodpb/1275D/production/_119431657_canadatop.jpg","height":549,"width":976,"alt":"A makeshift memorial to honour the 215 children whose remains have been discovered buried near the facility is seen as orange light drapes the facade of the former Kamloops Indian Residential School in Kamloops, British Columbia, Canada, on June 2, 2021.","loading":"lazy"},"blocks":[{"type":"altText","model":{"blocks":[{"type":"text","model":{"blocks":[{"type":"fragment","model":{"text":"A makeshift memorial to honour the 215 children whose remains have been discovered buried near the facility is seen as orange light drapes the facade of the former Kamloops Indian Residential School in Kamloops, British Columbia, Canada, on June 2, 2021.","attributes":[]}}]}}]}},{"type":"rawImage","model":{"height":549,"width":976,"locator":"1275D/production/_119431657_canadatop.jpg","originCode":"cpsprodpb","copyrightHolder":"Getty Images","originalSrc":"https://c.files.bbci.co.uk/1275D/production/_119431657_canadatop.jpg","iChefRecipe":"https://ichef.bbci.co.uk/news/$recipe/cpsprodpb/1275D/production/_119431657_canadatop.jpg"}},{"type":"caption","model":{"blocks":[{"type":"text","model":{"blocks":[{"type":"fragment","model":{"text":"A makeshift memorial grows to honour the children whose remains were found at the former Kamloops school","attributes":[]}}]}}]}}]}},{"type":"text","model":{"blocks":[{"type":"paragraph","model":{"text":"A indigenous nation has called on the Canadian government to release residential school attendance records to help identify unmarked graves. ","blocks":[{"type":"fragment","model":{"text":"A indigenous nation has called on the Canadian government to release residential school attendance records to help identify unmarked graves. ","attributes":["bold","bold"]}}]}}]}},{"type":"text","model":{"blocks":[{"type":"paragraph","model":{"text":"In May, the Tk'emlúps te Secwépemc First Nation announced the initial discovery of 215 unmarked graves near the Kamloops Indian Residential School. ","blocks":[{"type":"fragment","model":{"text":"In May, the Tk'emlúps te Secwépemc First Nation announced the initial discovery of 215 unmarked graves near the Kamloops Indian Residential School. ","attributes":[]}}]}}]}},{"type":"text","model":{"blocks":[{"type":"paragraph","model":{"text":"Presenting the full report on Thursday, the nation said they expect more graves to be found as the search continues. ","blocks":[{"type":"fragment","model":{"text":"Presenting the full report on Thursday, the nation said they expect more graves to be found as the search continues. ","attributes":[]}}]}}]}},{"type":"text","model":{"blocks":[{"type":"paragraph","model":{"text":"An early discovery of children's bones helped guide the search.","blocks":[{"type":"fragment","model":{"text":"An early discovery of children's bones helped guide the search.","attributes":[]}}]}}]}},{"type":"text","model":{"blocks":[{"type":"paragraph","model":{"text":"The initial findings from the Tk'emlúps this spring triggered a national reckoning over Canada's legacy of residential schools. In the months that followed, the tally of these unmarked graves across the country has increased to more than 1,100. ","blocks":[{"type":"fragment","model":{"text":"The initial findings from the Tk'emlúps this spring triggered a national reckoning over Canada's legacy of residential schools. In the months that followed, the tally of these unmarked graves across the country has increased to more than 1,100. ","attributes":[]}}]}}]}},{"type":"text","model":{"blocks":[{"type":"paragraph","model":{"text":"These government-funded boarding schools were part of a policy to attempt to assimilate indigenous children and destroy indigenous cultures and languages. ","blocks":[{"type":"fragment","model":{"text":"These government-funded boarding schools were part of a policy to attempt to assimilate indigenous children and destroy indigenous cultures and languages. ","attributes":[]}}]}}]}},{"type":"text","model":{"blocks":[{"type":"paragraph","model":{"text":"Kamloops Residential School in British Columbia was the largest in the country. Opened under a Roman Catholic administration in 1890, the school had as many as 500 students until its closure in 1978. ","blocks":[{"type":"fragment","model":{"text":"Kamloops Residential School in British Columbia was the largest in the country. Opened under a Roman Catholic administration in 1890, the school had as many as 500 students until its closure in 1978. ","attributes":[]}}]}}]}},{"type":"text","model":{"blocks":[{"type":"paragraph","model":{"text":""The residential schools were specifically built to take the Indian out of us," said residential school survivor Evelyn Camille. She became ashamed of her identity, she said. "That's what residential schools taught me." ","blocks":[{"type":"fragment","model":{"text":""The residential schools were specifically built to take the Indian out of us," said residential school survivor Evelyn Camille. She became ashamed of her identity, she said. "That's what residential schools taught me." ","attributes":[]}}]}}]}},{"type":"text","model":{"blocks":[{"type":"paragraph","model":{"text":"Ground-surveying teams have identified more than 200 potential grave sites after searching two acres near the school. More than 160 acres still require investigations. ","blocks":[{"type":"fragment","model":{"text":"Ground-surveying teams have identified more than 200 potential grave sites after searching two acres near the school. More than 160 acres still require investigations. ","attributes":[]}}]}}]}},{"type":"unorderedList","model":{"blocks":[{"type":"listItem","model":{"blocks":[{"type":"urlLink","model":{"text":"The child graves behind Canada's national reckoning","locator":"https://www.bbc.co.uk/news/world-us-canada-57325653″,"blocks":[{"type":"fragment","model":{"text":"The child graves behind Canada's national reckoning","attributes":[]}}]}}]}}]}},{"type":"text","model":{"blocks":[{"type":"paragraph","model":{"text":""There are very likely to be a number of human burials in the area," said ground-penetrating radar specialist Sarah Beaulieu, who presented the findings. "This investigation has barely scratched the surface."","blocks":[{"type":"fragment","model":{"text":""There are very likely to be a number of human burials in the area," said ground-penetrating radar specialist Sarah Beaulieu, who presented the findings. "This investigation has barely scratched the surface."","attributes":[]}}]}}]}},{"type":"text","model":{"blocks":[{"type":"paragraph","model":{"text":"The initial area of interest was was chosen after Tk'emlúps elders recalled children, some as young as six, being asked to dig holes there, Ms Beaulieu said. ","blocks":[{"type":"fragment","model":{"text":"The initial area of interest was was chosen after Tk'emlúps elders recalled children, some as young as six, being asked to dig holes there, Ms Beaulieu said. ","attributes":[]}}]}}]}},{"type":"text","model":{"blocks":[{"type":"paragraph","model":{"text":"Tk'emlúps te Secwépem Chief Rosanne Casimir appealed to both the federal government and the Catholic Church to release attendance records from the school to help identify the remains. ","blocks":[{"type":"fragment","model":{"text":"Tk'emlúps te Secwépem Chief Rosanne Casimir appealed to both the federal government and the Catholic Church to release attendance records from the school to help identify the remains. ","attributes":[]}}]}}]}},{"type":"text","model":{"blocks":[{"type":"paragraph","model":{"text":"She said providing the records would be a "first step" in assisting the investigation.","blocks":[{"type":"fragment","model":{"text":"She said providing the records would be a "first step" in assisting the investigation.","attributes":[]}}]}}]}},{"type":"text","model":{"blocks":[{"type":"paragraph","model":{"text":""We are not here for retaliation, we're here for truth-telling," she said. ","blocks":[{"type":"fragment","model":{"text":""We are not here for retaliation, we're here for truth-telling," she said. ","attributes":[]}}]}}]}},{"type":"text","model":{"blocks":[{"type":"paragraph","model":{"text":"Estimates by indigenous leaders suggest over 6,000 children died at residential schools from causes like disease, accident or suicide.","blocks":[{"type":"fragment","model":{"text":"Estimates by indigenous leaders suggest over 6,000 children died at residential schools from causes like disease, accident or suicide.","attributes":[]}}]}}]}},{"type":"media","model":{"caption":""No reconciliation without truth": A survivor recounts abuse in Canadian residential school","media":{"__typename":"ElementsMediaPlayer","items":[{"id":"p09kpg2k","title":"'There's no reconciliation without truth'","holdingImageUrl":"https://ichef.bbci.co.uk/images/ic/$recipe/p09kpvf3.jpg","kind":"programme","isEmbeddingAllowed":true,"isAdvertisingAllowed":true}]}}},{"type":"text","model":{"blocks":[{"type":"paragraph","model":{"text":"The record-keeping at residential schools when children died was often poor – the child's name, gender or cause of death were not always recorded. The common practice was not to send the bodies back home.","blocks":[{"type":"fragment","model":{"text":"The record-keeping at residential schools when children died was often poor – the child's name, gender or cause of death were not always recorded. The common practice was not to send the bodies back home.","attributes":[]}}]}}]}},{"type":"text","model":{"blocks":[{"type":"paragraph","model":{"text":"Many children were buried in neglected graves.","blocks":[{"type":"fragment","model":{"text":"Many children were buried in neglected graves.","attributes":[]}}]}}]}},{"type":"text","model":{"blocks":[{"type":"paragraph","model":{"text":"To this day there is no complete picture of the number of children who died in residential schools, the circumstances of their deaths, or where they are buried. ","blocks":[{"type":"fragment","model":{"text":"To this day there is no complete picture of the number of children who died in residential schools, the circumstances of their deaths, or where they are buried. ","attributes":[]}}]}}]}},{"type":"include","model":{"href":"/include/vjeastasia/800-timeline_on_slack/english/newsspec-31238?responsive=true&newsapps=true&app-image=https://c.files.bbci.co.uk/8033/production/_117391823_projectname_app_launcher_640-nc.png&app-clickable=true&amp-clickable=true&amp-image-height=360&amp-image-width=640&amp-image=https://c.files.bbci.co.uk/8033/production/_117391823_projectname_app_launcher_640-nc.png&app-image-alt-text=Click%20or%20tap%20here%20to%20see%20interactive%20content","html":"","type":"vj"}}],"seeAlsos":[{"contentType":"STY","headlines":{"shortHeadline":"The child graves behind Canada's national reckoning","headline":"Why Canada is mourning the deaths of hundreds of children"},"url":"/news/world-us-canada-57325653″,"timestamp":1626370479000,"type":"STY","timestampRelative":"18 hours ago"},{"contentType":"STY","headlines":{"shortHeadline":"Why Canada is reforming indigenous foster care","headline":"Why Canada is reforming indigenous foster care"},"url":"/news/world-us-canada-57646170″,"timestamp":1625958384000,"type":"STY","timestampRelative":"5 days ago"},{"contentType":"STY","headlines":{"shortHeadline":"Why 2,800 children's names were made public","headline":"Canada reveals names of 2,800 victims of residential schools"},"url":"/news/world-us-canada-49884387″,"timestamp":1569943842000,"type":"STY","timestampRelative":"1 October 2019″}],"relatedUrls":[],"tags":[{"title":"Justin Trudeau","url":"/news/topics/cg41ylwvxd7t","isEvent":false},{"title":"Canada","url":"/news/topics/cywd23g0q41t","isEvent":false},{"title":"Indigenous Canadians","url":"/news/topics/cxq3l2m0mjgt","isEvent":false}]},"importance":"PRIMARY","hasFetcher":true},"onward-journeys?country=us&id=topStories&language=en-GB&section=%2Fnews%2Fworld%2Fus_and_canada&sectionHeader=Top%20Stories&showFirstSummary=true&showTimestamp=true":{"name":"onward-journeys","props":{"id":"topStories","sectionHeader":"Top Stories","showFirstSummary":true,"showTimestamp":true,"country":"us","section":"/news/world/us_and_canada","language":"en-GB"},"data":[{"headlines":{"headline":"Hundreds missing in Germany after flood disaster"},"url":"/news/live/world-europe-57860153″,"timestamp":1626418599000,"summary":"Emergency workers search for the missing in the wake of flooding that has killed at least 93 people.","type":"LIV","image":{"alt":"Firefighters stand at a damaged area of the village of Schuld in the district of Ahrweiler after heavy flooding of the river Ahr, in Schuld, Germany, 15 July 2021.","height":945,"loading":"lazy","originalSrc":"http://c.files.bbci.co.uk/617A/production/_119445942_floodsepa.jpg","iChefRecipe":"https://ichef.bbci.co.uk/news/$recipe/cpsprodpb/617A/production/_119445942_floodsepa.jpg","width":1680},"timestampRelative":"4 hours ago"},{"headlines":{"headline":"Biden and Merkel 'united against Russia aggression'"},"url":"/news/world-us-canada-57854625″,"timestamp":1626391768000,"summary":""Good friends can disagree," Mr Biden says of their dispute over a Russia-to-Germany pipeline.","type":"STY","image":{"alt":"Merkel and Biden in the White House","height":576,"loading":"lazy","originalSrc":"http://c.files.bbci.co.uk/65B2/production/_119443062_gettyimages-1233995943.jpg","iChefRecipe":"https://ichef.bbci.co.uk/news/$recipe/cpsprodpb/65B2/production/_119443062_gettyimages-1233995943.jpg","width":1024},"timestampRelative":"12 hours ago"},{"headlines":{"headline":"Fleeing Ethiopia for fear of new ethnic conflict"},"url":"/news/world-africa-57818673″,"timestamp":1626390516000,"summary":""War is inevitable – it is ethnic cleansing," says an Ethiopian doctor who has escaped to Sudan.","type":"STY","image":{"alt":"Ethiopian refugees who fled the Ethiopia's Tigray conflict watch the sunset on a hill at the Um Raquba refugee camp in Sudan's eastern Gedaref state on December 12, 2020.","height":549,"loading":"lazy","originalSrc":"http://c.files.bbci.co.uk/957F/production/_119417283_tigray_1_getty.jpg","iChefRecipe":"https://ichef.bbci.co.uk/news/$recipe/cpsprodpb/957F/production/_119417283_tigray_1_getty.jpg","width":976},"timestampRelative":"12 hours ago"}],"importance":"SECONDARY","hasFetcher":true},"onward-journeys?country=us&enableDotcomAds=false&id=features&insertAdSlotAtIndex=3&language=en-GB&section=%2Fnews%2Fworld%2Fus_and_canada&sectionHeader=Features&showImage=true":{"name":"onward-journeys","props":{"id":"features","sectionHeader":"Features","showImage":true,"insertAdSlotAtIndex":3,"country":"us","section":"/news/world/us_and_canada","language":"en-GB","enableDotcomAds":false},"data":[{"headlines":{"headline":"Finding 'Grace': Murder, DNA and ancestry"},"url":"/news/technology-57801794″,"timestamp":1626393903000,"summary":"How a novel use of DNA and ancestry websites is helping police uncover clues in cold case murders.","type":"STY","image":{"alt":"A forensic artist picture of what Grace might have looked like","height":549,"loading":"lazy","originalSrc":"http://c.files.bbci.co.uk/E398/production/_119446285_976_grace.jpg","iChefRecipe":"https://ichef.bbci.co.uk/news/$recipe/cpsprodpb/E398/production/_119446285_976_grace.jpg","width":976},"timestampRelative":"11 hours ago"},{"headlines":{"headline":"'Six years old, I was imprisoned here'"},"url":"/news/world-us-canada-57840797″,"timestamp":1626391514000,"summary":"As searches for unmarked graves continue, survivors reflect on a dark legacy of residential schools.","type":"MAP","image":{"alt":"Residential school survivor Isadore Poorman in front of the former institution","height":549,"loading":"lazy","originalSrc":"http://c.files.bbci.co.uk/13BE0/production/_119446808_mediaitem119446807.jpg","iChefRecipe":"https://ichef.bbci.co.uk/news/$recipe/cpsprodpb/13BE0/production/_119446808_mediaitem119446807.jpg","width":976},"timestampRelative":"12 hours ago"},{"headlines":{"headline":"Fleeing Ethiopia for fear of new ethnic conflict"},"url":"/news/world-africa-57818673″,"timestamp":1626390516000,"summary":""War is inevitable – it is ethnic cleansing," says an Ethiopian doctor who has escaped to Sudan.","type":"STY","image":{"alt":"Ethiopian refugees who fled the Ethiopia's Tigray conflict watch the sunset on a hill at the Um Raquba refugee camp in Sudan's eastern Gedaref state on December 12, 2020.","height":549,"loading":"lazy","originalSrc":"http://c.files.bbci.co.uk/957F/production/_119417283_tigray_1_getty.jpg","iChefRecipe":"https://ichef.bbci.co.uk/news/$recipe/cpsprodpb/957F/production/_119417283_tigray_1_getty.jpg","width":976},"timestampRelative":"12 hours ago"},{"headlines":{"headline":"Dying alone in Indonesia's grim battle with Covid-19″},"url":"/news/world-asia-57830770″,"timestamp":1626390094000,"summary":"Firefighters haul bodies from homes as hospitals scramble for oxygen in Asia's new Covid epicentre.","type":"STY","image":{"alt":"A woman crying during the burial of a daughter who died of COVID-19 at Rorotan Cemetery in Jakarta on Tuesday 13 July, 2021.","height":549,"loading":"lazy","originalSrc":"http://c.files.bbci.co.uk/0425/production/_119416010_gettyimages-1233961328.jpg","iChefRecipe":"https://ichef.bbci.co.uk/news/$recipe/cpsprodpb/0425/production/_119416010_gettyimages-1233961328.jpg","width":976},"timestampRelative":"12 hours ago"},{"headlines":{"headline":"The gymnasts 'building bridges between cultures'"},"url":"/news/world-asia-57839224″,"timestamp":1626390218000,"summary":"The town of Murayama in northern Japan is preparing to welcome a team of Bulgarian Olympians.","type":"MAP","image":{"alt":"Gymnast and children","height":576,"loading":"lazy","originalSrc":"http://c.files.bbci.co.uk/16DB5/production/_119412639_p09pdmjl.jpg","iChefRecipe":"https://ichef.bbci.co.uk/news/$recipe/cpsprodpb/16DB5/production/_119412639_p09pdmjl.jpg","width":1024},"timestampRelative":"12 hours ago"},{"headlines":{"headline":"The community that celebrates kindness"},"url":"/news/world-asia-india-57817615″,"timestamp":1626390116000,"summary":"A new book asks why Sikhs have made it a tradition to help strangers in their darkest moments.","type":"STY","image":{"alt":"An elderly Sikh protester stands for Ardas (Sikhism worship) at Singhu border during the demonstration.Thousands of farmers from Punjab, Haryana and other states gathered for the 28th day protesting against the Government's new agricultural law, demanding to rollback these new bills.","height":549,"loading":"lazy","originalSrc":"http://c.files.bbci.co.uk/11AC5/production/_119398327_gettyimages-1230282051-594×594.jpg","iChefRecipe":"https://ichef.bbci.co.uk/news/$recipe/cpsprodpb/11AC5/production/_119398327_gettyimages-1230282051-594×594.jpg","width":976},"timestampRelative":"12 hours ago"},{"headlines":{"headline":"Quiz of the week: Why were giant pandas in the news?"},"url":"https://tinyurl.com/v48mmb7h","timestamp":1626341449000,"summary":"","image":{"alt":"A giant panda","height":549,"loading":"lazy","originalSrc":"http://c.files.bbci.co.uk/14D2B/production/_119419258_hi018909787.jpg","iChefRecipe":"https://ichef.bbci.co.uk/news/$recipe/cpsprodpb/14D2B/production/_119419258_hi018909787.jpg","width":976},"timestampRelative":"1 day ago"},{"headlines":{"headline":"BBC Worklife: Do you still have to dress up for work?"},"url":"https://www.bbc.com/worklife/article/20210713-is-the-formal-suited-and-booted-office-dress-code-extinct","timestamp":1626359504000,"summary":"","image":{"alt":"Man putting on shirt and tie","height":338,"loading":"lazy","originalSrc":"http://c.files.bbci.co.uk/198E/production/_119424560_p09p85y4.jpg","iChefRecipe":"https://ichef.bbci.co.uk/news/$recipe/cpsprodpb/198E/production/_119424560_p09p85y4.jpg","width":600},"timestampRelative":"21 hours ago"},{"headlines":{"headline":"Africa's top shots: Red carpet moments and a leap of faith"},"url":"/news/world-africa-57850243″,"timestamp":1626390836000,"summary":"A selection of the week's best photos from across the continent and beyond.","type":"STY","image":{"alt":"A woman poses in an iridescent dress on the red carpet.","height":549,"loading":"lazy","originalSrc":"http://c.files.bbci.co.uk/4348/production/_119442271_gettyimages-1233874002.jpg","iChefRecipe":"https://ichef.bbci.co.uk/news/$recipe/cpsprodpb/4348/production/_119442271_gettyimages-1233874002.jpg","width":976},"timestampRelative":"12 hours ago"}],"importance":"SECONDARY","hasFetcher":true},"onward-journeys?country=us&id=elsewhere&language=en-GB&section=%2Fnews%2Fworld%2Fus_and_canada&sectionHeader=Elsewhere%20on%20the%20BBC&showImage=true&showSummary=true":{"name":"onward-journeys","props":{"id":"elsewhere","sectionHeader":"Elsewhere on the BBC","showImage":true,"showSummary":true,"country":"us","section":"/news/world/us_and_canada","language":"en-GB"},"data":[{"headlines":{"headline":"Football phrases"},"url":"http://www.bbc.co.uk/programmes/articles/51MWxHsTD7YhW4gTWWtPvKf/end-to-end-with-15-football-phrases-from-around-the-world?intc_type=promo&intc_location=news&intc_campaign=fifteenfootballphrases_article&intc_linkname=radio4_sm_mid_c3″,"timestamp":1530807531000,"summary":"15 sayings from around the world","image":{"alt":"football being kicked on a field – Vauxhall image blurred in the background.","height":351,"loading":"lazy","originalSrc":"http://c.files.bbci.co.uk/7F9D/production/_102396623_footballphrases.jpg","iChefRecipe":"https://ichef.bbci.co.uk/news/$recipe/cpsprodpb/7F9D/production/_102396623_footballphrases.jpg","width":624},"timestampRelative":"5 July 2018″}],"importance":"SECONDARY","hasFetcher":true},"onward-journeys?country=us&expiresInMs=3600000&id=mostRead&language=en-GB&section=%2Fnews%2Fworld%2Fus_and_canada&sectionHeader=Most%20Read":{"name":"onward-journeys","props":{"id":"mostRead","sectionHeader":"Most Read","expiresInMs":3600000,"country":"us","section":"/news/world/us_and_canada","language":"en-GB"},"data":[{"id":"04910571-39f8-4256-8746-750152d319d8″,"count":3035,"rank":1,"urn":"urn:bbc:curie:asset:04910571-39f8-4256-8746-750152d319d8″,"headlines":{"shortHeadline":"More than 100 confirmed dead in German floods","headline":"Germany floods: At least 100 dead and hundreds unaccounted for"},"url":"/news/world-europe-57858829″,"timestamp":1626432433000,"summary":"Belgium is also hit hard as northern Europe is devastated by some of the worst flooding in decades.","type":"cps","image":{"alt":"Local government handout image of Erftstadt-Blessem, where houses have collapsed and some residents are believed to be trapped (16 July)","height":549,"loading":"lazy","originalSrc":"http://c.files.bbci.co.uk/F860/production/_119448536_erftstadt.jpg","iChefRecipe":"https://ichef.bbci.co.uk/news/$recipe/cpsprodpb/F860/production/_119448536_erftstadt.jpg","width":976},"timestampRelative":"55 minutes ago"},{"id":"d93c729f-b891-49e8-9729-37a028e625b0″,"count":800,"rank":2,"urn":"urn:bbc:curie:asset:d93c729f-b891-49e8-9729-37a028e625b0″,"headlines":{"shortHeadline":"Entire whisky distillery ships out to China","headline":"Entire whisky distillery ships out to China"},"url":"/news/uk-scotland-scotland-business-57825081″,"timestamp":1626414711000,"summary":"More than 35 tonnes of production equipment is leaving Scotland for the port of Tianjin under a £3m deal.","type":"cps","image":{"alt":"Stills manufactured by Moray-based Forsyths","height":549,"loading":"lazy","originalSrc":"http://c.files.bbci.co.uk/985D/production/_119450093_forsythdraughtsmenvisit.jpg","iChefRecipe":"https://ichef.bbci.co.uk/news/$recipe/cpsprodpb/985D/production/_119450093_forsythdraughtsmenvisit.jpg","width":976},"timestampRelative":"5 hours ago"},{"id":"aec18568-2bfa-4565-b709-cac4e98a855c","count":704,"rank":3,"urn":"urn:bbc:curie:asset:aec18568-2bfa-4565-b709-cac4e98a855c","headlines":{"shortHeadline":"In pictures: Floods kill dozens in Germany and Belgium","headline":"In pictures: Floods kill dozens in Germany and Belgium"},"url":"/news/world-europe-57858826″,"timestamp":1626422329000,"summary":"Record rainfall caused rivers to burst their banks, leaving at least 92 dead in Germany and Belgium.","type":"cps","image":{"alt":"A digger clears debris in Germany after flooding, 15 July 2021″,"height":549,"loading":"lazy","originalSrc":"http://c.files.bbci.co.uk/FC98/production/_119446646_gettyimages-1233996713.jpg","iChefRecipe":"https://ichef.bbci.co.uk/news/$recipe/cpsprodpb/FC98/production/_119446646_gettyimages-1233996713.jpg","width":976},"timestampRelative":"3 hours ago"},{"id":"caaf1178-ab20-4504-a737-020e7b69d59b","count":633,"rank":4,"urn":"urn:bbc:curie:asset:caaf1178-ab20-4504-a737-020e7b69d59b","headlines":{"shortHeadline":"Younger adults risk Covid organ damage – study","headline":"Covid: Younger adults still at risk of serious organ damage – study"},"url":"/news/health-57840825″,"timestamp":1626390096000,"summary":"Adults below the age of 50 are almost as likely to suffer from medical complications as the over-50s.","type":"cps","image":{"alt":"A nurse attends to a patient on a Covid-19 ward at Milton Keynes University Hospital","height":549,"loading":"lazy","originalSrc":"http://c.files.bbci.co.uk/1798E/production/_119445669_rtx8nud3.jpg","iChefRecipe":"https://ichef.bbci.co.uk/news/$recipe/cpsprodpb/1798E/production/_119445669_rtx8nud3.jpg","width":976},"timestampRelative":"12 hours ago"},{"id":"5c087e59-43f2-4fd2-b3dc-3be7ab11203b","count":601,"rank":5,"urn":"urn:bbc:curie:asset:5c087e59-43f2-4fd2-b3dc-3be7ab11203b","headlines":{"shortHeadline":"Finding 'Grace': Murder, DNA and ancestry","headline":"Finding 'Grace': Murder, DNA and ancestry"},"url":"/news/technology-57801794″,"timestamp":1626393903000,"summary":"How a novel use of DNA and ancestry websites is helping police uncover clues in cold case murders.","type":"cps","image":{"alt":"A forensic artist picture of what Grace might have looked like","height":549,"loading":"lazy","originalSrc":"http://c.files.bbci.co.uk/E398/production/_119446285_976_grace.jpg","iChefRecipe":"https://ichef.bbci.co.uk/news/$recipe/cpsprodpb/E398/production/_119446285_976_grace.jpg","width":976},"timestampRelative":"11 hours ago"},{"id":"f7ff5043-b48a-4bf2-b8e3-056180555659″,"count":551,"rank":6,"urn":"urn:bbc:curie:asset:f7ff5043-b48a-4bf2-b8e3-056180555659″,"headlines":{"shortHeadline":"WhatsApp blocks over two million Indian accounts","headline":"WhatsApp blocks two million Indian accounts"},"url":"/news/world-asia-india-57831201″,"timestamp":1626415601000,"summary":"The messaging platform said most of these users violated the bulk messaging rules.","type":"cps","image":{"alt":"WhatsApp logo on the App Store displayed on a phone screen and WhatsApp logo in the background","height":549,"loading":"lazy","originalSrc":"http://c.files.bbci.co.uk/9960/production/_119446293_976_gettyimages-1230597300.jpg","iChefRecipe":"https://ichef.bbci.co.uk/news/$recipe/cpsprodpb/9960/production/_119446293_976_gettyimages-1230597300.jpg","width":976},"timestampRelative":"5 hours ago"},{"id":"c6268358-9f1d-4992-9591-5cae3ffdbc61″,"count":484,"rank":7,"urn":"urn:bbc:curie:asset:c6268358-9f1d-4992-9591-5cae3ffdbc61″,"headlines":{"shortHeadline":"Indian photojournalist killed in Afghanistan","headline":"Danish Siddiqui: Indian photojournalist killed in Afghanistan"},"url":"/news/world-asia-india-57859652″,"timestamp":1626425105000,"summary":"Danish Siddiqui, a photographer with Reuters, is killed on assignment, reportedly in an ambush.","type":"cps","image":{"alt":"A file photo of Indian photojournalist Danish Siddiqui.","height":549,"loading":"lazy","originalSrc":"http://c.files.bbci.co.uk/D6A0/production/_119444945_ekqv74we_400x400.jpg","iChefRecipe":"https://ichef.bbci.co.uk/news/$recipe/cpsprodpb/D6A0/production/_119444945_ekqv74we_400x400.jpg","width":976},"timestampRelative":"2 hours ago"},{"id":"7ef5a150-09fd-4f17-9995-63d0e2857ce4″,"count":450,"rank":8,"urn":"urn:bbc:curie:asset:7ef5a150-09fd-4f17-9995-63d0e2857ce4″,"headlines":{"shortHeadline":"Cambage pulls out of Olympics","headline":"Tokyo 2020: Australia basketball star Liz Cambage withdraws from Olympics citing mental health concerns"},"url":"/sport/olympics/57860434″,"timestamp":1626419400000,"summary":"Australian basketball player Liz Cambage withdraws from the Olympic team citing mental health concerns and fears of heading into the "bubble".","type":"cps","image":{"alt":"Liz Cambage","height":1152,"loading":"lazy","originalSrc":"http://c.files.bbci.co.uk/0AC2/production/_119445720_57860434.jpg","iChefRecipe":"https://ichef.bbci.co.uk/news/$recipe/cpsprodpb/0AC2/production/_119445720_57860434.jpg","width":2048},"timestampRelative":"4 hours ago"},{"id":"fe1d9b78-8d2f-409d-a99f-ea09750b140f","count":385,"rank":9,"urn":"urn:bbc:curie:asset:fe1d9b78-8d2f-409d-a99f-ea09750b140f","headlines":{"shortHeadline":"Teenager to fly into space with Jeff Bezos","headline":"Blue Origin: Teenager to fly into space with Jeff Bezos"},"url":"/news/world-us-canada-57855650″,"timestamp":1626366806000,"summary":"Oliver Daemen, 18, will become the youngest person to fly to space with the Blue Origin venture.","type":"cps","image":{"alt":"Oliver Daemen","height":549,"loading":"lazy","originalSrc":"http://c.files.bbci.co.uk/131D4/production/_119429287_mediaitem119429283.jpg","iChefRecipe":"https://ichef.bbci.co.uk/news/$recipe/cpsprodpb/131D4/production/_119429287_mediaitem119429283.jpg","width":976},"timestampRelative":"19 hours ago"},{"id":"aeb4e6e5-f97d-4956-8a74-bde4e8517e3f","count":362,"rank":10,"urn":"urn:bbc:curie:asset:aeb4e6e5-f97d-4956-8a74-bde4e8517e3f","headlines":{"shortHeadline":"China: Get jabbed or your child can't go to school","headline":"China covid: Counties target unvaccinated students' families"},"url":"/news/world-asia-china-57859356″,"timestamp":1626413680000,"summary":"Some local counties have introduced strict rules in a bid to increase their vaccination rates.","type":"cps","image":{"alt":"Students wearing face masks take part in a class at a primary school on March 1, 2021″,"height":549,"loading":"lazy","originalSrc":"http://c.files.bbci.co.uk/16A48/production/_119444729_gettyimages-1304859638.jpg","iChefRecipe":"https://ichef.bbci.co.uk/news/$recipe/cpsprodpb/16A48/production/_119444729_gettyimages-1304859638.jpg","width":976},"timestampRelative":"6 hours ago"}],"importance":"SECONDARY","hasFetcher":true},"service-bar?language=en-GB&product=news":{"name":"service-bar","props":{"product":"news","language":"en-GB"},"data":{"title":"BBC News Services","serviceLinks":[{"text":"On your mobile","url":"https://www.bbc.co.uk/news/10628994″,"type":"devices-and-inputs:smartphone"},{"text":"On smart speakers","url":"https://www.bbc.co.uk/news/help-50068132″,"type":"devices-and-inputs:microphone"},{"text":"Get news alerts","url":"https://www.bbc.co.uk/news/10628323″,"type":"content-types:newsletter"},{"text":"Contact BBC News","url":"https://www.bbc.co.uk/news/20039682″,"type":"participate:email"}]},"importance":"SECONDARY","hasFetcher":true},"footer-promos?country=us&identifiers=NEWS_PS%2Cnews_ps&language=en-GB":{"name":"footer-promos","props":{"identifiers":"NEWS_PS,news_ps","language":"en-GB","country":"us"},"data":{},"importance":"SECONDARY","hasFetcher":true},"global-footer?country=us&language=en-GB":{"name":"global-footer","props":{"country":"us","language":"en-GB"},"data":{"accessibilityLinks":[{"label":"Skip to content","url":"#main-heading"},{"label":"Accessibility Help","url":"https://www.bbc.co.uk/accessibility/"}],"signInLabel":"Sign in","accountLabel":"Your account","menuLabel":"Menu","moreLabel":"More","closeButtonLabel":"Close menu","legalLinks":[{"url":"https://www.bbc.co.uk/usingthebbc/terms","label":"Terms of Use"},{"url":"https://www.bbc.co.uk/aboutthebbc","label":"About the BBC"},{"url":"https://www.bbc.co.uk/usingthebbc/privacy","label":"Privacy Policy"},{"url":"https://www.bbc.co.uk/usingthebbc/cookies","label":"Cookies"},{"url":"https://www.bbc.co.uk/accessibility","label":"Accessibility Help"},{"url":"https://www.bbc.co.uk/iplayer/guidance","label":"Parental Guidance"},{"url":"https://www.bbc.co.uk/contact","label":"Contact the BBC"},{"url":"https://www.bbc.co.uk/bbcnewsletter","label":"Get Personalised Newsletters"},{"url":"https://www.bbc.co.uk/news/help-41670342″,"label":"Why you can trust the BBC"},{"url":"https://www.bbcglobalnews.com/home/","label":"Advertise with us"},{"url":"https://www.bbc.com/usingthebbc/cookies/how-does-the-bbc-use-cookies-for-advertising/","label":"AdChoices / Do Not Sell My Info"}],"disclaimer":{"text":"© 2021 BBC. The BBC is not responsible for the content of external sites.","link":{"url":"https://www.bbc.co.uk/editorialguidelines/guidance/feeds-and-links","text":"Read about our approach to external linking."}},"homepageLink":{"label":"BBC Homepage","url":"https://www.bbc.com"},"searchLink":{"label":"Search","url":"https://www.bbc.co.uk/search"},"chameleonSearchLink":{"label":"Search BBC","url":"https://www.bbc.co.uk/search"},"navigationLinks":[{"label":"Home","url":"https://www.bbc.com","accent":"#007BC7″},{"label":"News","url":"https://www.bbc.com/news","accent":"#BB1919″},{"label":"Sport","url":"https://www.bbc.com/sport","accent":"#FFD230″},{"label":"Reel","url":"https://www.bbc.com/reel","accent":"#0068FF"},{"label":"Worklife","url":"https://www.bbc.com/worklife","accent":"#0052A1″},{"label":"Travel","url":"https://www.bbc.com/travel","accent":"#589E50″},{"label":"Future","url":"https://www.bbc.com/future","accent":"#002856″},{"label":"Culture","url":"https://www.bbc.com/culture","accent":"#482878″},{"label":"Music","url":"https://www.bbc.com/culture/music"},{"label":"TV","url":"https://www.bbc.co.uk/schedules/p00fzl9m"},{"label":"Weather","url":"https://www.bbc.com/weather","accent":"#88CCEE"},{"label":"Sounds","url":"https://www.bbc.co.uk/sounds","accent":"#FF4900″}],"chameleonNavigationLinks":[{"label":"Home","url":"https://www.bbc.com","accent":"#007BC7″},{"label":"News","url":"https://www.bbc.com/news","accent":"#EB1212″},{"label":"Sport","url":"https://www.bbc.com/sport","accent":"#FFD230″},{"label":"Reel","url":"https://www.bbc.com/reel","accent":"#0068FF"},{"label":"Worklife","url":"https://www.bbc.com/worklife","accent":"#0052A1″},{"label":"Travel","url":"https://www.bbc.com/travel","accent":"#589E50″},{"label":"Future","url":"https://www.bbc.com/future","accent":"#002856″},{"label":"Culture","url":"https://www.bbc.com/culture","accent":"#482878″},{"label":"Music","url":"https://www.bbc.com/culture/music"},{"label":"TV","url":"https://www.bbc.co.uk/schedules/p00fzl9m"},{"label":"Weather","url":"https://www.bbc.com/weather","accent":"#149EDC"},{"label":"Sounds","url":"https://www.bbc.co.uk/sounds","accent":"#FA6400″}]},"importance":"PRIMARY","hasFetcher":true}},"paths":[{"path":"/news/:id"}],"page":{"metadata":{"title":"BBC","description":"BBC Page"},"featureToggles":{"enableDotcomAds":false,"enableComscoreMmx":true},"entry":{"levers":{"brandPalette":"news","corePalette":"light","fontPalette":"mixedInformative"},"pageContent":{"header":[{"layout":{"name":"FULL","props":{}},"containers":[{"name":"consent-banner","importance":"TERTIARY","hasFetcher":true,"props":[]}]},{"layout":{"name":"FULL","props":{}},"containers":[{"name":"global-navigation","importance":"PRIMARY","hasFetcher":true,"props":[],"levers":{"brandPalette":"masterbrand","corePalette":"light","fontPalette":"sansSimple"},"fetchParams":[{"__typename":"RequestContext","name":"country","lookup":"country"},{"__typename":"RequestContext","name":"language","lookup":"language"},{"__typename":"RouteParam","name":"service","lookup":"service"}]}]},{"layout":{"name":"FULL","props":{}},"containers":[{"name":"product-navigation","importance":"SECONDARY","hasFetcher":true,"props":[{"__typename":"RequestContext","name":"country","lookup":"country"},{"__typename":"LiteralProp","name":"product","value":"news"},{"__typename":"StoreReader","name":"assetUri","lookup":"assetUri","store":"product-navigation"},{"__typename":"StoreReader","name":"sectionName","lookup":"sectionName","store":"product-navigation"},{"__typename":"LiteralProp","name":"showProductNavigation","value":true}]}]}],"main":[{"layout":{"name":"FULL","props":{}},"containers":[{"name":"dotcom-ad","importance":"TERTIARY","hasFetcher":false,"props":[{"__typename":"LiteralProp","name":"slot","value":"interstitial"},{"__typename":"FeatureToggle","name":"enableDotcomAds","lookup":"enableDotcomAds"}]}]},{"layout":{"name":"FULL","props":{}},"containers":[{"name":"dotcom-ad","importance":"TERTIARY","hasFetcher":false,"props":[{"__typename":"LiteralProp","name":"slot","value":"leaderboard"},{"__typename":"FeatureToggle","name":"enableDotcomAds","lookup":"enableDotcomAds"}]}]},{"layout":{"name":"FULL","props":{}},"containers":[{"name":"dotcom-ad","importance":"TERTIARY","hasFetcher":false,"props":[{"__typename":"LiteralProp","name":"slot","value":"sponsor"},{"__typename":"FeatureToggle","name":"enableDotcomAds","lookup":"enableDotcomAds"}]}]},{"layout":{"name":"FULL","props":{}},"containers":[{"name":"dotcom-ad","importance":"TERTIARY","hasFetcher":false,"props":[{"__typename":"LiteralProp","name":"slot","value":"piano-header"},{"__typename":"FeatureToggle","name":"enableDotcomAds","lookup":"enableDotcomAds"}]}]},{"layout":{"name":"SIDEBAR","props":{"width":"compact","containersInMain":7}},"containers":[{"name":"article","importance":"PRIMARY","hasFetcher":true,"props":[{"__typename":"LiteralProp","name":"uri","value":"/news/world-us-canada-57855952″},{"__typename":"RequestContext","name":"language","lookup":"language"},{"__typename":"RequestContext","name":"host","lookup":"host"},{"__typename":"RequestContext","name":"env","lookup":"env"},{"__typename":"StoreReader","name":"currentPageAnalyticsDestination","lookup":"page.destination","store":"analytics"},{"__typename":"LiteralProp","name":"isAdvertisingEnabled","value":false}]},{"name":"dotcom-ad","importance":"TERTIARY","hasFetcher":false,"props":[{"__typename":"LiteralProp","name":"slot","value":"mpu-main"},{"__typename":"FeatureToggle","name":"enableDotcomAds","lookup":"enableDotcomAds"}]},{"name":"dotcom-ad","importance":"TERTIARY","hasFetcher":false,"props":[{"__typename":"LiteralProp","name":"slot","value":"content-rec"},{"__typename":"FeatureToggle","name":"enableDotcomAds","lookup":"enableDotcomAds"}]},{"name":"dotcom-ad","importance":"TERTIARY","hasFetcher":false,"props":[{"__typename":"LiteralProp","name":"slot","value":"outbrain_ar_5″},{"__typename":"FeatureToggle","name":"enableDotcomAds","lookup":"enableDotcomAds"}]},{"name":"dotcom-ad","importance":"TERTIARY","hasFetcher":false,"props":[{"__typename":"LiteralProp","name":"slot","value":"outbrain_ar_7″},{"__typename":"FeatureToggle","name":"enableDotcomAds","lookup":"enableDotcomAds"}]},{"name":"dotcom-ad","importance":"TERTIARY","hasFetcher":false,"props":[{"__typename":"LiteralProp","name":"slot","value":"outbrain_ar_8″},{"__typename":"FeatureToggle","name":"enableDotcomAds","lookup":"enableDotcomAds"}]},{"name":"dotcom-ad","importance":"TERTIARY","hasFetcher":false,"props":[{"__typename":"LiteralProp","name":"slot","value":"outbrain_ar_9″},{"__typename":"FeatureToggle","name":"enableDotcomAds","lookup":"enableDotcomAds"}]},{"name":"onward-journeys","importance":"SECONDARY","hasFetcher":true,"props":[{"__typename":"LiteralProp","name":"id","value":"topStories"},{"__typename":"LiteralProp","name":"sectionHeader","value":"Top Stories"},{"__typename":"LiteralProp","name":"showFirstSummary","value":true},{"__typename":"LiteralProp","name":"showTimestamp","value":true},{"__typename":"RequestContext","name":"country","lookup":"country"},{"__typename":"StoreReader","name":"section","lookup":"metadata.section.uri","store":"article"},{"__typename":"RequestContext","name":"language","lookup":"language"}]},{"name":"dotcom-ad","importance":"TERTIARY","hasFetcher":false,"props":[{"__typename":"LiteralProp","name":"slot","value":"mpu-side"},{"__typename":"FeatureToggle","name":"enableDotcomAds","lookup":"enableDotcomAds"}]},{"name":"onward-journeys","importance":"SECONDARY","hasFetcher":true,"props":[{"__typename":"LiteralProp","name":"id","value":"features"},{"__typename":"LiteralProp","name":"sectionHeader","value":"Features"},{"__typename":"LiteralProp","name":"showImage","value":true},{"__typename":"LiteralProp","name":"insertAdSlotAtIndex","value":3},{"__typename":"RequestContext","name":"country","lookup":"country"},{"__typename":"StoreReader","name":"section","lookup":"metadata.section.uri","store":"article"},{"__typename":"RequestContext","name":"language","lookup":"language"},{"__typename":"FeatureToggle","name":"enableDotcomAds","lookup":"enableDotcomAds"}]},{"name":"dotcom-ad","importance":"TERTIARY","hasFetcher":false,"props":[{"__typename":"LiteralProp","name":"slot","value":"native"},{"__typename":"FeatureToggle","name":"enableDotcomAds","lookup":"enableDotcomAds"}]},{"name":"onward-journeys","importance":"SECONDARY","hasFetcher":true,"props":[{"__typename":"LiteralProp","name":"id","value":"elsewhere"},{"__typename":"LiteralProp","name":"sectionHeader","value":"Elsewhere on the BBC"},{"__typename":"LiteralProp","name":"showImage","value":true},{"__typename":"LiteralProp","name":"showSummary","value":true},{"__typename":"RequestContext","name":"country","lookup":"country"},{"__typename":"StoreReader","name":"section","lookup":"metadata.section.uri","store":"article"},{"__typename":"RequestContext","name":"language","lookup":"language"}]},{"name":"dotcom-ad","importance":"TERTIARY","hasFetcher":false,"props":[{"__typename":"LiteralProp","name":"slot","value":"piano-sidebar"},{"__typename":"FeatureToggle","name":"enableDotcomAds","lookup":"enableDotcomAds"}]},{"name":"onward-journeys","importance":"SECONDARY","hasFetcher":true,"props":[{"__typename":"LiteralProp","name":"id","value":"mostRead"},{"__typename":"LiteralProp","name":"sectionHeader","value":"Most Read"},{"__typename":"LiteralProp","name":"expiresInMs","value":3600000},{"__typename":"RequestContext","name":"country","lookup":"country"},{"__typename":"StoreReader","name":"section","lookup":"metadata.section.uri","store":"article"},{"__typename":"RequestContext","name":"language","lookup":"language"}]},{"name":"dotcom-ad","importance":"TERTIARY","hasFetcher":false,"props":[{"__typename":"LiteralProp","name":"slot","value":"mpu_bottom"},{"__typename":"FeatureToggle","name":"enableDotcomAds","lookup":"enableDotcomAds"}]},{"name":"dotcom-ad","importance":"TERTIARY","hasFetcher":false,"props":[{"__typename":"LiteralProp","name":"slot","value":"adsense"},{"__typename":"FeatureToggle","name":"enableDotcomAds","lookup":"enableDotcomAds"}]}]},{"layout":{"name":"FULL","props":{}},"containers":[{"name":"dotcom-ad","importance":"TERTIARY","hasFetcher":false,"props":[{"__typename":"LiteralProp","name":"slot","value":"piano-footer"},{"__typename":"FeatureToggle","name":"enableDotcomAds","lookup":"enableDotcomAds"}]}]},{"layout":{"name":"FULL","props":{}},"containers":[{"name":"sign-in-prompt","importance":"TERTIARY","hasFetcher":false,"props":[{"__typename":"RequestContext","name":"env","lookup":"env"},{"__typename":"StoreReader","name":"signInPrompt","lookup":"signInPrompt","store":"bbcAccount"},{"__typename":"StoreReader","name":"pageType","lookup":"pageType","store":"bbcAccount"},{"__typename":"StoreWriter","name":"setSignInPrompt","lookup":"signInPrompt","store":"bbcAccount"}]}]}],"footer":[{"layout":{"name":"FULL","props":{}},"containers":[{"name":"service-bar","importance":"SECONDARY","hasFetcher":true,"props":[{"__typename":"LiteralProp","name":"product","value":"news"},{"__typename":"RequestContext","name":"language","lookup":"language"}]},{"name":"footer-promos","importance":"SECONDARY","hasFetcher":true,"props":[{"__typename":"LiteralProp","name":"identifiers","value":"NEWS_PS,news_ps"},{"__typename":"LiteralProp","name":"language","value":"en-GB"},{"__typename":"LiteralProp","name":"country","value":"us"}]}]},{"layout":{"name":"FULL","props":{}},"containers":[{"name":"global-footer","importance":"PRIMARY","hasFetcher":true,"props":[],"fetchParams":[{"__typename":"RequestContext","name":"country","lookup":"country"},{"__typename":"RequestContext","name":"language","lookup":"language"},{"__typename":"RouteParam","name":"service","lookup":"service"}]}]}]},"stores":[{"name":"analytics","type":"InMemory","initialState":{"props":[{"__typename":"LiteralProp","name":"page","value":{"contentId":"urn:bbc:cps:f3da841b-e65b-4f4b-b7a1-52c4d5b4a06c","name":"news.world.us_and_canada.story.57855952.page","destination":"NEWS_GNL","producer":"NEWS","section":"world::us_and_canada","contentType":"article","language":"en","additionalProperties":{"app_name":"news","custom_var_1″:"2021-07-15T18:33:26.000Z","custom_var_2″:"2021-07-15T18:33:26.000Z"}}},{"__typename":"LiteralProp","name":"sections","value":["News","News – us-and-canada","News – STY","News – us-and-canada – STY","News – news-category"]}]}},{"name":"userLocationData","type":"InMemory","initialState":{"props":[{"__typename":"LiteralProp","name":"userLocationData","value":{}}]}},{"name":"article","type":"InMemory","initialState":{"props":[{"__typename":"LiteralProp","name":"metadata","value":{"id":"urn:bbc:ares::asset:news/world-us-canada-57855952″,"assetId":"57855952″,"curie":"http://www.bbc.co.uk/asset/f3da841b-e65b-4f4b-b7a1-52c4d5b4a06c","locators":{"canonicalUrl":"https://www.bbc.co.uk/news/world-us-canada-57855952″},"seoHeadline":"Canada: More unmarked graves likely at former residential school site","indexImage":{"alt":"Women mourn after the discovery of the remains of children at former residential schools","originalSrc":"https://c.files.bbci.co.uk/D93D/production/_119431655_indexindigenous.jpg","iChefRecipe":"https://ichef.bbci.co.uk/news/$recipe/branded_news/D93D/production/_119431655_indexindigenous.jpg","width":976,"height":549,"src":"https://ichef.bbci.co.uk/news/1024/branded_news/D93D/production/_119431655_indexindigenous.jpg"},"type":"STY","options":{"isIgorSeoTagsEnabled":false,"includeComments":false,"allowRightHandSide":true,"isFactCheck":false,"allowDateStamp":true,"suitableForSyndication":true,"hasNewsTracker":false,"allowRelatedStoriesBox":true,"isKeyContent":false,"allowHeadline":true,"allowAdvertising":true,"hasContentWarning":false,"isBreakingNews":false,"allowPrintingSharingLinks":true},"languageCode":"en-gb","assetUri":"/news/world-us-canada-57855952″,"description":"An indigenous group said in May it had found the probable remains of 215 children in unmarked graves.","lastUpdated":1626381917059,"firstPublished":1626374006000,"lastPublished":1626374006000,"analytics":{"page":{"name":"news.world.us_and_canada.story.57855952.page","contentId":"urn:bbc:cps:f3da841b-e65b-4f4b-b7a1-52c4d5b4a06c","section":"world::us_and_canada","producer":"NEWS","additionalProperties":{"custom_var_1″:"2021-07-15T18:33:26.000Z","custom_var_2″:"2021-07-15T18:33:26.000Z"}}},"site":{"name":"BBC News","uri":"/news"},"section":{"name":"US & Canada","uri":"/news/world/us_and_canada"},"host":"www.bbc.co.uk","canonical":"https://www.bbc.co.uk/news/world-us-canada-57855952″,"amp":"https://www.bbc.co.uk/news/world-us-canada-57855952.amp","title":{"full":"Canada: More unmarked graves likely at former residential school site – BBC News","short":"Canada: More unmarked graves likely at former residential school site"},"contributor":null,"social":{"facebook":{"admins":"100004154058350″,"app_id":"1609039196070050″,"pages":"1143803202301544,317278538359186,1392506827668140,742734325867560,185246968166196,156060587793370,137920769558355,193435954068976,21263239760,156400551056385,929399697073756,154344434967,228735667216,80758950658,260212261199,294662213128,1086451581439054,283348121682053,295830058648,239931389545417,304314573046,310719525611571,647687225371774,1159932557403143,286567251709437,1731770190373618,125309456546,163571453661989,285361880228,512423982152360,238003846549831,176663550714,260967092113,118450564909230,100978706649892,15286229625,122103087870579,120655094632228,102814153147070,124715648647,153132638110668,150467675018739″,"url":"https://www.facebook.com/bbcnews"},"twitter":{"card":"summary_large_image","user":"@BBCNews"}},"schemaOrg":{"logo":"https://www.bbc.co.uk/news/special/2015/newsspec_10857/bbc_news_logo.png?cb=1″,"noBylinesPolicy":"http://www.bbc.co.uk/news/help-41670342#authorexpertise","publishingPrinciples":"http://www.bbc.co.uk/news/help-41670342″},"microsoft":{"tileColor":"#bb1919″,"tileImage":"BBC News"}}},{"__typename":"LiteralProp","name":"tags","value":[{"title":"Justin Trudeau","url":"/news/topics/cg41ylwvxd7t","isEvent":false},{"title":"Canada","url":"/news/topics/cywd23g0q41t","isEvent":false},{"title":"Indigenous Canadians","url":"/news/topics/cxq3l2m0mjgt","isEvent":false}]}]}},{"name":"product-navigation","type":"InMemory","initialState":{"props":[{"__typename":"LiteralProp","name":"assetUri","value":"/news/world/us_and_canada"},{"__typename":"LiteralProp","name":"sectionName","value":"US & Canada"}]}},{"name":"bbcAccount","type":"InMemory","initialState":{"props":[{"__typename":"LiteralProp","name":"signInPrompt","value":{"show":false,"userOrigin":null,"ptrt":null}},{"__typename":"LiteralProp","name":"pageType","value":"content"}]}}],"headers":{"content-return-type":"STY"}},"addons":[{"name":"analytics","importance":"TERTIARY","props":[{"__typename":"StoreReader","name":"page","lookup":"page","store":"analytics"},{"__typename":"StoreReader","name":"title","lookup":"title","store":"analytics"},{"__typename":"StoreReader","name":"sections","lookup":"sections","store":"analytics"},{"__typename":"StoreReader","name":"type","lookup":"type","store":"analytics"},{"__typename":"StoreReader","name":"isUkCombined","lookup":"userLocationData.isUkCombined","store":"userLocationData"},{"__typename":"StoreReader","name":"skipLocationCheck","lookup":"userLocationData.error","store":"userLocationData"}]},{"name":"international-redirect","importance":"TERTIARY","props":[{"__typename":"StoreWriter","name":"setUserLocationData","lookup":"userLocationData","store":"userLocationData"},{"__typename":"RequestContext","name":"env","lookup":"env"},{"__typename":"RequestContext","name":"country","lookup":"country"},{"__typename":"Cookie","name":"countryOverride","lookup":"international_redirect_country_override"}]},{"name":"document-metadata","importance":"PRIMARY","props":[{"__typename":"LiteralProp","name":"title","value":"Canada: More unmarked graves likely at former residential school site – BBC News"},{"__typename":"LiteralProp","name":"description","value":"An indigenous group said in May it had found the probable remains of 215 children in unmarked graves."},{"__typename":"LiteralProp","name":"linkTags","value":[{"rel":"canonical","href":"https://www.bbc.co.uk/news/world-us-canada-57855952″},{"rel":"amphtml","href":"https://www.bbc.co.uk/news/world-us-canada-57855952.amp"},{"rel":"alternate","hrefLang":"en-gb","href":"https://www.bbc.co.uk/news/world-us-canada-57855952″},{"rel":"alternate","hrefLang":"en","href":"https://www.bbc.com/news/world-us-canada-57855952″}]},{"__typename":"LiteralProp","name":"metaTags","value":[{"name":"application-name","content":"BBC News"},{"name":"mobile-web-app-capable","content":"yes"},{"name":"msapplication-TileImage","content":"BBC News"},{"name":"msapplication-TileColor","content":"#bb1919″},{"name":"cleartype","http-equiv":"cleartype","content":"on"}]},{"__typename":"LiteralProp","name":"openGraph","value":{"article:author":"https://www.facebook.com/bbcnews","fb:admins":"100004154058350″,"fb:app_id":"1609039196070050″,"fb:pages":"1143803202301544,317278538359186,1392506827668140,742734325867560,185246968166196,156060587793370,137920769558355,193435954068976,21263239760,156400551056385,929399697073756,154344434967,228735667216,80758950658,260212261199,294662213128,1086451581439054,283348121682053,295830058648,239931389545417,304314573046,310719525611571,647687225371774,1159932557403143,286567251709437,1731770190373618,125309456546,163571453661989,285361880228,512423982152360,238003846549831,176663550714,260967092113,118450564909230,100978706649892,15286229625,122103087870579,120655094632228,102814153147070,124715648647,153132638110668,150467675018739″,"og:description":"An indigenous group said in May it had found the probable remains of 215 children in unmarked graves.","og:image":"https://ichef.bbci.co.uk/news/1024/branded_news/D93D/production/_119431655_indexindigenous.jpg","og:image:alt":"Women mourn after the discovery of the remains of children at former residential schools","og:locale":"en_GB","og:site_name":"BBC News","og:title":"Canada: More unmarked graves likely at former residential school site","og:type":"article","og:url":"https://www.bbc.com/news/world-us-canada-57855952″,"article:section":"US & Canada"}},{"__typename":"LiteralProp","name":"schemaOrg","value":{"@context":"http://schema.org","@type":"ReportageNewsArticle","url":"https://www.bbc.co.uk/news/world-us-canada-57855952″,"publisher":{"@type":"NewsMediaOrganization","name":"BBC News","publishingPrinciples":"http://www.bbc.co.uk/news/help-41670342″,"logo":{"@type":"ImageObject","url":"https://www.bbc.co.uk/news/special/2015/newsspec_10857/bbc_news_logo.png?cb=1″}},"datePublished":"2021-07-15T18:33:26.000Z","dateModified":"2021-07-15T18:33:26.000Z","headline":"Canada: More unmarked graves likely at former residential school site","image":{"@type":"ImageObject","width":976,"height":549,"url":"https://ichef.bbci.co.uk/news/1024/branded_news/D93D/production/_119431655_indexindigenous.jpg"},"thumbnailUrl":"https://ichef.bbci.co.uk/news/1024/branded_news/D93D/production/_119431655_indexindigenous.jpg","mainEntityOfPage":"https://www.bbc.co.uk/news/world-us-canada-57855952″,"author":{"@type":"NewsMediaOrganization","name":"BBC News","noBylinesPolicy":"http://www.bbc.co.uk/news/help-41670342#authorexpertise","logo":{"@type":"ImageObject","url":"https://www.bbc.co.uk/news/special/2015/newsspec_10857/bbc_news_logo.png?cb=1″}}}},{"__typename":"LiteralProp","name":"twitterCard","value":{"twitter:card":"summary_large_image","twitter:creator":"@BBCNews","twitter:description":"An indigenous group said in May it had found the probable remains of 215 children in unmarked graves.","twitter:domain":"www.bbc.co.uk","twitter:image:src":"https://ichef.bbci.co.uk/news/1024/branded_news/D93D/production/_119431655_indexindigenous.jpg","twitter:image:alt":"Women mourn after the discovery of the remains of children at former residential schools","twitter:site":"@BBCNews","twitter:title":"Canada: More unmarked graves likely at former residential school site"}},{"__typename":"TemplateProp","name":"manifestUrl","template":"${staticBaseUrl}/${manifestName}","templateProps":[{"__typename":"ConfigProp","name":"manifestName","lookup":"manifestName"},{"__typename":"ConfigProp","name":"staticBaseUrl","lookup":"staticBaseUrl"}]}]},{"name":"comscore-mmx","importance":"SECONDARY","props":[{"__typename":"FeatureToggle","name":"enableComscoreMmx","lookup":"enableComscoreMmx"},{"__typename":"RequestContext","name":"nonce","lookup":"nonce"}]},{"name":"dotcom","importance":"SECONDARY","props":[{"__typename":"QueryParam","name":"testMode","lookup":"ads-test"},{"__typename":"FeatureToggle","name":"enableDotcomAds","lookup":"enableDotcomAds"},{"__typename":"RequestContext","name":"nonce","lookup":"nonce"},{"__typename":"LiteralProp","name":"adCampaignKeyword"},{"__typename":"StoreReader","name":"tags","lookup":"tags","store":"article"}]},{"name":"web-vitals","importance":"TERTIARY","props":[{"__typename":"LiteralProp","name":"reportParams","value":{"pageType":"webcore-article"}}]}],"analytics":{},"path":"/news/world-us-canada-57855952″},"stores":{"analytics":{"page":{"contentId":"urn:bbc:cps:f3da841b-e65b-4f4b-b7a1-52c4d5b4a06c","name":"news.world.us_and_canada.story.57855952.page","destination":"NEWS_GNL","producer":"NEWS","section":"world::us_and_canada","contentType":"article","language":"en","additionalProperties":{"app_name":"news","custom_var_1″:"2021-07-15T18:33:26.000Z","custom_var_2″:"2021-07-15T18:33:26.000Z"}},"sections":["News","News – us-and-canada","News – STY","News – us-and-canada – STY","News – news-category"]},"userLocationData":{"userLocationData":{}},"article":{"metadata":{"id":"urn:bbc:ares::asset:news/world-us-canada-57855952″,"assetId":"57855952″,"curie":"http://www.bbc.co.uk/asset/f3da841b-e65b-4f4b-b7a1-52c4d5b4a06c","locators":{"canonicalUrl":"https://www.bbc.co.uk/news/world-us-canada-57855952″},"seoHeadline":"Canada: More unmarked graves likely at former residential school site","indexImage":{"alt":"Women mourn after the discovery of the remains of children at former residential schools","originalSrc":"https://c.files.bbci.co.uk/D93D/production/_119431655_indexindigenous.jpg","iChefRecipe":"https://ichef.bbci.co.uk/news/$recipe/branded_news/D93D/production/_119431655_indexindigenous.jpg","width":976,"height":549,"src":"https://ichef.bbci.co.uk/news/1024/branded_news/D93D/production/_119431655_indexindigenous.jpg"},"type":"STY","options":{"isIgorSeoTagsEnabled":false,"includeComments":false,"allowRightHandSide":true,"isFactCheck":false,"allowDateStamp":true,"suitableForSyndication":true,"hasNewsTracker":false,"allowRelatedStoriesBox":true,"isKeyContent":false,"allowHeadline":true,"allowAdvertising":true,"hasContentWarning":false,"isBreakingNews":false,"allowPrintingSharingLinks":true},"languageCode":"en-gb","assetUri":"/news/world-us-canada-57855952″,"description":"An indigenous group said in May it had found the probable remains of 215 children in unmarked graves.","lastUpdated":1626381917059,"firstPublished":1626374006000,"lastPublished":1626374006000,"analytics":{"page":{"name":"news.world.us_and_canada.story.57855952.page","contentId":"urn:bbc:cps:f3da841b-e65b-4f4b-b7a1-52c4d5b4a06c","section":"world::us_and_canada","producer":"NEWS","additionalProperties":{"custom_var_1″:"2021-07-15T18:33:26.000Z","custom_var_2″:"2021-07-15T18:33:26.000Z"}}},"site":{"name":"BBC News","uri":"/news"},"section":{"name":"US & Canada","uri":"/news/world/us_and_canada"},"host":"www.bbc.co.uk","canonical":"https://www.bbc.co.uk/news/world-us-canada-57855952″,"amp":"https://www.bbc.co.uk/news/world-us-canada-57855952.amp","title":{"full":"Canada: More unmarked graves likely at former residential school site – BBC News","short":"Canada: More unmarked graves likely at former residential school site"},"contributor":null,"social":{"facebook":{"admins":"100004154058350″,"app_id":"1609039196070050″,"pages":"1143803202301544,317278538359186,1392506827668140,742734325867560,185246968166196,156060587793370,137920769558355,193435954068976,21263239760,156400551056385,929399697073756,154344434967,228735667216,80758950658,260212261199,294662213128,1086451581439054,283348121682053,295830058648,239931389545417,304314573046,310719525611571,647687225371774,1159932557403143,286567251709437,1731770190373618,125309456546,163571453661989,285361880228,512423982152360,238003846549831,176663550714,260967092113,118450564909230,100978706649892,15286229625,122103087870579,120655094632228,102814153147070,124715648647,153132638110668,150467675018739″,"url":"https://www.facebook.com/bbcnews"},"twitter":{"card":"summary_large_image","user":"@BBCNews"}},"schemaOrg":{"logo":"https://www.bbc.co.uk/news/special/2015/newsspec_10857/bbc_news_logo.png?cb=1″,"noBylinesPolicy":"http://www.bbc.co.uk/news/help-41670342#authorexpertise","publishingPrinciples":"http://www.bbc.co.uk/news/help-41670342″},"microsoft":{"tileColor":"#bb1919″,"tileImage":"BBC News"}},"tags":[{"title":"Justin Trudeau","url":"/news/topics/cg41ylwvxd7t","isEvent":false},{"title":"Canada","url":"/news/topics/cywd23g0q41t","isEvent":false},{"title":"Indigenous Canadians","url":"/news/topics/cxq3l2m0mjgt","isEvent":false}]},"product-navigation":{"assetUri":"/news/world/us_and_canada","sectionName":"US & Canada"},"bbcAccount":{"signInPrompt":{"show":false,"userOrigin":null,"ptrt":null},"pageType":"content"}},"route":"/news/:id"};