From 9/11, to intense fighting on the ground, and now full withdrawal of US-led forces, here's what happened.
9/11

11 September 2001
Al-Qaeda, led by Osama Bin Laden in Afghanistan, carries out the largest terror attack ever conducted on US soil.
Four commercial airliners are hijacked. Two are flown into the World Trade Centre in New York, which collapses. One hits the Pentagon building in Washington, and one crashes into a field in Pennsylvania. Nearly 3,000 people are killed.
First air strikes

7 October 2001
A US-led coalition bombs Taliban and al-Qaeda facilities in Afghanistan. Targets include Kabul, Kandahar and Jalalabad.
The Taliban, who took power after a decade-long Soviet occupation was followed by civil war, refuse to hand over Bin Laden. Their air defences and small fleet of fighter aircraft are destroyed.
Fall of Kabul

13 November 2001
The Northern Alliance, a group of anti-Taliban rebels backed by coalition forces, enters Kabul as the Taliban flee the city.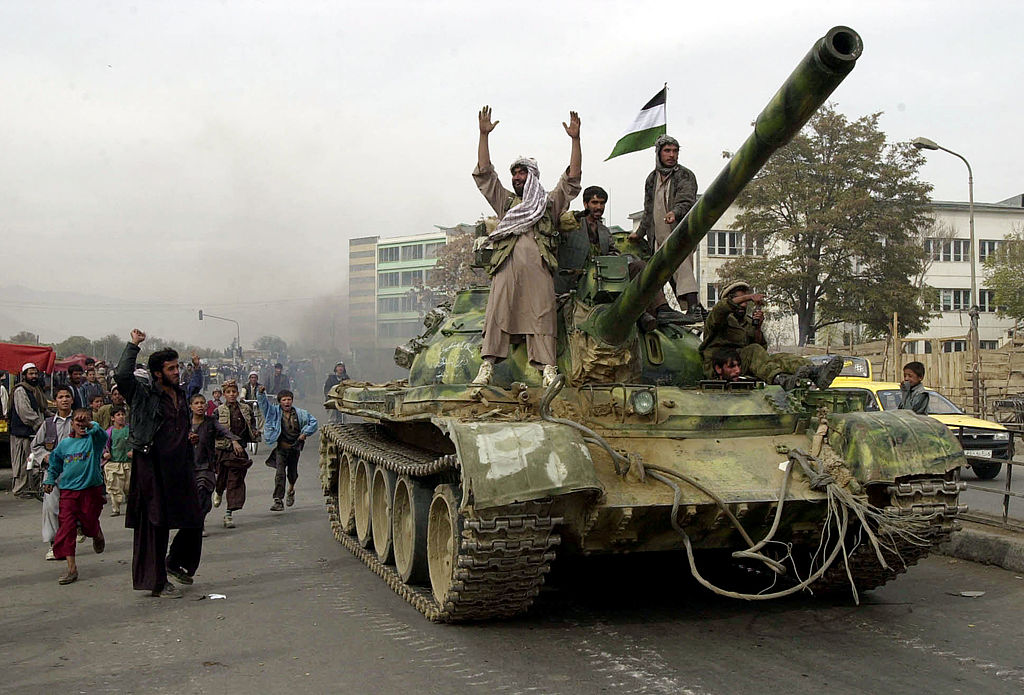 By the 13 November 2001, all Taliban have either fled or been neutralised. Other cities quickly fall.
New constitution

26 January 2004
After protracted negotiations at a "loya jirga" or grand assembly, the new Afghan constitution is signed into law. The constitution paves the way for presidential elections in October 2004.
Hamid Karzai becomes president

7 December 2004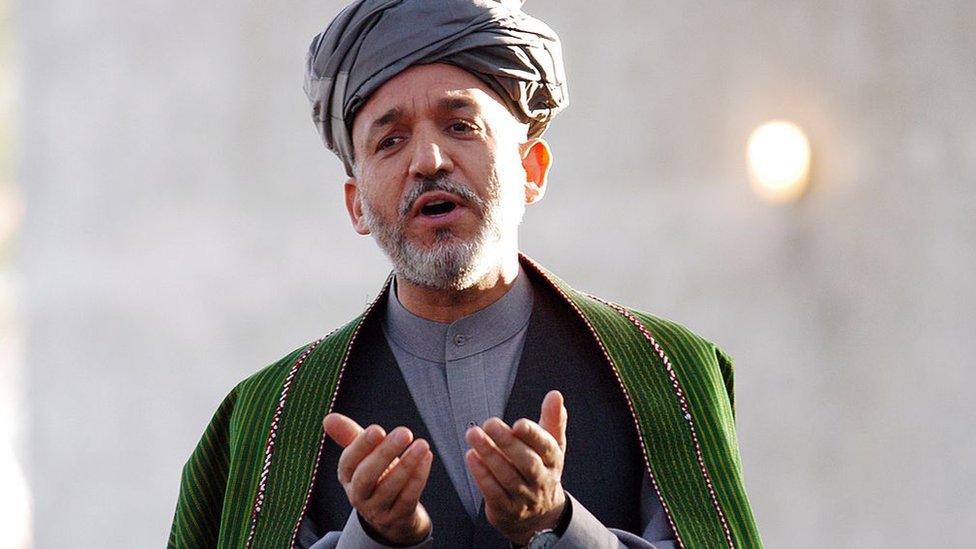 Hamid Karzai, the leader of the Popalzai Durrani tribe, becomes the first president under the new constitution. He serves two five-year terms as president.
UK troops deployed to Helmand

May 2006
British troops arrive in Helmand province, a Taliban stronghold in the south of the country.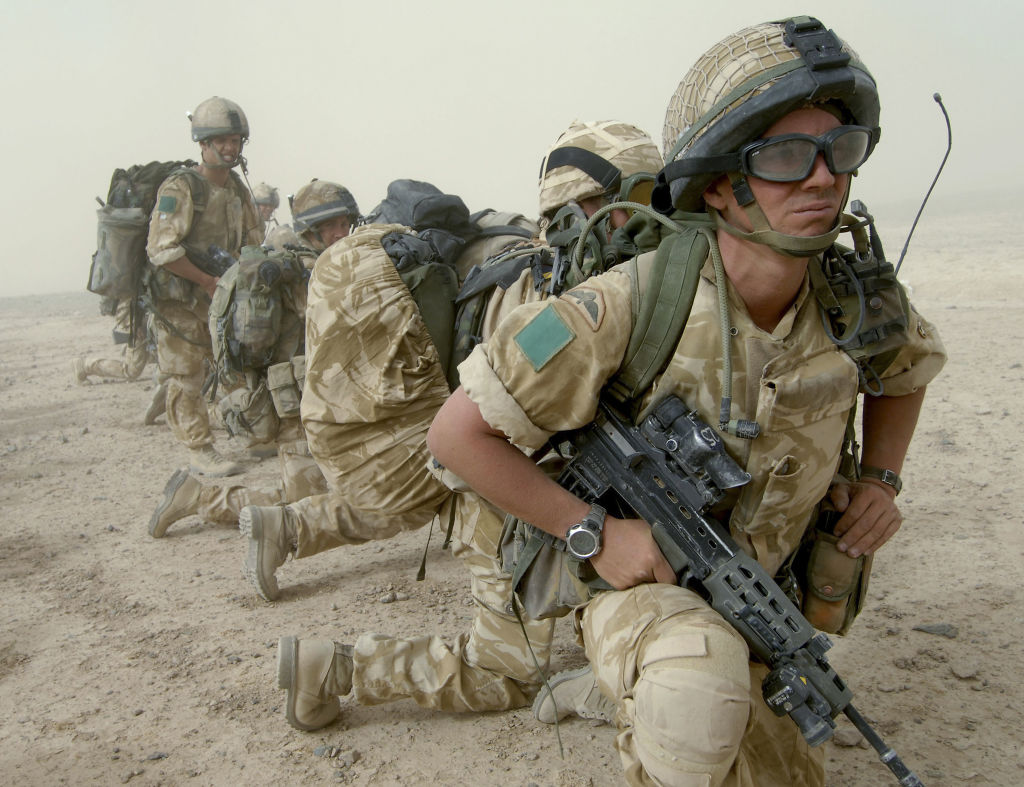 Their initial mission is to support reconstruction projects, but they are quickly drawn into combat operations. More than 450 British troops lose their lives in Afghanistan over the course of the conflict.
Obama's surge

17 February 2009
US President Barack Obama approves a major increase in the number of troops sent to Afghanistan. At their peak, they number about 140,000.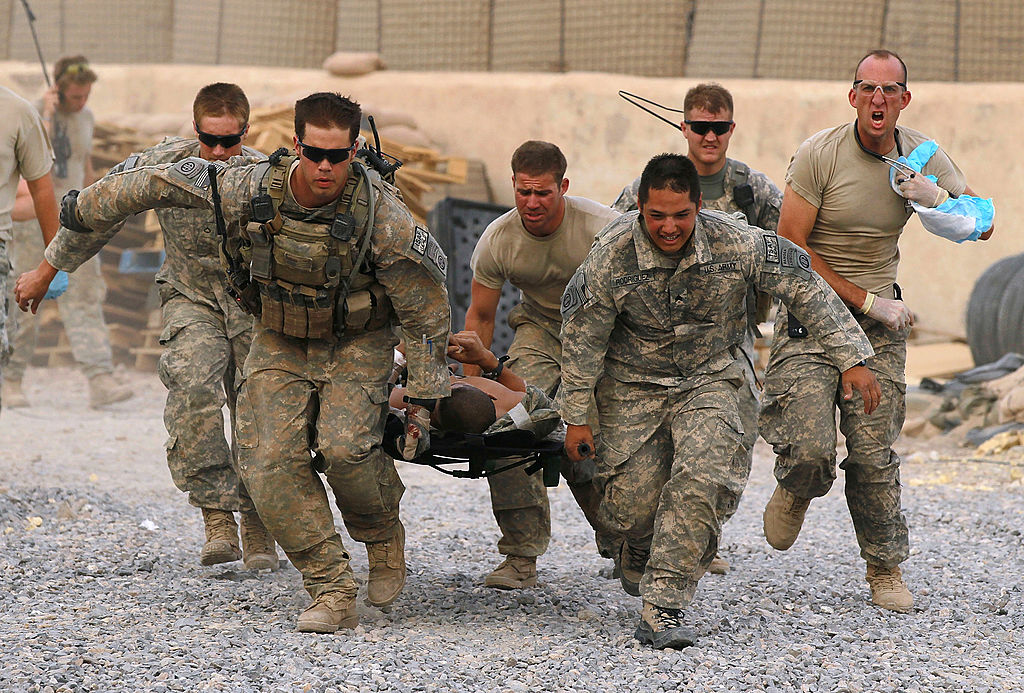 The so-called "surge" is modelled on US strategy in Iraq where US forces focussed on protecting the civilian population as well as killing insurgent fighters.
Osama Bin Laden killed

2 May 2011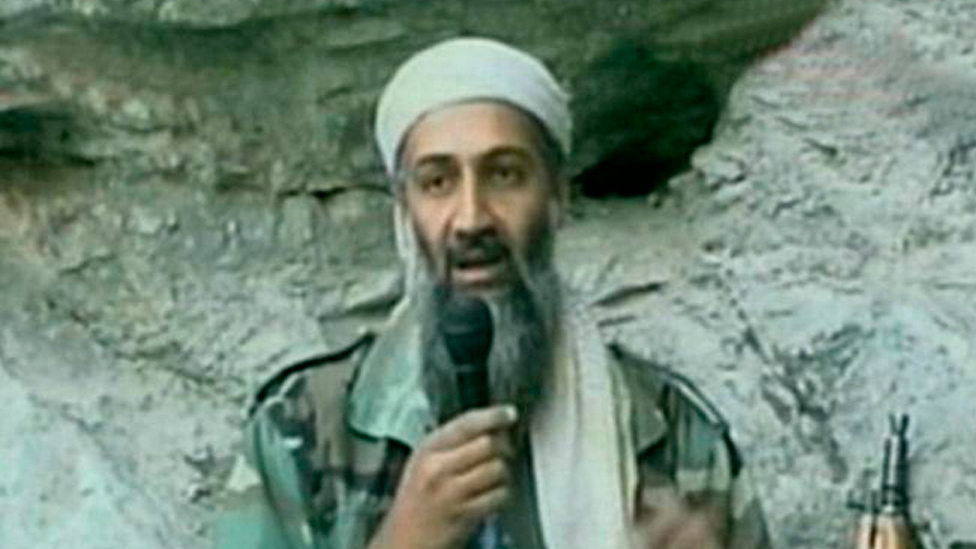 The leader of al-Qaeda is killed in an assault by US Navy Seals on a compound in Abbottabad in Pakistan. Bin Laden's body is removed and buried at sea. The operation ends a 10-year hunt led by the CIA.  The confirmation that Bin Laden had been living on Pakistani soil fuels accusations in the US that Pakistan is an unreliable ally in the war on terror.
Death of Mullah Omar

23 April 2013
The founder of the Taliban, Mullah Mohammed Omar, dies. His death is kept secret for more than two years.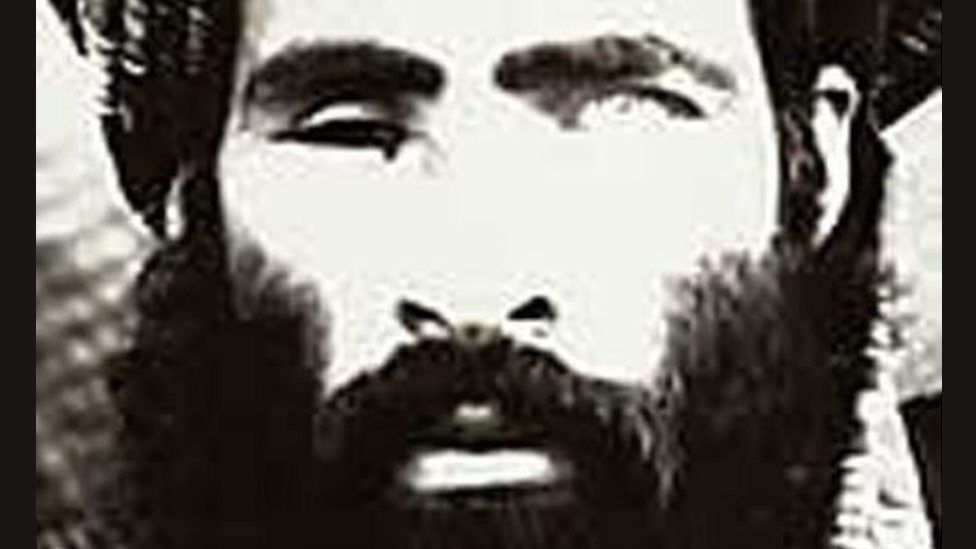 According to Afghan intelligence, Mullah Omar dies of health problems at a hospital in the Pakistani city of Karachi. Pakistan denies that he was in the country.
Nato ends combat operations

28 December 2014
At a ceremony in Kabul, Nato ends its combat operations in Afghanistan. With the surge now over, the US withdraws thousands of troops.  Most of those who remain focus on training and supporting the Afghan security forces.
Taliban resurgence

2015
The Taliban launch a series of suicide attacks, car bombings and other assaults. The parliament building in Kabul, and the city of Kunduz are attacked. Islamic State militants begin operations in Afghanistan.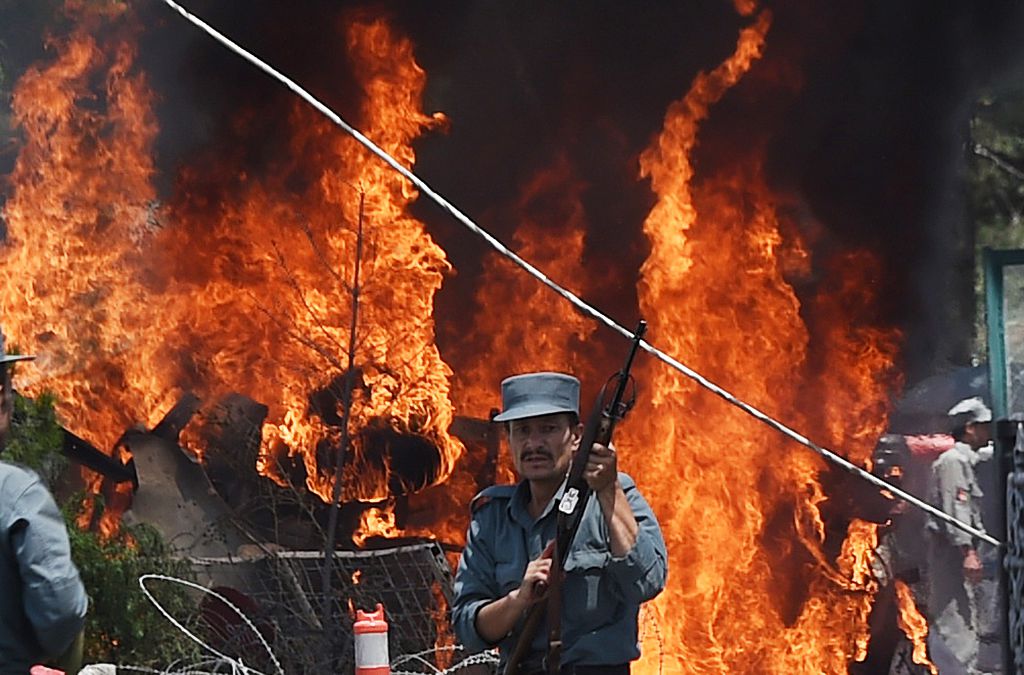 Death toll announcement

25 January 2019
Afghan President Ashraf Ghani says more than 45,000 members of his country's security forces have been killed since he became leader in 2014. The figure is far higher than previously thought.
US signs deal with Taliban

29 February 2020
The US and the Taliban sign an "agreement for bringing peace" to Afghanistan, in Doha, Qatar. The US and Nato allies agree to withdraw all troops within 14 months if the militants uphold the deal.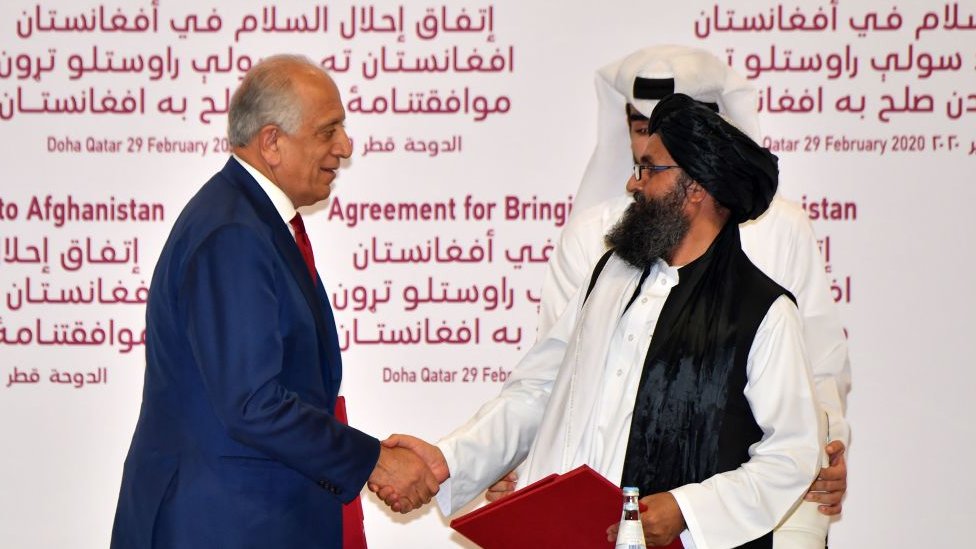 Date for final withdrawal

11 September 2021
US forces are scheduled to withdraw from Afghanistan by 11 September 2021, exactly 20 years since 9/11. There are strong indications that the withdrawal may be complete before the official deadline.
window.__INITIAL_DATA__={"data":{"global-navigation?country=us&language=en-GB":{"name":"global-navigation","props":{"country":"us","language":"en-GB"},"data":{"accessibilityLinks":[{"label":"Skip to content","url":"#main-heading"},{"label":"Accessibility Help","url":"https://www.bbc.co.uk/accessibility/"}],"signInLabel":"Sign in","accountLabel":"Your account","menuLabel":"Menu","moreLabel":"More","closeButtonLabel":"Close menu","legalLinks":[{"url":"https://www.bbc.co.uk/usingthebbc/terms","label":"Terms of Use"},{"url":"https://www.bbc.co.uk/aboutthebbc","label":"About the BBC"},{"url":"https://www.bbc.co.uk/usingthebbc/privacy","label":"Privacy Policy"},{"url":"https://www.bbc.co.uk/usingthebbc/cookies","label":"Cookies"},{"url":"https://www.bbc.co.uk/accessibility","label":"Accessibility Help"},{"url":"https://www.bbc.co.uk/iplayer/guidance","label":"Parental Guidance"},{"url":"https://www.bbc.co.uk/contact","label":"Contact the BBC"},{"url":"https://www.bbc.co.uk/bbcnewsletter","label":"Get Personalised Newsletters"},{"url":"https://www.bbc.co.uk/news/help-41670342″,"label":"Why you can trust the BBC"},{"url":"https://www.bbcglobalnews.com/home/","label":"Advertise with us"},{"url":"https://www.bbc.com/usingthebbc/cookies/how-does-the-bbc-use-cookies-for-advertising/","label":"AdChoices / Do Not Sell My Info"}],"disclaimer":{"text":"© 2021 BBC. The BBC is not responsible for the content of external sites.","link":{"url":"https://www.bbc.co.uk/editorialguidelines/guidance/feeds-and-links","text":"Read about our approach to external linking."}},"homepageLink":{"label":"BBC Homepage","url":"https://www.bbc.com"},"searchLink":{"label":"Search","url":"https://www.bbc.co.uk/search"},"navigationLinks":[{"label":"Home","url":"https://www.bbc.com","accent":"#007BC7″},{"label":"News","url":"https://www.bbc.com/news","accent":"#BB1919″},{"label":"Sport","url":"https://www.bbc.com/sport","accent":"#FFD230″},{"label":"Reel","url":"https://www.bbc.com/reel","accent":"#0068FF"},{"label":"Worklife","url":"https://www.bbc.com/worklife","accent":"#0052A1″},{"label":"Travel","url":"https://www.bbc.com/travel","accent":"#589E50″},{"label":"Future","url":"https://www.bbc.com/future","accent":"#002856″},{"label":"Culture","url":"https://www.bbc.com/culture","accent":"#482878″},{"label":"Music","url":"https://www.bbc.com/culture/music"},{"label":"TV","url":"https://www.bbc.co.uk/schedules/p00fzl9m"},{"label":"Weather","url":"https://www.bbc.com/weather","accent":"#88CCEE"},{"label":"Sounds","url":"https://www.bbc.co.uk/sounds","accent":"#FF4900″}],"chameleonNavigationLinks":[{"label":"Home","url":"https://www.bbc.com","accent":"#007BC7″},{"label":"News","url":"https://www.bbc.com/news","accent":"#EB1212″},{"label":"Sport","url":"https://www.bbc.com/sport","accent":"#FFD230″},{"label":"Reel","url":"https://www.bbc.com/reel","accent":"#0068FF"},{"label":"Worklife","url":"https://www.bbc.com/worklife","accent":"#0052A1″},{"label":"Travel","url":"https://www.bbc.com/travel","accent":"#589E50″},{"label":"Future","url":"https://www.bbc.com/future","accent":"#002856″},{"label":"Culture","url":"https://www.bbc.com/culture","accent":"#482878″},{"label":"Music","url":"https://www.bbc.com/culture/music"},{"label":"TV","url":"https://www.bbc.co.uk/schedules/p00fzl9m"},{"label":"Weather","url":"https://www.bbc.com/weather","accent":"#149EDC"},{"label":"Sounds","url":"https://www.bbc.co.uk/sounds","accent":"#FA6400″}]},"importance":"PRIMARY","hasFetcher":true},"product-navigation?assetUri=%2Fnews%2Fworld%2Fus_and_canada&country=us&product=news&sectionName=US%20%26%20Canada&showProductNavigation=true":{"name":"product-navigation","props":{"country":"us","product":"news","assetUri":"/news/world/us_and_canada","sectionName":"US & Canada","showProductNavigation":true},"data":{"masthead":{"link":{"url":"/news"},"logo":"logo:news","text":"BBC News"},"productNav":{"primary":[{"label":"Home","url":"/news","selected":false,"hidden":false},{"label":"Coronavirus","url":"/news/coronavirus","selected":false,"hidden":false},{"label":"Video","url":"/news/av/10462520″,"selected":false,"hidden":false},{"label":"World","url":"/news/world","selected":false,"hidden":false},{"label":"US & Canada","url":"/news/world/us_and_canada","selected":true,"hidden":false},{"label":"UK","url":"/news/uk","selected":false,"hidden":false},{"label":"Business","url":"/news/business","selected":false,"hidden":false},{"label":"Tech","url":"/news/technology","selected":false,"hidden":false},{"label":"Science","url":"/news/science_and_environment","selected":false,"hidden":false},{"label":"Stories","url":"/news/stories","selected":false,"hidden":false},{"label":"Entertainment & Arts","url":"/news/entertainment_and_arts","selected":false,"hidden":false}],"secondary":[{"label":"US & Canada","url":"/news/world/us_and_canada","selected":true,"hidden":false}],"more":[{"title":"","items":[{"label":"Health","url":"/news/health","selected":false,"hidden":false},{"label":"In Pictures","url":"/news/in_pictures","selected":false,"hidden":false},{"label":"Reality Check","url":"/news/reality_check","selected":false,"hidden":false},{"label":"World News TV","url":"/news/world_radio_and_tv","selected":false,"hidden":false},{"label":"Newsbeat","url":"/news/newsbeat","selected":false,"hidden":false},{"label":"Long Reads","url":"/news/the_reporters","selected":false,"hidden":false}]}],"breadcrumbs":[],"noJSLink":null}},"importance":"SECONDARY","hasFetcher":true},"article?currentPageAnalyticsDestination=NEWS_GNL&env=live&host=www.bbc.co.uk&isAdvertisingEnabled=false&language=en-GB&uri=%2Fnews%2Fworld-us-canada-57770436″:{"name":"article","props":{"uri":"/news/world-us-canada-57770436″,"language":"en-GB","host":"www.bbc.co.uk","env":"live","currentPageAnalyticsDestination":"NEWS_GNL","isAdvertisingEnabled":false},"data":{"metadata":{"id":"urn:bbc:ares::asset:news/world-us-canada-57770436″,"assetId":"57770436″,"curie":"http://www.bbc.co.uk/asset/40fcfa29-a11d-4db3-846a-55e7cab9d1c4″,"locators":{"canonicalUrl":"https://www.bbc.co.uk/news/world-us-canada-57770436″},"seoHeadline":"Biden defends decision to end Afghan military operation","indexImage":{"alt":"Biden","originalSrc":"https://c.files.bbci.co.uk/10CAD/production/_119318786_gettyimages-1233874918.jpg","iChefRecipe":"https://ichef.bbci.co.uk/news/$recipe/branded_news/10CAD/production/_119318786_gettyimages-1233874918.jpg","width":1024,"height":576},"type":"STY","options":{"isIgorSeoTagsEnabled":false,"includeComments":false,"allowRightHandSide":true,"isFactCheck":false,"allowDateStamp":true,"suitableForSyndication":true,"hasNewsTracker":false,"allowRelatedStoriesBox":true,"isKeyContent":false,"allowHeadline":true,"allowAdvertising":true,"hasContentWarning":false,"isBreakingNews":false,"allowPrintingSharingLinks":true},"languageCode":"en-gb","assetUri":"/news/world-us-canada-57770436″,"description":""The status quo was not an option," the fourth president to oversee the war said as violence flares.","lastUpdated":1625779131910,"firstPublished":1625770579000,"lastPublished":1625779123000,"analytics":{"page":{"name":"news.world.us_and_canada.story.57770436.page","contentId":"urn:bbc:cps:40fcfa29-a11d-4db3-846a-55e7cab9d1c4″,"section":"world::us_and_canada","producer":"NEWS","additionalProperties":{"custom_var_1″:"2021-07-08T18:56:19.000Z","custom_var_2″:"2021-07-08T21:18:43.000Z"}}},"site":{"name":"BBC News","uri":"/news"},"section":{"name":"US & Canada","uri":"/news/world/us_and_canada"},"timestampRelative":"9 minutes ago","publishedDateTime":"2021-07-08T21:18:43.000Z","translations":{"seeAlsos":"More on this story","tagList":"Related Topics","relatedInternetLinks":"Related Internet Links","aroundTheBBC":"Around the BBC","externalLinksWarningText":"The BBC is not responsible for the content of external sites.","socialEmbed":{"instagram":{"warningText":null,"linkText":null},"facebook":{"warningText":"The BBC is not responsible for the content of external sites.","linkText":"View original post on Facebook"},"twitter":{"warningText":"The BBC is not responsible for the content of external sites.","linkText":"View original tweet on Twitter"},"youtube":{"warningText":"Warning: Third party content may contain adverts","linkText":null}}}},"headline":"Biden defends decision to end Afghan military operation","content":{"model":{"blocks":[{"type":"image","model":{"image":{"alt":"Afghan security forces guard a damaged building","copyright":"Getty Images","height":549,"width":976,"src":"https://ichef.bbci.co.uk/news/976/cpsprodpb/BE8D/production/_119318784_gettyimages-1233829440.jpg","srcSet":"https://ichef.bbci.co.uk/news/240/cpsprodpb/BE8D/production/_119318784_gettyimages-1233829440.jpg 240w, https://ichef.bbci.co.uk/news/320/cpsprodpb/BE8D/production/_119318784_gettyimages-1233829440.jpg 320w, https://ichef.bbci.co.uk/news/480/cpsprodpb/BE8D/production/_119318784_gettyimages-1233829440.jpg 480w, https://ichef.bbci.co.uk/news/624/cpsprodpb/BE8D/production/_119318784_gettyimages-1233829440.jpg 624w, https://ichef.bbci.co.uk/news/800/cpsprodpb/BE8D/production/_119318784_gettyimages-1233829440.jpg 800w, https://ichef.bbci.co.uk/news/976/cpsprodpb/BE8D/production/_119318784_gettyimages-1233829440.jpg 976w"},"emphasiseImage":true}},{"type":"text","model":{"blocks":[{"type":"paragraph","model":{"text":"US President Joe Biden has defended his decision to withdraw military forces from Afghanistan, saying that US operations will end on 31 August.","blocks":[{"type":"fragment","model":{"text":"US President Joe Biden has defended his decision to withdraw military forces from Afghanistan, saying that US operations will end on 31 August.","attributes":["bold"]}}]}}]}},{"type":"text","model":{"blocks":[{"type":"paragraph","model":{"text":"The fourth US president to oversee the war also defended the speed of the US withdrawal, saying it saved lives.","blocks":[{"type":"fragment","model":{"text":"The fourth US president to oversee the war also defended the speed of the US withdrawal, saying it saved lives.","attributes":[]}}]}}]}},{"type":"text","model":{"blocks":[{"type":"paragraph","model":{"text":"Mr Biden's speech comes as the Taliban militant group continues to seize territory around the country.","blocks":[{"type":"fragment","model":{"text":"Mr Biden's speech comes as the Taliban militant group continues to seize territory around the country.","attributes":[]}}]}}]}},{"type":"text","model":{"blocks":[{"type":"paragraph","model":{"text":"US forces have fought in Afghanistan for nearly 20 years, following the terror attacks of 11 September 2001. ","blocks":[{"type":"fragment","model":{"text":"US forces have fought in Afghanistan for nearly 20 years, following the terror attacks of 11 September 2001. ","attributes":[]}}]}}]}},{"type":"text","model":{"blocks":[{"type":"paragraph","model":{"text":"Earlier this year, Mr Biden set a 11 September 2021 goal of withdrawing all US troops. ","blocks":[{"type":"fragment","model":{"text":"Earlier this year, Mr Biden set a 11 September 2021 goal of withdrawing all US troops. ","attributes":[]}}]}}]}},{"type":"text","model":{"blocks":[{"type":"paragraph","model":{"text":"Donald Trump had agreed with the Taliban to pull out US troops by May 2021, but that deadline was pushed back by Mr Biden after he took office in January.","blocks":[{"type":"fragment","model":{"text":"Donald Trump had agreed with the Taliban to pull out US troops by May 2021, but that deadline was pushed back by Mr Biden after he took office in January.","attributes":[]}}]}}]}},{"type":"media","model":{"caption":"Biden: 'We did not go to Afghanistan to nation build'","media":{"__typename":"ElementsMediaPlayer","items":[{"id":"p09nvdyw","title":"'We did not go to Afghanistan to nation build'","holdingImageUrl":"https://ichef.bbci.co.uk/images/ic/$recipe/p09nvj3y.jpg","kind":"programme","isEmbeddingAllowed":true,"isAdvertisingAllowed":true}]}}},{"type":"text","model":{"blocks":[{"type":"paragraph","model":{"text":""Just one more year of fighting in Afghanistan is not a solution," Mr Biden said in a White House speech, "but a recipe for fighting there indefinitely."","blocks":[{"type":"fragment","model":{"text":""Just one more year of fighting in Afghanistan is not a solution," Mr Biden said in a White House speech, "but a recipe for fighting there indefinitely."","attributes":[]}}]}}]}},{"type":"text","model":{"blocks":[{"type":"paragraph","model":{"text":"He also denied that a Taliban takeover is "inevitable," saying that the Taliban force of approximately 75,000 fighters is no match for the 300,000 Afghan security forces.","blocks":[{"type":"fragment","model":{"text":"He also denied that a Taliban takeover is "inevitable," saying that the Taliban force of approximately 75,000 fighters is no match for the 300,000 Afghan security forces.","attributes":[]}}]}}]}},{"type":"text","model":{"blocks":[{"type":"paragraph","model":{"text":"Even after the total pull out is complete, the US is expected to keep 650 to 1,000 troops in Afghanistan to guard the US embassy, Kabul airport, and other key government installations.","blocks":[{"type":"fragment","model":{"text":"Even after the total pull out is complete, the US is expected to keep 650 to 1,000 troops in Afghanistan to guard the US embassy, Kabul airport, and other key government installations.","attributes":[]}}]}}]}},{"type":"text","model":{"blocks":[{"type":"paragraph","model":{"text":"Recent polls have shown broad US support for leaving Afghanistan, with Republican voters more sceptical of the decision to withdraw.","blocks":[{"type":"fragment","model":{"text":"Recent polls have shown broad US support for leaving Afghanistan, with Republican voters more sceptical of the decision to withdraw.","attributes":[]}}]}}]}},{"type":"text","model":{"blocks":[{"type":"paragraph","model":{"text":"Mr Biden also said that efforts are being made to get translators, interpreters and other Afghans that worked with the US government out of the country. He said 2,500 special immigrant visas have been been issued to allow them to come to the United States, but only half have come so far.","blocks":[{"type":"fragment","model":{"text":"Mr Biden also said that efforts are being made to get translators, interpreters and other Afghans that worked with the US government out of the country. He said 2,500 special immigrant visas have been been issued to allow them to come to the United States, but only half have come so far.","attributes":[]}}]}}]}},{"type":"image","model":{"image":{"alt":"Analysis box by Lyse Doucet, chief international correspondent","copyright":null,"height":306.11957796014065,"width":1536,"src":"https://ichef.bbci.co.uk/news/1536/cpsprodpb/051C/production/_116580310_lysedoucet21_tr-nc.png","srcSet":"https://ichef.bbci.co.uk/news/240/cpsprodpb/051C/production/_116580310_lysedoucet21_tr-nc.png 240w, https://ichef.bbci.co.uk/news/320/cpsprodpb/051C/production/_116580310_lysedoucet21_tr-nc.png 320w, https://ichef.bbci.co.uk/news/480/cpsprodpb/051C/production/_116580310_lysedoucet21_tr-nc.png 480w, https://ichef.bbci.co.uk/news/624/cpsprodpb/051C/production/_116580310_lysedoucet21_tr-nc.png 624w, https://ichef.bbci.co.uk/news/800/cpsprodpb/051C/production/_116580310_lysedoucet21_tr-nc.png 800w, https://ichef.bbci.co.uk/news/976/cpsprodpb/051C/production/_116580310_lysedoucet21_tr-nc.png 976w"}}},{"type":"text","model":{"blocks":[{"type":"paragraph","model":{"text":"Senator Biden and Vice-President Biden believed the US should get out of Afghanistan. Now President Biden is Commander-in-Chief. ","blocks":[{"type":"fragment","model":{"text":"Senator Biden and Vice-President Biden believed the US should get out of Afghanistan. Now President Biden is Commander-in-Chief. ","attributes":[]}}]}}]}},{"type":"text","model":{"blocks":[{"type":"paragraph","model":{"text":"He was at pains to say support for Afghanistan wouldn't stop, but even more adamant that both Afghan politicians and security forces had the capacity to prevent a Taliban takeover. "Will they do it?" he asked. ","blocks":[{"type":"fragment","model":{"text":"He was at pains to say support for Afghanistan wouldn't stop, but even more adamant that both Afghan politicians and security forces had the capacity to prevent a Taliban takeover. "Will they do it?" he asked. ","attributes":[]}}]}}]}},{"type":"text","model":{"blocks":[{"type":"paragraph","model":{"text":"That's what Afghans have asked – repeatedly – in the midst of continuing disarray and disunity in Kabul, and the dramatic Taliban advance in the districts. ","blocks":[{"type":"fragment","model":{"text":"That's what Afghans have asked – repeatedly – in the midst of continuing disarray and disunity in Kabul, and the dramatic Taliban advance in the districts. ","attributes":[]}}]}}]}},{"type":"text","model":{"blocks":[{"type":"paragraph","model":{"text":"The President's emphasis on speaking out for women and girls isn't heard in districts already under Taliban control where they're not going to school. ","blocks":[{"type":"fragment","model":{"text":"The President's emphasis on speaking out for women and girls isn't heard in districts already under Taliban control where they're not going to school. ","attributes":[]}}]}}]}},{"type":"text","model":{"blocks":[{"type":"paragraph","model":{"text":"As a president who's known to study all the scenarios, he made it clear "it's highly unlikely" there will be a unified government, and not much the US could do, or should do, if Kabul collapses. That's up to Afghans – and the countries next door.","blocks":[{"type":"fragment","model":{"text":"As a president who's known to study all the scenarios, he made it clear "it's highly unlikely" there will be a unified government, and not much the US could do, or should do, if Kabul collapses. That's up to Afghans – and the countries next door.","attributes":[]}}]}}]}},{"type":"image","model":{"image":{"alt":"2px presentational grey line","copyright":null,"height":2,"width":640,"src":"https://ichef.bbci.co.uk/news/640/cpsprodpb/1226D/production/_105894347_grey_line-nc.png","srcSet":"https://ichef.bbci.co.uk/news/240/cpsprodpb/1226D/production/_105894347_grey_line-nc.png 240w, https://ichef.bbci.co.uk/news/320/cpsprodpb/1226D/production/_105894347_grey_line-nc.png 320w, https://ichef.bbci.co.uk/news/480/cpsprodpb/1226D/production/_105894347_grey_line-nc.png 480w, https://ichef.bbci.co.uk/news/624/cpsprodpb/1226D/production/_105894347_grey_line-nc.png 624w, https://ichef.bbci.co.uk/news/800/cpsprodpb/1226D/production/_105894347_grey_line-nc.png 800w, https://ichef.bbci.co.uk/news/976/cpsprodpb/1226D/production/_105894347_grey_line-nc.png 976w"}}},{"type":"text","model":{"blocks":[{"type":"paragraph","model":{"text":"Last month, Mr Biden assured Afghan leaders at a White House meeting that US aid will continue.","blocks":[{"type":"fragment","model":{"text":"Last month, Mr Biden assured Afghan leaders at a White House meeting that US aid will continue.","attributes":[]}}]}}]}},{"type":"unorderedList","model":{"blocks":[{"type":"listItem","model":{"blocks":[{"type":"urlLink","model":{"text":"Most British troops have left Afghanistan – PM","locator":"https://www.bbc.co.uk/news/uk-57746335″,"blocks":[{"type":"fragment","model":{"text":"Most British troops have left Afghanistan – PM","attributes":[]}}]}}]}}]}},{"type":"text","model":{"blocks":[{"type":"paragraph","model":{"text":"The vast majority of remaining foreign forces in Afghanistan have left ahead of the US 11 September deadline, leaving the Afghan military completely in charge of national security.","blocks":[{"type":"fragment","model":{"text":"The vast majority of remaining foreign forces in Afghanistan have left ahead of the US 11 September deadline, leaving the Afghan military completely in charge of national security.","attributes":[]}}]}}]}},{"type":"text","model":{"blocks":[{"type":"paragraph","model":{"text":"President Ashraf Ghani insists that Afghan security forces are fully capable of keeping insurgents at bay, but there have been reports of thousands of Afghan troops seeking refuge in other countries to avoid the fighting.","blocks":[{"type":"fragment","model":{"text":"President Ashraf Ghani insists that Afghan security forces are fully capable of keeping insurgents at bay, but there have been reports of thousands of Afghan troops seeking refuge in other countries to avoid the fighting.","attributes":[]}}]}}]}},{"type":"text","model":{"blocks":[{"type":"paragraph","model":{"text":"Earlier in the week, Taliban spokesman Suhail Shaheen told the BBC that the group was not responsible for the recent increase in violence. He insisted that many districts had fallen to the Taliban through mediation after Afghan soldiers refused to fight.","blocks":[{"type":"fragment","model":{"text":"Earlier in the week, ","attributes":[]}},{"type":"urlLink","model":{"text":"Taliban spokesman Suhail Shaheen told the BBC that the group was not responsible for the recent increase in violence","locator":"https://www.bbc.co.uk/news/world-asia-57714808″,"blocks":[{"type":"fragment","model":{"text":"Taliban spokesman Suhail Shaheen told the BBC that the group was not responsible for the recent increase in violence","attributes":[]}}]}},{"type":"fragment","model":{"text":". He insisted that many districts had fallen to the Taliban through mediation after Afghan soldiers refused to fight.","attributes":[]}}]}}]}},{"type":"text","model":{"blocks":[{"type":"paragraph","model":{"text":"US-led forces ousted the Taliban from power in Afghanistan in 2001. The group had been harbouring Osama Bin Laden and other al-Qaeda figures linked to the 9/11 attacks in the US that triggered the invasion. However, it has gradually been regaining territory in recent years.","blocks":[{"type":"fragment","model":{"text":"US-led forces ousted the Taliban from power in Afghanistan in 2001. The group had been harbouring Osama Bin Laden and other al-Qaeda figures linked to the 9/11 attacks in the US that triggered the invasion. However, it has gradually been regaining territory in recent years.","attributes":[]}}]}}]}},{"type":"include","model":{"href":"/include/vjeastasia/800-timeline_on_slack/english/newsspec-31092?responsive=true&newsapps=true&app-image=https://c.files.bbci.co.uk/5BDB/production/_119151532_afghan_app_launcher_640-nc.png&app-clickable=true&amp-clickable=true&amp-image-height=360&amp-image-width=640&amp-image=https://c.files.bbci.co.uk/5BDB/production/_119151532_afghan_app_launcher_640-nc.png&app-image-alt-text=Click%20or%20tap%20here%20to%20see%20interactive%20content","html":"u003cscript>n window.vjConfigObject = window.vjConfigObject || {};n window.vjConfigObject['vjeastasia-800-timeline_on_slack-newsspec-31092'] = {"js":true,"output":{"wrapper":"embed"},"name":"vjeastasia-800-timeline_on_slack","version":"1.0.202107061749″,"urlToOutputDir":"https://news.files.bbci.co.uk/include/vjeastasia/800-timeline_on_slack","assetsPath":"https://news.files.bbci.co.uk/include/vjeastasia/800-timeline_on_slack/assets/newsspec-31092-project-assets","includeName":"newsspec-31092″,"language":"english","languageCode":"en","loremText":["Lorem ipsum dolor sit amet, consectetur adipiscing elit. Integer a purus eu nisl porta aliquam. Morbi pharetra aliquet dolor a cursus. In auctor dolor a felis feugiat ultrices. Phasellus sagittis aliquet mattis. Etiam turpis neque, auctor a pulvinar a, vestibulum consequat ante. Morbi ut dui eget sapien vulputate viverra. Curabitur luctus malesuada nunc.","Nullam gravida erat ut porttitor sollicitudin. Aliquam feugiat odio rutrum arcu tincidunt vehicula. Donec nec dolor rhoncus, consectetur metus eget, consectetur enim. Duis euismod, arcu non efficitur porta, nibh eros viverra risus, ac gravida lorem ex in dui. Morbi pulvinar varius erat, quis facilisis ligula mollis vel. Nulla efficitur augue quam, ac aliquet mi ornare vitae. In ornare nisl eget tortor aliquam consectetur id nec lorem. Pellentesque massa dolor, placerat ac risus a, aliquam rhoncus nulla.","Ut et suscipit enim. Nam aliquam porttitor sapien elementum mollis. In quis turpis ante. Morbi et ex aliquam, ornare neque sit amet, porttitor est. Quisque eleifend consequat turpis. Curabitur ultrices luctus quam, et dapibus quam bibendum non. Praesent facilisis augue magna, eu volutpat nibh gravida et. Cras pulvinar, ligula vel consectetur molestie, lorem eros euismod arcu, sed condimentum leo metus efficitur ante. Duis eu diam semper, hendrerit est porta, tincidunt odio. Maecenas sagittis justo lacus, ac varius est dictum sit amet. Nam vitae turpis dignissim, tincidunt felis sit amet, dignissim sapien. Integer et iaculis ex. Sed rhoncus elit vitae massa facilisis venenatis.","Curabitur lorem ligula, aliquet id lorem ut, molestie consequat sem. Donec sit amet lacus sagittis, gravida nunc a, volutpat elit. Nullam elementum, leo sed gravida euismod, enim leo venenatis dolor, eget consequat nisi nisl vel tortor. Ut hendrerit non justo nec porttitor. Aenean et dolor laoreet augue vulputate commodo ac ut turpis. Morbi luctus lacinia felis at pellentesque. Interdum et malesuada fames ac ante ipsum primis in faucibus. Nullam tristique faucibus mauris, sed volutpat ante consequat nec. Proin fermentum vehicula tortor, sed bibendum lectus volutpat ac. Cras dignissim elit id aliquam consectetur."],"metaCSP":"default-src 'none';script-src 'unsafe-inline' 'self' *.local.bbc.co.uk:* news.files.bbci.co.uk news.test.files.bbci.co.uk assets.wearehearken.com cdn.syndication.twimg.com connect.facebook.net emp.bbci.co.uk ems.wearehearken.com modules.wearehearken.com mybbcanalytics.files.bbci.co.uk nav.files.bbci.co.uk news.files.bbci.co.uk news.test.files.bbci.co.uk platform.twitter.com public.flourish.studio static.bbc.co.uk static.bbci.co.uk static.files.bbci.co.uk static.chartbeat.com static2.chartbeat.com www.bbc.co.uk www.instagram.com www.ons.gov.uk gnwebassets.api.bbc.com www.googleanalytics.com static.files.bbci.co.uk static.test.files.bbci.co.uk;img-src 'self' c.files.bbci.co.uk data: https://a1.api.bbc.co.uk i.ytimg.com ichef.bbci.co.uk logws1363.atihost.net logws1363.ati-host.net news.bbcimg.co.uk news.files.bbci.co.uk news.test.files.bbci.co.uk newsimg.bbc.co.uk pbs.twimg.com ping.chartbeat.net platform.twitter.com r.bbci.co.uk syndication.twitter.com ton.twimg.com www.googleanalytics.com static.files.bbci.co.uk;font-src gel.files.bbci.co.uk static.bbci.co.uk static.files.bbci.co.uk news.files.bbci.co.uk news.test.files.bbci.co.uk wsdownloads.files.bbci.co.uk;style-src 'self' 'unsafe-inline' *.local.bbc.co.uk:* cdn.riddle.com flo.uri.sh news.files.bbci.co.uk news.test.files.bbci.co.uk platform.twitter.com static.bbc.co.uk static.bbci.co.uk static.files.bbci.co.uk ton.twimg.com www.riddle.com;frame-src 'self' bbc001.carto.com bbc003.carto.com bbc-maps.carto.com cdn.riddle.com chartbeat.com emp.bbc.co.uk emp.bbc.com flo.uri.sh news.files.bbci.co.uk news.test.files.bbci.co.uk static.files.bbci.co.uk static.test.files.bbci.co.uk personaltaxcalculator2.deloittecloud.co.uk platform.twitter.com public.flourish.studio static2.chartbeat.com syndication.twitter.com web.facebook.com www.bbc.co.uk www.facebook.com www.instagram.com www.ons.gov.uk www.riddle.com www.youtube.com;object-src 'none';worker-src 'self' blob:;manifest-src static.files.bbci.co.uk;connect-src 'self' wss://*.local.bbc.co.uk:* https://*.local.bbc.co.uk:* https://mybbc-analytics.files.bbci.co.uk cookieoven.api.bbc.co.uk cookieoven.api.bbc.com ems.wearehearken.com https://a1.api.bbc.co.uk locator-service.api.bbci.co.uk logws1363.atihost.net logws1363.ati-host.net modules.wearehearken.com mybbcanalytics.files.bbci.co.uk news.files.bbci.co.uk news.test.files.bbci.co.uk platform.twitter.com search.api.bbci.co.uk search.api.bbci.com static.files.bbci.co.uk static.test.files.bbci.co.uk www.bbc.co.uk www.bbc.com www.googleanalytics.com idcta.api.bbc.co.uk;child-src blob:;base-uri 'none';form-action 'self' platform.twitter.com syndication.twitter.com;upgrade-insecure-requests","textDirection":"ltr","serviceName":"news","serviceNameNative":"News","AtiSiteStringTest":"news_ps_test","AtiSiteStringLive":"news_ps","AtiSiteStringExtraUkTest":"gnl_news_test","AtiSiteStringExtraUkLive":"gnl_news","AtiProducerString":"news","vocab":{"image_copyright":"Image copyright by","image_caption":"Image caption","see_more":"Show more","timeline_1-header":"u003cstrong>Twenty years of conflict in Afghanistan – what happened when?u003c/strong>","timeline_1-leadin":"From 9/11, to intense fighting on the ground, and now full withdrawal of US-led forces, here's what happened.","timeline_1-ignore":"Please translate these phrases too:","timeline__element_2-header":"9/11″,"timeline__element_2-date":"11 September 2001″,"text_3-value":"Al-Qaeda, led by Osama Bin Laden in Afghanistan, carries out the largest terror attack ever conducted on US soil.","figure_4-caption":"The World Trade Centre is reduced to rubble","figure_4-attribution":"Getty","figure_4-src":"https://c.files.bbci.co.uk/16DE/production/_119145850_gettyimages_wtc.jpg","text_5-value":"Four commercial airliners are hijacked. Two are flown into the World Trade Centre in New York, which collapses. One hits the Pentagon building in Washington, and one crashes into a field in Pennsylvania. Nearly 3,000 people are killed.","timeline__element_6-header":"First air strikes","timeline__element_6-date":"7 October 2001″,"text_7-value":"A US-led coalition bombs Taliban and al-Qaeda facilities in Afghanistan. Targets include Kabul, Kandahar and Jalalabad.","text_8-value":"The Taliban, who took power after a decade-long Soviet occupation was followed by civil war, refuse to hand over Bin Laden. Their air defences and small fleet of fighter aircraft are destroyed.","timeline__element_9-header":"u003cstrong> u003c/strong>Fall of Kabul","timeline__element_9-date":"13 November 2001″,"text_10-value":"The Northern Alliance, a group of anti-Taliban rebels backed by coalition forces, enters Kabul as the Taliban flee the city.","figure_11-caption":"Coalition-backed Northern Alliance fighters ride tanks into Kabul as the Taliban retreat","figure_11-attribution":"Getty","figure_11-src":"https://c.files.bbci.co.uk/3DEE/production/_119145851_gettyimages_na.jpg","text_12-value":"By the 13 November 2001, all Taliban have either fled or been neutralised. Other cities quickly fall.","timeline__element_13-header":"u003cstrong> u003c/strong>New constitution","timeline__element_13-date":"26 January 2004″,"text_14-value":"After protracted negotiations at a "loya jirga" or grand assembly, the new Afghan constitution is signed into law. The constitution paves the way for presidential elections in October 2004.","timeline__element_15-header":"Hamid Karzai becomes president","timeline__element_15-date":"7 December 2004″,"figure_16-caption":"Hamid Karzai led anti-Taliban groups around Kandahar before becoming president","figure_16-attribution":"Getty","figure_16-src":"https://c.files.bbci.co.uk/8C0E/production/_119145853_gettyimages_karzai.jpg","text_17-value":"Hamid Karzai, the leader of the Popalzai Durrani tribe, becomes the first president under the new constitution. He serves two five-year terms as president.","timeline__element_18-header":"UK troops deployed to Helmand","timeline__element_18-date":"May 2006″,"text_19-value":"British troops arrive in Helmand province, a Taliban stronghold in the south of the country.","figure_20-caption":"Soldiers of the Parachute Regiment lead the first UK deployment to Helmand","figure_20-attribution":"Getty","figure_20-src":"https://c.files.bbci.co.uk/B31E/production/_119145854_gettyimages-154419188.jpg","text_21-value":"Their initial mission is to support reconstruction projects, but they are quickly drawn into combat operations. More than 450 British troops lose their lives in Afghanistan over the course of the conflict.","timeline__element_22-header":"Obama's surge","timeline__element_22-date":"17 February 2009″,"text_23-value":"US President Barack Obama approves a major increase in the number of troops sent to Afghanistan. At their peak, they number about 140,000.","figure_24-caption":"US troops in intense combat operations in the south of the country","figure_24-attribution":"Getty","figure_24-src":"https://c.files.bbci.co.uk/DA2E/production/_119145855_gettyimages_surge.jpg","text_25-value":"The so-called "surge" is modelled on US strategy in Iraq where US forces focussed on protecting the civilian population as well as killing insurgent fighters.","timeline__element_26-header":"Osama Bin Laden killed","timeline__element_26-date":"2 May 2011″,"figure_27-caption":"Bin Laden is traced to a compound located less than a mile from a Pakistani military academy","figure_27-attribution":"Getty","figure_27-src":"https://c.files.bbci.co.uk/1013E/production/_119145856_obl_gettypng.png","text_28-value":"The leader of al-Qaeda is killed in an assault by US Navy Seals on a compound in Abbottabad in Pakistan. Bin Laden's body is removed and buried at sea. The operation ends a 10-year hunt led by the CIA.  The confirmation that Bin Laden had been living on Pakistani soil fuels accusations in the US that Pakistan is an unreliable ally in the war on terror.","timeline__element_29-header":"Death of Mullah Omar","timeline__element_29-date":"23 April 2013″,"text_30-value":"The founder of the Taliban, Mullah Mohammed Omar, dies. His death is kept secret for more than two years.","figure_31-caption":"The Taliban leader is believed to have suffered a shrapnel wound to his right eye in the 1980s","figure_31-attribution":"EPA","figure_31-src":"https://c.files.bbci.co.uk/1284E/production/_119145857_omar_epa_2.png","text_32-value":"According to Afghan intelligence, Mullah Omar dies of health problems at a hospital in the Pakistani city of Karachi. Pakistan denies that he was in the country.","timeline__element_33-header":"Nato ends combat operations","timeline__element_33-date":"28 December 2014″,"text_34-value":"At a ceremony in Kabul, Nato ends its combat operations in Afghanistan. With the surge now over, the US withdraws thousands of troops.  Most of those who remain focus on training and supporting the Afghan security forces.","timeline__element_35-header":"Taliban resurgence","timeline__element_35-date":"2015″,"text_36-value":"The Taliban launch a series of suicide attacks, car bombings and other assaults. The parliament building in Kabul, and the city of Kunduz are attacked. Islamic State militants begin operations in Afghanistan.","figure_37-caption":"Kabul's international airport is struck on 10 August 2015″,"figure_37-attribution":"Getty","figure_37-src":"https://c.files.bbci.co.uk/10210/production/_119146066_gettyimages-flames.jpg","timeline__element_38-header":"Death toll announcement","timeline__element_38-date":"25 January 2019″,"text_39-value":"Afghan President Ashraf Ghani says more than 45,000 members of his country's security forces have been killed since he became leader in 2014. The figure is far higher than previously thought.","timeline__element_40-header":"US signs deal with Taliban","timeline__element_40-date":"29 February 2020″,"text_41-value":"The US and the Taliban sign an "agreement for bringing peace" to Afghanistan, in Doha, Qatar. The US and Nato allies agree to withdraw all troops within 14 months if the militants uphold the deal.","figure_42-caption":"The deal lays out a timetable for full withdrawal","figure_42-attribution":"Getty","figure_42-src":"https://c.files.bbci.co.uk/DB00/production/_119146065_gettyimages_qatar.jpg","timeline__element_43-header":"Date for final withdrawal","timeline__element_43-date":"11 September 2021″,"text_44-value":"US forces are scheduled to withdraw from Afghanistan by 11 September 2021, exactly 20 years since 9/11. There are strong indications that the withdrawal may be complete before the official deadline."},"outputs":[{"wrapper":"embed"},{"wrapper":"core"},{"wrapper":"envelope"},{"wrapper":"amp"},{"wrapper":"news-app"},{"wrapper":"syndication","photoCaption":"","photoURL":"","hyperlinkCallToAction":"Click here to see the BBC interactive"},{"wrapper":"facebook","height":960,"withMargins":"yes"},{"wrapper":"applenews","photoCaption":"","photoURL":"","hyperlinkCallToAction":"Click or tap here to see interactive content"}],"autoFixLintingErrors":false,"polyfill":false,"dynamicImports":false,"reactProject":false,"failFast":false,"includePath":{"responsive":true,"newsapps":true,"app-image":"https://placehold.it/640×360″,"app-clickable":true,"amp-clickable":true,"amp-image-height":360,"amp-image-width":640,"amp-image":"https://placehold.it/640×360″,"app-image-alt-text":"Click or tap here to see interactive content"},"languages":["english"],"destinationSection":{"english":"uk"},"uncompressedAppBudget":"(1024 * 1000) * 0.5″,"meta":{"title":{"english":""},"images":[{"thumbnail":""}],"hasBeenDeployed":false,"publication_date":null,"publication_date_iso":null,"last_modified":null,"last_modified_iso":null,"data_last_modified":null,"data_last_modified_iso":null,"keywords":["vj","visual-journalism","visualjournalism","visual journalism"],"locations":{"regions":[]}},"defaultPort":1031,"usedPort":1031,"generateForMozart":true,"shadowDom":true,"projectNamespace":"vjeastasia-800-timeline_on_slack","outputDir":"include/vjeastasia/800-timeline_on_slack","optimiseImagesOnEveryBuild":false,"includes":{"app":{"uuid":"06c42180-dddb-4c6a-9ca2-d0deefca9b19″},"newsspec-30751″:{"uuid":"6a28e22b-f16d-42c9-aaed-aab7bc86a3d4″},"newsspec-30782″:{"uuid":"93da9ce6-19ca-4820-88e9-7cf5e6ac9588″},"newsspec-30898″:{"uuid":"db18e8aa-27ff-4e91-b341-84898f5ccb00″},"newsspec-31035″:{"uuid":"bbeea1ac-0112-4de7-939a-0421c6dc3254″},"newsspec-31092″:{"uuid":"dc89adc3-d21e-4444-98b4-f245ccc0dbf0″},"vjafwest-763″:{"uuid":"537382b7-4808-40ab-ba52-185777a24eee"},"vjeastasia-820″:{"uuid":"b8948a63-fddd-498b-bb20-4f0a6418363c"},"vjeastasia-859″:{"uuid":"84f72a81-8c3d-47f1-af65-1fed2862f19d"},"vjeastasia-865″:{"uuid":"213b2fa8-4eb3-4646-a7bd-9629966f1934″},"vjeastasia-867″:{"uuid":"3cf86575-5b39-4d5b-8e1d-795688af79b0″},"vjeastasia-881″:{"uuid":"2314ed0b-8799-4ca7-a7da-21be3abc1a46″},"vjeurope-437″:{"uuid":"62a51c39-a59a-46ad-9d89-59330e48d7aa"},"vjsthasia-1146″:{"uuid":"122a9b4b-0dfb-4c39-b617-540acf597983″},"vjsthasia-1147″:{"uuid":"7eeccbf8-da42-4b68-8647-6e7b6ae35655″},"vjsthasia-1149″:{"uuid":"588695f7-7bb2-4a60-b64e-44867daeac06″},"vjeastasia-677″:{"uuid":"89be3ab7-fb51-498b-87d0-e9a58153cb68″},"vjeurope-730″:{"uuid":"9817bff5-982c-427f-8ab3-81783ada6eda"}},"pathToWrapperAssets":"https://news.files.bbci.co.uk/include/vjeastasia/800-timeline_on_slack/assets/embed","pathToInclude":"https://news.files.bbci.co.uk/include/vjeastasia/800-timeline_on_slack/english/newsspec-31092/embed","pathToWrapperAssetsToInclude":"https://news.files.bbci.co.uk/include/vjeastasia/800-timeline_on_slack/english/newsspec-31092/embed"};nu003c/script>nu003clink rel="stylesheet" href="https://news.files.bbci.co.uk/include/vjeastasia/800-timeline_on_slack/assets/embed/css/inline.css??v=1.0.202107061749.202107061750″>nu003cdiv id="responsive-embed-vjeastasia-800-timeline_on_slack-newsspec-31092″ class="bbc-news-vj-embed-wrapper">n u003cdiv id="responsive-embed-vjeastasia-800-timeline_on_slack-newsspec-31092-core-content">n u003cdiv class="gel-wrap">n u003cdiv class="gel-layout">n u003cdiv class="gel-layout__item gel-1/1″>n n u003cdiv class="timeline__container ">n u003ch2 class="timeline__main-header">u003cstrong>Twenty years of conflict in Afghanistan – what happened when?u003c/strong>u003c/h2>n u003cp>n u003cspan class="gel-body-copy">From 9/11, to intense fighting on the ground, and now full withdrawal of US-led forces, here's what happened.u003c/span>n u003c/p>n u003cdiv class="timeline__content">n u003cdiv class="timeline__sideline timeline__sideline–bg">u003c/div>n n u003cdiv class="timeline">n u003cdiv class="timeline__indicator">n u003c/div>n u003ch3 class="timeline__header">n 9/11n u003c/h3>n u003cp class="timeline__date">n u003ctime>11 September 2001u003c/time>n u003c/p>n n u003cp>Al-Qaeda, led by Osama Bin Laden in Afghanistan, carries out the largest terror attack ever conducted on US soil.u003c/p>n n n n u003cfigure class="figure">n u003cpicture>n u003cimg class="figure__img"n src="https://c.files.bbci.co.uk/16DE/production/_119145850_gettyimages_wtc.jpg??v=1.0.202107061749.202107061750″n alt="The World Trade Centre is reduced to rubble" />n u003c/picture>n u003cfigcaption class="figure__figcaption gel-brevier" >n u003cspan class="off-screen">Image captionu003c/span> The World Trade Centre is reduced to rubblen u003cspan class="figure__attribution">n u003cspan class="off-screen">Image copyright byu003c/span> Gettyn u003c/span>n u003c/figcaption>n u003c/figure>n n n n u003cp>Four commercial airliners are hijacked. Two are flown into the World Trade Centre in New York, which collapses. One hits the Pentagon building in Washington, and one crashes into a field in Pennsylvania. Nearly 3,000 people are killed.u003c/p>n n n u003c/div>n n u003cdiv class="timeline">n u003cdiv class="timeline__indicator">n u003c/div>n u003ch3 class="timeline__header">n First air strikesn u003c/h3>n u003cp class="timeline__date">n u003ctime>7 October 2001u003c/time>n u003c/p>n n u003cp>A US-led coalition bombs Taliban and al-Qaeda facilities in Afghanistan. Targets include Kabul, Kandahar and Jalalabad.u003c/p>n n n n u003cp>The Taliban, who took power after a decade-long Soviet occupation was followed by civil war, refuse to hand over Bin Laden. Their air defences and small fleet of fighter aircraft are destroyed.u003c/p>n n n u003c/div>n n u003cdiv class="timeline">n u003cdiv class="timeline__indicator">n u003c/div>n u003ch3 class="timeline__header">n u003cstrong> u003c/strong>Fall of Kabuln u003c/h3>n u003cp class="timeline__date">n u003ctime>13 November 2001u003c/time>n u003c/p>n n u003cp>The Northern Alliance, a group of anti-Taliban rebels backed by coalition forces, enters Kabul as the Taliban flee the city.u003c/p>n n n n u003cfigure class="figure">n u003cpicture>n u003cimg class="figure__img"n src="https://c.files.bbci.co.uk/3DEE/production/_119145851_gettyimages_na.jpg??v=1.0.202107061749.202107061750″n alt="Coalition-backed Northern Alliance fighters ride tanks into Kabul as the Taliban retreat" />n u003c/picture>n u003cfigcaption class="figure__figcaption gel-brevier" >n u003cspan class="off-screen">Image captionu003c/span> Coalition-backed Northern Alliance fighters ride tanks into Kabul as the Taliban retreatn u003cspan class="figure__attribution">n u003cspan class="off-screen">Image copyright byu003c/span> Gettyn u003c/span>n u003c/figcaption>n u003c/figure>n n n n u003cp>By the 13 November 2001, all Taliban have either fled or been neutralised. Other cities quickly fall.u003c/p>n n n u003c/div>n n u003cdiv class="timeline">n u003cdiv class="timeline__indicator">n u003c/div>n u003ch3 class="timeline__header">n u003cstrong> u003c/strong>New constitutionn u003c/h3>n u003cp class="timeline__date">n u003ctime>26 January 2004u003c/time>n u003c/p>n n u003cp>After protracted negotiations at a "loya jirga" or grand assembly, the new Afghan constitution is signed into law. The constitution paves the way for presidential elections in October 2004.u003c/p>n n n u003c/div>n n u003cdiv class="timeline">n u003cdiv class="timeline__indicator">n u003c/div>n u003ch3 class="timeline__header">n Hamid Karzai becomes presidentn u003c/h3>n u003cp class="timeline__date">n u003ctime>7 December 2004u003c/time>n u003c/p>n n u003cfigure class="figure">n u003cpicture>n u003cimg class="figure__img"n src="https://c.files.bbci.co.uk/8C0E/production/_119145853_gettyimages_karzai.jpg??v=1.0.202107061749.202107061750″n alt="Hamid Karzai led anti-Taliban groups around Kandahar before becoming president" />n u003c/picture>n u003cfigcaption class="figure__figcaption gel-brevier" >n u003cspan class="off-screen">Image captionu003c/span> Hamid Karzai led anti-Taliban groups around Kandahar before becoming presidentn u003cspan class="figure__attribution">n u003cspan class="off-screen">Image copyright byu003c/span> Gettyn u003c/span>n u003c/figcaption>n u003c/figure>n n n n u003cp>Hamid Karzai, the leader of the Popalzai Durrani tribe, becomes the first president under the new constitution. He serves two five-year terms as president.u003c/p>n n n u003c/div>n n u003cdiv class="timeline">n u003cdiv class="timeline__indicator">n u003c/div>n u003ch3 class="timeline__header">n UK troops deployed to Helmandn u003c/h3>n u003cp class="timeline__date">n u003ctime>May 2006u003c/time>n u003c/p>n n u003cp>British troops arrive in Helmand province, a Taliban stronghold in the south of the country.u003c/p>n n n n u003cfigure class="figure">n u003cpicture>n u003cimg class="figure__img"n src="https://c.files.bbci.co.uk/B31E/production/_119145854_gettyimages-154419188.jpg??v=1.0.202107061749.202107061750″n alt="Soldiers of the Parachute Regiment lead the first UK deployment to Helmand" />n u003c/picture>n u003cfigcaption class="figure__figcaption gel-brevier" >n u003cspan class="off-screen">Image captionu003c/span> Soldiers of the Parachute Regiment lead the first UK deployment to Helmandn u003cspan class="figure__attribution">n u003cspan class="off-screen">Image copyright byu003c/span> Gettyn u003c/span>n u003c/figcaption>n u003c/figure>n n n n u003cp>Their initial mission is to support reconstruction projects, but they are quickly drawn into combat operations. More than 450 British troops lose their lives in Afghanistan over the course of the conflict.u003c/p>n n n u003c/div>n n u003cdiv class="timeline">n u003cdiv class="timeline__indicator">n u003c/div>n u003ch3 class="timeline__header">n Obama's surgen u003c/h3>n u003cp class="timeline__date">n u003ctime>17 February 2009u003c/time>n u003c/p>n n u003cp>US President Barack Obama approves a major increase in the number of troops sent to Afghanistan. At their peak, they number about 140,000.u003c/p>n n n n u003cfigure class="figure">n u003cpicture>n u003cimg class="figure__img"n src="https://c.files.bbci.co.uk/DA2E/production/_119145855_gettyimages_surge.jpg??v=1.0.202107061749.202107061750″n alt="US troops in intense combat operations in the south of the country" />n u003c/picture>n u003cfigcaption class="figure__figcaption gel-brevier" >n u003cspan class="off-screen">Image captionu003c/span> US troops in intense combat operations in the south of the countryn u003cspan class="figure__attribution">n u003cspan class="off-screen">Image copyright byu003c/span> Gettyn u003c/span>n u003c/figcaption>n u003c/figure>n n n n u003cp>The so-called "surge" is modelled on US strategy in Iraq where US forces focussed on protecting the civilian population as well as killing insurgent fighters.u003c/p>n n n u003c/div>n n u003cdiv class="timeline">n u003cdiv class="timeline__indicator">n u003c/div>n u003ch3 class="timeline__header">n Osama Bin Laden killedn u003c/h3>n u003cp class="timeline__date">n u003ctime>2 May 2011u003c/time>n u003c/p>n n u003cfigure class="figure">n u003cpicture>n u003cimg class="figure__img"n src="https://c.files.bbci.co.uk/1013E/production/_119145856_obl_gettypng.png??v=1.0.202107061749.202107061750″n alt="Bin Laden is traced to a compound located less than a mile from a Pakistani military academy" />n u003c/picture>n u003cfigcaption class="figure__figcaption gel-brevier" >n u003cspan class="off-screen">Image captionu003c/span> Bin Laden is traced to a compound located less than a mile from a Pakistani military academyn u003cspan class="figure__attribution">n u003cspan class="off-screen">Image copyright byu003c/span> Gettyn u003c/span>n u003c/figcaption>n u003c/figure>n n n n u003cp>The leader of al-Qaeda is killed in an assault by US Navy Seals on a compound in Abbottabad in Pakistan. Bin Laden's body is removed and buried at sea. The operation ends a 10-year hunt led by the CIA.  The confirmation that Bin Laden had been living on Pakistani soil fuels accusations in the US that Pakistan is an unreliable ally in the war on terror.u003c/p>n n n u003c/div>n n u003cdiv class="timeline">n u003cdiv class="timeline__indicator">n u003c/div>n u003ch3 class="timeline__header">n Death of Mullah Omarn u003c/h3>n u003cp class="timeline__date">n u003ctime>23 April 2013u003c/time>n u003c/p>n n u003cp>The founder of the Taliban, Mullah Mohammed Omar, dies. His death is kept secret for more than two years.u003c/p>n n n n u003cfigure class="figure">n u003cpicture>n u003cimg class="figure__img"n src="https://c.files.bbci.co.uk/1284E/production/_119145857_omar_epa_2.png??v=1.0.202107061749.202107061750″n alt="The Taliban leader is believed to have suffered a shrapnel wound to his right eye in the 1980s" />n u003c/picture>n u003cfigcaption class="figure__figcaption gel-brevier" >n u003cspan class="off-screen">Image captionu003c/span> The Taliban leader is believed to have suffered a shrapnel wound to his right eye in the 1980sn u003cspan class="figure__attribution">n u003cspan class="off-screen">Image copyright byu003c/span> EPAn u003c/span>n u003c/figcaption>n u003c/figure>n n n n u003cp>According to Afghan intelligence, Mullah Omar dies of health problems at a hospital in the Pakistani city of Karachi. Pakistan denies that he was in the country.u003c/p>n n n u003c/div>n n u003cdiv class="timeline">n u003cdiv class="timeline__indicator">n u003c/div>n u003ch3 class="timeline__header">n Nato ends combat operationsn u003c/h3>n u003cp class="timeline__date">n u003ctime>28 December 2014u003c/time>n u003c/p>n n u003cp>At a ceremony in Kabul, Nato ends its combat operations in Afghanistan. With the surge now over, the US withdraws thousands of troops.  Most of those who remain focus on training and supporting the Afghan security forces.u003c/p>n n n u003c/div>n n u003cdiv class="timeline">n u003cdiv class="timeline__indicator">n u003c/div>n u003ch3 class="timeline__header">n Taliban resurgencen u003c/h3>n u003cp class="timeline__date">n u003ctime>2015u003c/time>n u003c/p>n n u003cp>The Taliban launch a series of suicide attacks, car bombings and other assaults. The parliament building in Kabul, and the city of Kunduz are attacked. Islamic State militants begin operations in Afghanistan.u003c/p>n n n n u003cfigure class="figure">n u003cpicture>n u003cimg class="figure__img"n src="https://c.files.bbci.co.uk/10210/production/_119146066_gettyimages-flames.jpg??v=1.0.202107061749.202107061750″n alt="Kabul's international airport is struck on 10 August 2015″ />n u003c/picture>n u003cfigcaption class="figure__figcaption gel-brevier" >n u003cspan class="off-screen">Image captionu003c/span> Kabul's international airport is struck on 10 August 2015n u003cspan class="figure__attribution">n u003cspan class="off-screen">Image copyright byu003c/span> Gettyn u003c/span>n u003c/figcaption>n u003c/figure>n n n u003c/div>n n u003cdiv class="timeline">n u003cdiv class="timeline__indicator">n u003c/div>n u003ch3 class="timeline__header">n Death toll announcementn u003c/h3>n u003cp class="timeline__date">n u003ctime>25 January 2019u003c/time>n u003c/p>n n u003cp>Afghan President Ashraf Ghani says more than 45,000 members of his country's security forces have been killed since he became leader in 2014. The figure is far higher than previously thought.u003c/p>n n n u003c/div>n n u003cdiv class="timeline">n u003cdiv class="timeline__indicator">n u003c/div>n u003ch3 class="timeline__header">n US signs deal with Talibann u003c/h3>n u003cp class="timeline__date">n u003ctime>29 February 2020u003c/time>n u003c/p>n n u003cp>The US and the Taliban sign an "agreement for bringing peace" to Afghanistan, in Doha, Qatar. The US and Nato allies agree to withdraw all troops within 14 months if the militants uphold the deal.u003c/p>n n n n u003cfigure class="figure">n u003cpicture>n u003cimg class="figure__img"n src="https://c.files.bbci.co.uk/DB00/production/_119146065_gettyimages_qatar.jpg??v=1.0.202107061749.202107061750″n alt="The deal lays out a timetable for full withdrawal" />n u003c/picture>n u003cfigcaption class="figure__figcaption gel-brevier" >n u003cspan class="off-screen">Image captionu003c/span> The deal lays out a timetable for full withdrawaln u003cspan class="figure__attribution">n u003cspan class="off-screen">Image copyright byu003c/span> Gettyn u003c/span>n u003c/figcaption>n u003c/figure>n n n u003c/div>n n u003cdiv class="timeline">n u003cdiv class="timeline__indicator">n u003c/div>n u003ch3 class="timeline__header">n Date for final withdrawaln u003c/h3>n u003cp class="timeline__date">n u003ctime>11 September 2021u003c/time>n u003c/p>n n u003cp>US forces are scheduled to withdraw from Afghanistan by 11 September 2021, exactly 20 years since 9/11. There are strong indications that the withdrawal may be complete before the official deadline.u003c/p>n n n u003c/div>n u003c/div>n u003cdiv class="timeline__drawer hidden">n u003cbutton class="timeline__button timeline__button–reveal">n Show moren u003c/button>n u003c/div>n u003c/div>n u003c/div>n u003c/div>n u003c/div>n u003c/div>nu003c/div>nu003cstyle id="responsive-embed-vjeastasia-800-timeline_on_slack-newsspec-31092-inline-css">n @-moz-keyframes gel-spin{0%{-moz-transform:rotate(0deg)}100%{-moz-transform:rotate(360deg)}}@-webkit-keyframes gel-spin{0%{-webkit-transform:rotate(0deg)}100%{-webkit-transform:rotate(360deg)}}@-ms-keyframes gel-spin{0%{-ms-transform:rotate(0deg)}100%{-ms-transform:rotate(360deg)}}@keyframes gel-spin{0%{transform:rotate(0deg)}100%{transform:rotate(360deg)}}.bbc-news-visual-journalism-loading-spinner{display:block;margin:8px auto;width:32px;height:32px;max-width:32px;fill:#323232;-webkit-animation-name:gel-spin;-webkit-animation-duration:1s;-webkit-animation-iteration-count:infinite;-webkit-animation-timing-function:linear;-moz-animation-name:gel-spin;-moz-animation-duration:1s;-moz-animation-iteration-count:infinite;-moz-animation-timing-function:linear;animation-name:gel-spin;animation-duration:1s;animation-iteration-count:infinite;animation-timing-function:linear}n@font-face{font-display:swap;font-family:"ReithSans";src:url("https://gel.files.bbci.co.uk/r2.512/BBCReithSans_W_Rg.woff2") format("woff2"),url("https://gel.files.bbci.co.uk/r2.512/BBCReithSans_W_Rg.woff") format("woff")}@font-face{font-display:swap;font-family:"ReithSans";font-style:italic;src:url("https://gel.files.bbci.co.uk/r2.512/BBCReithSans_W_It.woff2") format("woff2"),url("https://gel.files.bbci.co.uk/r2.512/BBCReithSans_W_It.woff") format("woff")}@font-face{font-display:swap;font-family:"ReithSans";font-weight:bold;src:url("https://gel.files.bbci.co.uk/r2.512/BBCReithSans_W_Bd.woff2") format("woff2"),url("https://gel.files.bbci.co.uk/r2.512/BBCReithSans_W_Bd.woff") format("woff")}@font-face{font-display:swap;font-family:"ReithSans";font-style:italic;font-weight:bold;src:url("https://gel.files.bbci.co.uk/r2.512/BBCReithSans_W_BdIt.woff2") format("woff2"),url("https://gel.files.bbci.co.uk/r2.512/BBCReithSans_W_BdIt.woff") format("woff")}@font-face{font-display:swap;font-family:"ReithSans";font-weight:300;src:url("https://gel.files.bbci.co.uk/r2.512/BBCReithSans_W_Lt.woff2") format("woff2"),url("https://gel.files.bbci.co.uk/r2.512/BBCReithSans_W_Lt.woff") format("woff")}@font-face{font-display:swap;font-family:"ReithSans";font-style:italic;font-weight:300;src:url("https://gel.files.bbci.co.uk/r2.512/BBCReithSans_W_LtIt.woff2") format("woff2"),url("https://gel.files.bbci.co.uk/r2.512/BBCReithSans_W_LtIt.woff") format("woff")}@font-face{font-display:swap;font-family:"ReithSans";font-weight:500;src:url("https://gel.files.bbci.co.uk/r2.512/BBCReithSans_W_Md.woff2") format("woff2"),url("https://gel.files.bbci.co.uk/r2.512/BBCReithSans_W_Md.woff") format("woff")}@font-face{font-display:swap;font-family:"ReithSans";font-style:italic;font-weight:500;src:url("https://gel.files.bbci.co.uk/r2.512/BBCReithSans_W_MdIt.woff2") format("woff2"),url("https://gel.files.bbci.co.uk/r2.512/BBCReithSans_W_MdIt.woff") format("woff")}@font-face{font-display:swap;font-family:"ReithSans";font-weight:800;src:url("https://gel.files.bbci.co.uk/r2.512/BBCReithSans_W_ExBd.woff2") format("woff2"),url("https://gel.files.bbci.co.uk/r2.512/BBCReithSans_W_ExBd.woff") format("woff")}@font-face{font-display:swap;font-family:"ReithSans";font-style:italic;font-weight:800;src:url("https://gel.files.bbci.co.uk/r2.512/BBCReithSans_W_ExBdIt.woff2") format("woff2"),url("https://gel.files.bbci.co.uk/r2.512/BBCReithSans_W_ExBdIt.woff") format("woff")}@font-face{font-display:swap;font-family:"ReithSerif";src:url("https://gel.files.bbci.co.uk/r2.512/BBCReithSerif_W_Rg.woff2") format("woff2"),url("https://gel.files.bbci.co.uk/r2.512/BBCReithSerif_W_Rg.woff") format("woff")}@font-face{font-display:swap;font-family:"ReithSerif";font-style:italic;src:url("https://gel.files.bbci.co.uk/r2.512/BBCReithSerif_W_It.woff2") format("woff2"),url("https://gel.files.bbci.co.uk/r2.512/BBCReithSerif_W_It.woff") format("woff")}@font-face{font-display:swap;font-family:"ReithSerif";font-weight:bold;src:url("https://gel.files.bbci.co.uk/r2.512/BBCReithSerif_W_Bd.woff2") format("woff2"),url("https://gel.files.bbci.co.uk/r2.512/BBCReithSerif_W_Bd.woff") format("woff")}@font-face{font-display:swap;font-family:"ReithSerif";font-style:italic;font-weight:bold;src:url("https://gel.files.bbci.co.uk/r2.512/BBCReithSerif_W_BdIt.woff2") format("woff2"),url("https://gel.files.bbci.co.uk/r2.512/BBCReithSerif_W_BdIt.woff") format("woff")}@font-face{font-display:swap;font-family:"ReithSerif";font-weight:300;src:url("https://gel.files.bbci.co.uk/r2.512/BBCReithSerif_W_Lt.woff2") format("woff2"),url("https://gel.files.bbci.co.uk/r2.512/BBCReithSerif_W_Lt.woff") format("woff")}@font-face{font-display:swap;font-family:"ReithSerif";font-style:italic;font-weight:300;src:url("https://gel.files.bbci.co.uk/r2.512/BBCReithSerif_W_LtIt.woff2") format("woff2"),url("https://gel.files.bbci.co.uk/r2.512/BBCReithSerif_W_LtIt.woff") format("woff")}@font-face{font-display:swap;font-family:"ReithSerif";font-weight:500;src:url("https://gel.files.bbci.co.uk/r2.512/BBCReithSerif_W_Md.woff2") format("woff2"),url("https://gel.files.bbci.co.uk/r2.512/BBCReithSerif_W_Md.woff") format("woff")}@font-face{font-display:swap;font-family:"ReithSerif";font-style:italic;font-weight:500;src:url("https://gel.files.bbci.co.uk/r2.512/BBCReithSerif_W_MdIt.woff2") format("woff2"),url("https://gel.files.bbci.co.uk/r2.512/BBCReithSerif_W_MdIt.woff") format("woff")}@font-face{font-display:swap;font-family:"ReithSerif";font-weight:800;src:url("https://gel.files.bbci.co.uk/r2.512/BBCReithSerif_W_ExBd.woff2") format("woff2"),url("https://gel.files.bbci.co.uk/r2.512/BBCReithSerif_W_ExBd.woff") format("woff")}@font-face{font-display:swap;font-family:"ReithSerif";font-style:italic;font-weight:800;src:url("https://gel.files.bbci.co.uk/r2.512/BBCReithSerif_W_ExBdIt.woff2") format("woff2"),url("https://gel.files.bbci.co.uk/r2.512/BBCReithSerif_W_ExBdIt.woff") format("woff")}nnu003c/style>nnu003cscript>n (function(){nnfunction cutsTheMustard() {n return (n document.implementation.hasFeature('http://www.w3.org/TR/SVG11/feature#BasicStructure', '1.1') &&n 'querySelector' in document &&n 'localStorage' in window &&n 'addEventListener' in window &&n 'MutationObserver' in window // not supported in IE9 & IE10n );n}nn if (cutsTheMustard()) {n function initEmbed() {n require(['https://news.files.bbci.co.uk/include/vjeastasia/800-timeline_on_slack/assets/embed/js/embed-init.js??v=1.0.202107061749.202107061750'], function (initFullFatApplication) {n initFullFatApplication(vjConfigObject['vjeastasia-800-timeline_on_slack-newsspec-31092']);n });n }nn if (typeof require === 'undefined') {n var headTag = document.getElementsByTagName('head')[0],n requireTag = document.createElement('script');n requireTag.type = 'text/javascript';n requireTag.src = 'https://news.files.bbci.co.uk/include/vjassets/js/vendor/require-2.1.20b.min.js';n requireTag.onload = initEmbed;n headTag.appendChild(requireTag);n } else {n initEmbed();n }nn }n else if (window.require) {n require(['istats-1'], function (istats) {n istats.log('browser does not cut the mustard', 'newsspec-nonuser');n });n } })();nu003c/script>n","type":"vj"}},{"type":"image","model":{"image":{"alt":"1px transparent line","copyright":null,"height":1,"width":624,"src":"https://ichef.bbci.co.uk/news/624/cpsprodpb/4BEB/production/_112953491__108802839_624_transparent-nc.png","srcSet":"https://ichef.bbci.co.uk/news/240/cpsprodpb/4BEB/production/_112953491__108802839_624_transparent-nc.png 240w, https://ichef.bbci.co.uk/news/320/cpsprodpb/4BEB/production/_112953491__108802839_624_transparent-nc.png 320w, https://ichef.bbci.co.uk/news/480/cpsprodpb/4BEB/production/_112953491__108802839_624_transparent-nc.png 480w, https://ichef.bbci.co.uk/news/624/cpsprodpb/4BEB/production/_112953491__108802839_624_transparent-nc.png 624w, https://ichef.bbci.co.uk/news/800/cpsprodpb/4BEB/production/_112953491__108802839_624_transparent-nc.png 800w, https://ichef.bbci.co.uk/news/976/cpsprodpb/4BEB/production/_112953491__108802839_624_transparent-nc.png 976w"}}},{"type":"unorderedList","model":{"blocks":[{"type":"listItem","model":{"blocks":[{"type":"urlLink","model":{"text":"Who are the Taliban?","locator":"https://www.bbc.co.uk/news/world-south-asia-11451718″,"blocks":[{"type":"fragment","model":{"text":"Who are the Taliban?","attributes":[]}}]}}]}},{"type":"listItem","model":{"blocks":[{"type":"urlLink","model":{"text":"The threat of al-Qaeda haunts Afghanistan pull-out","locator":"https://www.bbc.co.uk/news/world-asia-57738731″,"blocks":[{"type":"fragment","model":{"text":"The threat of al-Qaeda haunts Afghanistan pull-out","attributes":[]}}]}}]}},{"type":"listItem","model":{"blocks":[{"type":"urlLink","model":{"text":"Echoes of 1989 as foreign forces leave Afghanistan","locator":"https://www.bbc.co.uk/news/world-asia-57724652″,"blocks":[{"type":"fragment","model":{"text":"Echoes of 1989 as foreign forces leave Afghanistan","attributes":[]}}]}}]}},{"type":"listItem","model":{"blocks":[{"type":"urlLink","model":{"text":"How can the West fight terror after leaving?","locator":"https://www.bbc.co.uk/news/world-asia-56860781″,"blocks":[{"type":"fragment","model":{"text":"How can the West fight terror after leaving?","attributes":[]}}]}}]}}]}}]}},"contributor":null,"blocks":[{"type":"image","model":{"emphasiseImage":true,"copyright":"Getty Images","media":{"__typename":"ComponentsImage","originalSrc":"https://c.files.bbci.co.uk/BE8D/production/_119318784_gettyimages-1233829440.jpg","iChefRecipe":"https://ichef.bbci.co.uk/news/$recipe/cpsprodpb/BE8D/production/_119318784_gettyimages-1233829440.jpg","height":549,"width":976,"alt":"Afghan security forces guard a damaged building","loading":"lazy"},"blocks":[{"type":"altText","model":{"blocks":[{"type":"text","model":{"blocks":[{"type":"fragment","model":{"text":"Afghan security forces guard a damaged building","attributes":[]}}]}}]}},{"type":"rawImage","model":{"height":549,"width":976,"locator":"BE8D/production/_119318784_gettyimages-1233829440.jpg","originCode":"cpsprodpb","copyrightHolder":"Getty Images","originalSrc":"https://c.files.bbci.co.uk/BE8D/production/_119318784_gettyimages-1233829440.jpg","iChefRecipe":"https://ichef.bbci.co.uk/news/$recipe/cpsprodpb/BE8D/production/_119318784_gettyimages-1233829440.jpg"}}]}},{"type":"text","model":{"blocks":[{"type":"paragraph","model":{"text":"US President Joe Biden has defended his decision to withdraw military forces from Afghanistan, saying that US operations will end on 31 August.","blocks":[{"type":"fragment","model":{"text":"US President Joe Biden has defended his decision to withdraw military forces from Afghanistan, saying that US operations will end on 31 August.","attributes":["bold","bold"]}}]}}]}},{"type":"text","model":{"blocks":[{"type":"paragraph","model":{"text":"The fourth US president to oversee the war also defended the speed of the US withdrawal, saying it saved lives.","blocks":[{"type":"fragment","model":{"text":"The fourth US president to oversee the war also defended the speed of the US withdrawal, saying it saved lives.","attributes":[]}}]}}]}},{"type":"text","model":{"blocks":[{"type":"paragraph","model":{"text":"Mr Biden's speech comes as the Taliban militant group continues to seize territory around the country.","blocks":[{"type":"fragment","model":{"text":"Mr Biden's speech comes as the Taliban militant group continues to seize territory around the country.","attributes":[]}}]}}]}},{"type":"text","model":{"blocks":[{"type":"paragraph","model":{"text":"US forces have fought in Afghanistan for nearly 20 years, following the terror attacks of 11 September 2001. ","blocks":[{"type":"fragment","model":{"text":"US forces have fought in Afghanistan for nearly 20 years, following the terror attacks of 11 September 2001. ","attributes":[]}}]}}]}},{"type":"text","model":{"blocks":[{"type":"paragraph","model":{"text":"Earlier this year, Mr Biden set a 11 September 2021 goal of withdrawing all US troops. ","blocks":[{"type":"fragment","model":{"text":"Earlier this year, Mr Biden set a 11 September 2021 goal of withdrawing all US troops. ","attributes":[]}}]}}]}},{"type":"text","model":{"blocks":[{"type":"paragraph","model":{"text":"Donald Trump had agreed with the Taliban to pull out US troops by May 2021, but that deadline was pushed back by Mr Biden after he took office in January.","blocks":[{"type":"fragment","model":{"text":"Donald Trump had agreed with the Taliban to pull out US troops by May 2021, but that deadline was pushed back by Mr Biden after he took office in January.","attributes":[]}}]}}]}},{"type":"media","model":{"caption":"Biden: 'We did not go to Afghanistan to nation build'","media":{"__typename":"ElementsMediaPlayer","items":[{"id":"p09nvdyw","title":"'We did not go to Afghanistan to nation build'","holdingImageUrl":"https://ichef.bbci.co.uk/images/ic/$recipe/p09nvj3y.jpg","kind":"programme","isEmbeddingAllowed":true,"isAdvertisingAllowed":true}]}}},{"type":"text","model":{"blocks":[{"type":"paragraph","model":{"text":""Just one more year of fighting in Afghanistan is not a solution," Mr Biden said in a White House speech, "but a recipe for fighting there indefinitely."","blocks":[{"type":"fragment","model":{"text":""Just one more year of fighting in Afghanistan is not a solution," Mr Biden said in a White House speech, "but a recipe for fighting there indefinitely."","attributes":[]}}]}}]}},{"type":"text","model":{"blocks":[{"type":"paragraph","model":{"text":"He also denied that a Taliban takeover is "inevitable," saying that the Taliban force of approximately 75,000 fighters is no match for the 300,000 Afghan security forces.","blocks":[{"type":"fragment","model":{"text":"He also denied that a Taliban takeover is "inevitable," saying that the Taliban force of approximately 75,000 fighters is no match for the 300,000 Afghan security forces.","attributes":[]}}]}}]}},{"type":"text","model":{"blocks":[{"type":"paragraph","model":{"text":"Even after the total pull out is complete, the US is expected to keep 650 to 1,000 troops in Afghanistan to guard the US embassy, Kabul airport, and other key government installations.","blocks":[{"type":"fragment","model":{"text":"Even after the total pull out is complete, the US is expected to keep 650 to 1,000 troops in Afghanistan to guard the US embassy, Kabul airport, and other key government installations.","attributes":[]}}]}}]}},{"type":"text","model":{"blocks":[{"type":"paragraph","model":{"text":"Recent polls have shown broad US support for leaving Afghanistan, with Republican voters more sceptical of the decision to withdraw.","blocks":[{"type":"fragment","model":{"text":"Recent polls have shown broad US support for leaving Afghanistan, with Republican voters more sceptical of the decision to withdraw.","attributes":[]}}]}}]}},{"type":"text","model":{"blocks":[{"type":"paragraph","model":{"text":"Mr Biden also said that efforts are being made to get translators, interpreters and other Afghans that worked with the US government out of the country. He said 2,500 special immigrant visas have been been issued to allow them to come to the United States, but only half have come so far.","blocks":[{"type":"fragment","model":{"text":"Mr Biden also said that efforts are being made to get translators, interpreters and other Afghans that worked with the US government out of the country. He said 2,500 special immigrant visas have been been issued to allow them to come to the United States, but only half have come so far.","attributes":[]}}]}}]}},{"type":"image","model":{"media":{"__typename":"ComponentsImage","originalSrc":"https://c.files.bbci.co.uk/051C/production/_116580310_lysedoucet21_tr-nc.png","iChefRecipe":"https://ichef.bbci.co.uk/news/$recipe/cpsprodpb/051C/production/_116580310_lysedoucet21_tr-nc.png","height":340,"width":1706,"alt":"Analysis box by Lyse Doucet, chief international correspondent","loading":"lazy"},"blocks":[{"type":"altText","model":{"blocks":[{"type":"text","model":{"blocks":[{"type":"fragment","model":{"text":"Analysis box by Lyse Doucet, chief international correspondent","attributes":[]}}]}}]}},{"type":"rawImage","model":{"height":340,"width":1706,"locator":"051C/production/_116580310_lysedoucet21_tr-nc.png","originCode":"cpsprodpb","copyrightHolder":"BBC","originalSrc":"https://c.files.bbci.co.uk/051C/production/_116580310_lysedoucet21_tr-nc.png","iChefRecipe":"https://ichef.bbci.co.uk/news/$recipe/cpsprodpb/051C/production/_116580310_lysedoucet21_tr-nc.png"}}]}},{"type":"text","model":{"blocks":[{"type":"paragraph","model":{"text":"Senator Biden and Vice-President Biden believed the US should get out of Afghanistan. Now President Biden is Commander-in-Chief. ","blocks":[{"type":"fragment","model":{"text":"Senator Biden and Vice-President Biden believed the US should get out of Afghanistan. Now President Biden is Commander-in-Chief. ","attributes":[]}}]}}]}},{"type":"text","model":{"blocks":[{"type":"paragraph","model":{"text":"He was at pains to say support for Afghanistan wouldn't stop, but even more adamant that both Afghan politicians and security forces had the capacity to prevent a Taliban takeover. "Will they do it?" he asked. ","blocks":[{"type":"fragment","model":{"text":"He was at pains to say support for Afghanistan wouldn't stop, but even more adamant that both Afghan politicians and security forces had the capacity to prevent a Taliban takeover. "Will they do it?" he asked. ","attributes":[]}}]}}]}},{"type":"text","model":{"blocks":[{"type":"paragraph","model":{"text":"That's what Afghans have asked – repeatedly – in the midst of continuing disarray and disunity in Kabul, and the dramatic Taliban advance in the districts. ","blocks":[{"type":"fragment","model":{"text":"That's what Afghans have asked – repeatedly – in the midst of continuing disarray and disunity in Kabul, and the dramatic Taliban advance in the districts. ","attributes":[]}}]}}]}},{"type":"text","model":{"blocks":[{"type":"paragraph","model":{"text":"The President's emphasis on speaking out for women and girls isn't heard in districts already under Taliban control where they're not going to school. ","blocks":[{"type":"fragment","model":{"text":"The President's emphasis on speaking out for women and girls isn't heard in districts already under Taliban control where they're not going to school. ","attributes":[]}}]}}]}},{"type":"text","model":{"blocks":[{"type":"paragraph","model":{"text":"As a president who's known to study all the scenarios, he made it clear "it's highly unlikely" there will be a unified government, and not much the US could do, or should do, if Kabul collapses. That's up to Afghans – and the countries next door.","blocks":[{"type":"fragment","model":{"text":"As a president who's known to study all the scenarios, he made it clear "it's highly unlikely" there will be a unified government, and not much the US could do, or should do, if Kabul collapses. That's up to Afghans – and the countries next door.","attributes":[]}}]}}]}},{"type":"image","model":{"media":{"__typename":"ComponentsImage","originalSrc":"https://c.files.bbci.co.uk/1226D/production/_105894347_grey_line-nc.png","iChefRecipe":"https://ichef.bbci.co.uk/news/$recipe/cpsprodpb/1226D/production/_105894347_grey_line-nc.png","height":2,"width":640,"alt":"2px presentational grey line","loading":"lazy"},"blocks":[{"type":"altText","model":{"blocks":[{"type":"text","model":{"blocks":[{"type":"fragment","model":{"text":"2px presentational grey line","attributes":[]}}]}}]}},{"type":"rawImage","model":{"height":2,"width":640,"locator":"1226D/production/_105894347_grey_line-nc.png","originCode":"cpsprodpb","copyrightHolder":"BBC","originalSrc":"https://c.files.bbci.co.uk/1226D/production/_105894347_grey_line-nc.png","iChefRecipe":"https://ichef.bbci.co.uk/news/$recipe/cpsprodpb/1226D/production/_105894347_grey_line-nc.png"}}]}},{"type":"text","model":{"blocks":[{"type":"paragraph","model":{"text":"Last month, Mr Biden assured Afghan leaders at a White House meeting that US aid will continue.","blocks":[{"type":"fragment","model":{"text":"Last month, Mr Biden assured Afghan leaders at a White House meeting that US aid will continue.","attributes":[]}}]}}]}},{"type":"unorderedList","model":{"blocks":[{"type":"listItem","model":{"blocks":[{"type":"urlLink","model":{"text":"Most British troops have left Afghanistan – PM","locator":"https://www.bbc.co.uk/news/uk-57746335″,"blocks":[{"type":"fragment","model":{"text":"Most British troops have left Afghanistan – PM","attributes":[]}}]}}]}}]}},{"type":"text","model":{"blocks":[{"type":"paragraph","model":{"text":"The vast majority of remaining foreign forces in Afghanistan have left ahead of the US 11 September deadline, leaving the Afghan military completely in charge of national security.","blocks":[{"type":"fragment","model":{"text":"The vast majority of remaining foreign forces in Afghanistan have left ahead of the US 11 September deadline, leaving the Afghan military completely in charge of national security.","attributes":[]}}]}}]}},{"type":"text","model":{"blocks":[{"type":"paragraph","model":{"text":"President Ashraf Ghani insists that Afghan security forces are fully capable of keeping insurgents at bay, but there have been reports of thousands of Afghan troops seeking refuge in other countries to avoid the fighting.","blocks":[{"type":"fragment","model":{"text":"President Ashraf Ghani insists that Afghan security forces are fully capable of keeping insurgents at bay, but there have been reports of thousands of Afghan troops seeking refuge in other countries to avoid the fighting.","attributes":[]}}]}}]}},{"type":"text","model":{"blocks":[{"type":"paragraph","model":{"text":"Earlier in the week, Taliban spokesman Suhail Shaheen told the BBC that the group was not responsible for the recent increase in violence. He insisted that many districts had fallen to the Taliban through mediation after Afghan soldiers refused to fight.","blocks":[{"type":"fragment","model":{"text":"Earlier in the week, ","attributes":[]}},{"type":"urlLink","model":{"text":"Taliban spokesman Suhail Shaheen told the BBC that the group was not responsible for the recent increase in violence","locator":"https://www.bbc.co.uk/news/world-asia-57714808″,"blocks":[{"type":"fragment","model":{"text":"Taliban spokesman Suhail Shaheen told the BBC that the group was not responsible for the recent increase in violence","attributes":[]}}]}},{"type":"fragment","model":{"text":". He insisted that many districts had fallen to the Taliban through mediation after Afghan soldiers refused to fight.","attributes":[]}}]}}]}},{"type":"text","model":{"blocks":[{"type":"paragraph","model":{"text":"US-led forces ousted the Taliban from power in Afghanistan in 2001. The group had been harbouring Osama Bin Laden and other al-Qaeda figures linked to the 9/11 attacks in the US that triggered the invasion. However, it has gradually been regaining territory in recent years.","blocks":[{"type":"fragment","model":{"text":"US-led forces ousted the Taliban from power in Afghanistan in 2001. The group had been harbouring Osama Bin Laden and other al-Qaeda figures linked to the 9/11 attacks in the US that triggered the invasion. However, it has gradually been regaining territory in recent years.","attributes":[]}}]}}]}},{"type":"include","model":{"href":"/include/vjeastasia/800-timeline_on_slack/english/newsspec-31092?responsive=true&newsapps=true&app-image=https://c.files.bbci.co.uk/5BDB/production/_119151532_afghan_app_launcher_640-nc.png&app-clickable=true&amp-clickable=true&amp-image-height=360&amp-image-width=640&amp-image=https://c.files.bbci.co.uk/5BDB/production/_119151532_afghan_app_launcher_640-nc.png&app-image-alt-text=Click%20or%20tap%20here%20to%20see%20interactive%20content","html":"","type":"vj"}},{"type":"image","model":{"media":{"__typename":"ComponentsImage","originalSrc":"https://c.files.bbci.co.uk/4BEB/production/_112953491__108802839_624_transparent-nc.png","iChefRecipe":"https://ichef.bbci.co.uk/news/$recipe/cpsprodpb/4BEB/production/_112953491__108802839_624_transparent-nc.png","height":1,"width":624,"alt":"1px transparent line","loading":"lazy"},"blocks":[{"type":"altText","model":{"blocks":[{"type":"text","model":{"blocks":[{"type":"fragment","model":{"text":"1px transparent line","attributes":[]}}]}}]}},{"type":"rawImage","model":{"height":1,"width":624,"locator":"4BEB/production/_112953491__108802839_624_transparent-nc.png","originCode":"cpsprodpb","copyrightHolder":"BBC","originalSrc":"https://c.files.bbci.co.uk/4BEB/production/_112953491__108802839_624_transparent-nc.png","iChefRecipe":"https://ichef.bbci.co.uk/news/$recipe/cpsprodpb/4BEB/production/_112953491__108802839_624_transparent-nc.png"}}]}},{"type":"unorderedList","model":{"blocks":[{"type":"listItem","model":{"blocks":[{"type":"urlLink","model":{"text":"Who are the Taliban?","locator":"https://www.bbc.co.uk/news/world-south-asia-11451718″,"blocks":[{"type":"fragment","model":{"text":"Who are the Taliban?","attributes":[]}}]}}]}},{"type":"listItem","model":{"blocks":[{"type":"urlLink","model":{"text":"The threat of al-Qaeda haunts Afghanistan pull-out","locator":"https://www.bbc.co.uk/news/world-asia-57738731″,"blocks":[{"type":"fragment","model":{"text":"The threat of al-Qaeda haunts Afghanistan pull-out","attributes":[]}}]}}]}},{"type":"listItem","model":{"blocks":[{"type":"urlLink","model":{"text":"Echoes of 1989 as foreign forces leave Afghanistan","locator":"https://www.bbc.co.uk/news/world-asia-57724652″,"blocks":[{"type":"fragment","model":{"text":"Echoes of 1989 as foreign forces leave Afghanistan","attributes":[]}}]}}]}},{"type":"listItem","model":{"blocks":[{"type":"urlLink","model":{"text":"How can the West fight terror after leaving?","locator":"https://www.bbc.co.uk/news/world-asia-56860781″,"blocks":[{"type":"fragment","model":{"text":"How can the West fight terror after leaving?","attributes":[]}}]}}]}}]}}],"seeAlsos":[{"contentType":"CSP","headlines":{"shortHeadline":"Echoes of 1989 as foreign forces leave Afghanistan","headline":"Echoes of 1989 as foreign forces withdraw from Afghanistan"},"url":"/news/world-asia-57724652″,"timestamp":1625567552000,"type":"CSP","timestampRelative":"2 days ago"},{"contentType":"STY","headlines":{"shortHeadline":"US left Bagram at night with no notice, Afghans say","headline":"US left Bagram Airbase at night with no notice, Afghan commander says"},"url":"/news/world-asia-57682290″,"timestamp":1625588744000,"type":"STY","timestampRelative":"2 days ago"},{"contentType":"STY","headlines":{"shortHeadline":"Most British troops have left Afghanistan – PM","headline":"Afghanistan: Most British troops have left – PM"},"url":"/news/uk-57746335″,"timestamp":1625754853000,"type":"STY","timestampRelative":"6 hours ago"}],"relatedUrls":[],"tags":[{"title":"Afghanistan","url":"/news/topics/c8nq32jw5r5t","isEvent":false},{"title":"Taliban","url":"/news/topics/ckgj731eel1t","isEvent":false},{"title":"United States","url":"/news/topics/cx1m7zg01xyt","isEvent":false},{"title":"War in Afghanistan (2001-present)","url":"/news/topics/c6n97z84601t","isEvent":true}]},"importance":"PRIMARY","hasFetcher":true},"onward-journeys?country=us&id=topStories&language=en-GB&section=%2Fnews%2Fworld%2Fus_and_canada&sectionHeader=Top%20Stories&showFirstSummary=true&showTimestamp=true":{"name":"onward-journeys","props":{"id":"topStories","sectionHeader":"Top Stories","showFirstSummary":true,"showTimestamp":true,"country":"us","section":"/news/world/us_and_canada","language":"en-GB"},"data":[{"headlines":{"headline":"Biden defends US withdrawal amid Taliban advance","overtyped":"Biden defends US withdrawal amid Taliban advance"},"url":"/news/world-us-canada-57770436″,"timestamp":1625779123000,"summary":""The status quo was not an option," the fourth president to oversee the war said as violence flares.","type":"STY","image":{"alt":"Biden","height":576,"loading":"lazy","originalSrc":"http://c.files.bbci.co.uk/10CAD/production/_119318786_gettyimages-1233874918.jpg","iChefRecipe":"https://ichef.bbci.co.uk/news/$recipe/cpsprodpb/10CAD/production/_119318786_gettyimages-1233874918.jpg","width":1024},"timestampRelative":"9 minutes ago"},{"headlines":{"headline":"Haiti seeks masterminds behind president's killing"},"url":"/news/world-latin-america-57766749″,"timestamp":1625776419000,"summary":"The gunmen suspected of shooting President Jovenel Moïse have been killed or detained, police say.","type":"STY","image":{"alt":"Police and burning car in Haiti","height":549,"loading":"lazy","originalSrc":"http://c.files.bbci.co.uk/178EB/production/_119319469_mediaitem119319468.jpg","iChefRecipe":"https://ichef.bbci.co.uk/news/$recipe/cpsprodpb/178EB/production/_119319469_mediaitem119319468.jpg","width":976},"timestampRelative":"54 minutes ago"},{"headlines":{"headline":"'One death in combat is a huge sacrifice'"},"url":"/news/uk-57768079″,"timestamp":1625763369000,"summary":"The BBC's Jonathan Beale spoke to one bereaved mother, as the UK removes troops from Afghanistan.","type":"MAP","image":{"alt":"Soldier William Aldridge in Afghanistan","height":576,"loading":"lazy","originalSrc":"http://c.files.bbci.co.uk/14A5B/production/_119317548_p09ntxqy.jpg","iChefRecipe":"https://ichef.bbci.co.uk/news/$recipe/cpsprodpb/14A5B/production/_119317548_p09ntxqy.jpg","width":1024},"timestampRelative":"4 hours ago"}],"importance":"SECONDARY","hasFetcher":true},"onward-journeys?country=us&enableDotcomAds=false&id=features&insertAdSlotAtIndex=3&language=en-GB&section=%2Fnews%2Fworld%2Fus_and_canada&sectionHeader=Features&showImage=true":{"name":"onward-journeys","props":{"id":"features","sectionHeader":"Features","showImage":true,"insertAdSlotAtIndex":3,"country":"us","section":"/news/world/us_and_canada","language":"en-GB","enableDotcomAds":false},"data":[{"headlines":{"headline":"Why North America's killer heat scares me"},"url":"/news/world-us-canada-57729502″,"timestamp":1625612613000,"summary":"It's not the new record temperatures that concern the BBC's Roger Harrabin – it's the way they were smashed.","type":"STY","image":{"alt":"A boy drinks water during a heat wave","height":589,"loading":"lazy","originalSrc":"http://c.files.bbci.co.uk/C237/production/_119291794_gettyimages-1233478797.jpg","iChefRecipe":"https://ichef.bbci.co.uk/news/$recipe/cpsprodpb/C237/production/_119291794_gettyimages-1233478797.jpg","width":1024},"timestampRelative":"1 day ago"},{"headlines":{"headline":"Audit or Fraudit? Trump supporters bank on Arizona"},"url":"/news/world-us-canada-57558537″,"timestamp":1625759900000,"summary":"A section of the US electorate refuses to believe that Donald Trump lost the 2020 election.","type":"STY","image":{"alt":"Signs outside the Arizona audit","height":549,"loading":"lazy","originalSrc":"http://c.files.bbci.co.uk/D6CE/production/_119009945_microsoftteams-image-1.png","iChefRecipe":"https://ichef.bbci.co.uk/news/$recipe/cpsprodpb/D6CE/production/_119009945_microsoftteams-image-1.png","width":976},"timestampRelative":"5 hours ago"},{"headlines":{"headline":"From freedom fighter to president to jail"},"url":"/news/world-africa-57758641″,"timestamp":1625748941000,"summary":"Jacob Zuma achieves political ignominy as the first former president of South Africa to be jailed.","type":"STY","image":{"alt":"Zuma","height":549,"loading":"lazy","originalSrc":"http://c.files.bbci.co.uk/11E05/production/_119312237_mediaitem119312236.jpg","iChefRecipe":"https://ichef.bbci.co.uk/news/$recipe/cpsprodpb/11E05/production/_119312237_mediaitem119312236.jpg","width":976},"timestampRelative":"8 hours ago"},{"headlines":{"headline":"The Spice Girls at 25: Here's the story from A to Z","overtyped":"The Spice Girls at 25: The story from A to Z"},"url":"/news/entertainment-arts-57734073″,"timestamp":1625704339000,"summary":"Easy V doesn't come for free, but this guide to the Spice Girls' career will cost you nothing.","type":"STY","image":{"alt":"Spice Girls","height":549,"loading":"lazy","originalSrc":"http://c.files.bbci.co.uk/14D3E/production/_119301358_spice_girls-nc.png","iChefRecipe":"https://ichef.bbci.co.uk/news/$recipe/cpsprodpb/14D3E/production/_119301358_spice_girls-nc.png","width":976},"timestampRelative":"20 hours ago"},{"headlines":{"headline":"Fighting back against a plague of mice"},"url":"/news/world-australia-57698822″,"timestamp":1625703812000,"summary":"There's a debate in Australia about how to deal with a huge plague of mice in the east of the country.","type":"STY","image":{"alt":"A mouse on a plastic sheet used as a trap on Terry Fishpool's farm in the New South Wales' agricultural town of Tottenham on 2 June 2021″,"height":549,"loading":"lazy","originalSrc":"http://c.files.bbci.co.uk/0082/production/_119303100_gettyimages-1233440158.jpg","iChefRecipe":"https://ichef.bbci.co.uk/news/$recipe/cpsprodpb/0082/production/_119303100_gettyimages-1233440158.jpg","width":976},"timestampRelative":"21 hours ago"},{"headlines":{"headline":"Breaking China's blockade in the South China Sea","overtyped":"The battle over a disputed coral reef"},"url":"/news/world-asia-57757784″,"timestamp":1625698921000,"summary":"The BBC's Howard Johnson gained rare access to a disputed coral reef called Scarborough Shoal.","type":"MAP","image":{"alt":"Sunset over Philippine fishing boat in South China Sea","height":1080,"loading":"lazy","originalSrc":"http://c.files.bbci.co.uk/5A96/production/_119309132_fa6cf210-1806-4578-9ec3-a880bd45caeb.jpg","iChefRecipe":"https://ichef.bbci.co.uk/news/$recipe/cpsprodpb/5A96/production/_119309132_fa6cf210-1806-4578-9ec3-a880bd45caeb.jpg","width":1920},"timestampRelative":"22 hours ago"},{"headlines":{"headline":"The growing rivalry that's pushing up oil prices"},"url":"/news/world-middle-east-57753667″,"timestamp":1625704411000,"summary":"A public rift between Saudi Arabia and the UAE caused talks between oil exporters to be abandoned.","type":"STY","image":{"alt":"File photo showing Saudi Crown Prince Mohammed bin Salman and Abu Dhabi Crown Prince Mohammed bin Zayed, in Abu Dhabi, UAE (27 November 2019)","height":1152,"loading":"lazy","originalSrc":"http://c.files.bbci.co.uk/678E/production/_119301562_mediaitem119301561.jpg","iChefRecipe":"https://ichef.bbci.co.uk/news/$recipe/cpsprodpb/678E/production/_119301562_mediaitem119301561.jpg","width":2048},"timestampRelative":"20 hours ago"},{"headlines":{"headline":"Infiltrating the Chinese-American far-right"},"url":"/news/world-us-canada-57587364″,"timestamp":1625702420000,"summary":"An Australian researcher is trying to understand how disinformation flows through the Chinese diaspora.","type":"STY","image":{"alt":"Asian and Chinese-American Trump supporters rally in Manhattan in 2016″,"height":549,"loading":"lazy","originalSrc":"http://c.files.bbci.co.uk/5AD8/production/_119065232_gettyimages-1096387500.jpg","iChefRecipe":"https://ichef.bbci.co.uk/news/$recipe/cpsprodpb/5AD8/production/_119065232_gettyimages-1096387500.jpg","width":976},"timestampRelative":"21 hours ago"},{"headlines":{"headline":"See inside Buckingham Palace gardens","overtyped":"See inside Buckingham Palace's gardens"},"url":"/news/uk-57688738″,"timestamp":1625698905000,"summary":"The garden at Buckingham Palace will open to the public from Friday 9 July until Sunday 19 September.","type":"MAP","image":{"alt":"Buckingham Palace garden roses","height":576,"loading":"lazy","originalSrc":"http://c.files.bbci.co.uk/4F7E/production/_119305302_p09nqqcn.jpg","iChefRecipe":"https://ichef.bbci.co.uk/news/$recipe/cpsprodpb/4F7E/production/_119305302_p09nqqcn.jpg","width":1024},"timestampRelative":"22 hours ago"}],"importance":"SECONDARY","hasFetcher":true},"onward-journeys?country=us&id=elsewhere&language=en-GB&section=%2Fnews%2Fworld%2Fus_and_canada&sectionHeader=Elsewhere%20on%20the%20BBC&showImage=true&showSummary=true":{"name":"onward-journeys","props":{"id":"elsewhere","sectionHeader":"Elsewhere on the BBC","showImage":true,"showSummary":true,"country":"us","section":"/news/world/us_and_canada","language":"en-GB"},"data":[{"headlines":{"headline":"Football phrases"},"url":"http://www.bbc.co.uk/programmes/articles/51MWxHsTD7YhW4gTWWtPvKf/end-to-end-with-15-football-phrases-from-around-the-world?intc_type=promo&intc_location=news&intc_campaign=fifteenfootballphrases_article&intc_linkname=radio4_sm_mid_c3″,"timestamp":1530807531000,"summary":"15 sayings from around the world","image":{"alt":"football being kicked on a field – Vauxhall image blurred in the background.","height":351,"loading":"lazy","originalSrc":"http://c.files.bbci.co.uk/7F9D/production/_102396623_footballphrases.jpg","iChefRecipe":"https://ichef.bbci.co.uk/news/$recipe/cpsprodpb/7F9D/production/_102396623_footballphrases.jpg","width":624},"timestampRelative":"5 July 2018″}],"importance":"SECONDARY","hasFetcher":true},"onward-journeys?country=us&expiresInMs=3600000&id=mostRead&language=en-GB&section=%2Fnews%2Fworld%2Fus_and_canada&sectionHeader=Most%20Read":{"name":"onward-journeys","props":{"id":"mostRead","sectionHeader":"Most Read","expiresInMs":3600000,"country":"us","section":"/news/world/us_and_canada","language":"en-GB"},"data":[{"id":"1ddaf8aa-cc21-455c-887a-61a2703d4d0b","count":1794,"rank":1,"urn":"urn:bbc:curie:asset:1ddaf8aa-cc21-455c-887a-61a2703d4d0b","headlines":{"shortHeadline":"Bear drags US cyclist from tent and kills her","headline":"US woman killed by bear that dragged her from tent in Montana"},"url":"/news/world-us-canada-57763443″,"timestamp":1625761121000,"summary":"Wildlife officials are searching for the bear and say they plan to kill it as it remains a threat.","type":"cps","image":{"alt":"Grizzly bear","height":549,"loading":"lazy","originalSrc":"http://c.files.bbci.co.uk/15195/production/_119312468_gettyimages-1150480683-1.jpg","iChefRecipe":"https://ichef.bbci.co.uk/news/$recipe/cpsprodpb/15195/production/_119312468_gettyimages-1150480683-1.jpg","width":976},"timestampRelative":"5 hours ago"},{"id":"85f43b61-4934-43c8-8d20-61936d155a96″,"count":1185,"rank":2,"urn":"urn:bbc:curie:asset:85f43b61-4934-43c8-8d20-61936d155a96″,"headlines":{"shortHeadline":"Apple co-founder backs right-to-repair movement","headline":"Apple founder Steve Wozniak backs right-to-repair movement"},"url":"/news/technology-57763037″,"timestamp":1625746784000,"summary":""We wouldn't have had an Apple had I not grown up in a very open technology world," Mr Wozniak said.","type":"cps","image":{"alt":"Steve Wozniak","height":549,"loading":"lazy","originalSrc":"http://c.files.bbci.co.uk/181FB/production/_119311889_gettyimages-926557146.jpg","iChefRecipe":"https://ichef.bbci.co.uk/news/$recipe/cpsprodpb/181FB/production/_119311889_gettyimages-926557146.jpg","width":976},"timestampRelative":"9 hours ago"},{"id":"d6715d0c-462b-4170-b336-f8d10cdf8b7b","count":859,"rank":3,"urn":"urn:bbc:curie:asset:d6715d0c-462b-4170-b336-f8d10cdf8b7b","headlines":{"shortHeadline":"Stormy Daniels' ex-lawyer sentenced for extortion","headline":"Michael Avenatti: Celebrity lawyer sentenced to 30 months in prison for extortion"},"url":"/news/world-us-canada-57768443″,"timestamp":1625773794000,"summary":"A federal judge said the celebrity lawyer had become "drunk on the power of his platform".","type":"cps","image":{"alt":"Attorney Michael Avenatti speaks to the press outside federal court after being arraigned, May 28, 2019″,"height":549,"loading":"lazy","originalSrc":"http://c.files.bbci.co.uk/7BC1/production/_119318613_michaelavenatti.jpg","iChefRecipe":"https://ichef.bbci.co.uk/news/$recipe/cpsprodpb/7BC1/production/_119318613_michaelavenatti.jpg","width":976},"timestampRelative":"1 hour ago"},{"id":"1d5f5387-1b80-4793-b847-9d50203d84a8″,"count":762,"rank":4,"urn":"urn:bbc:curie:asset:1d5f5387-1b80-4793-b847-9d50203d84a8″,"headlines":{"shortHeadline":"Plea to eat less meat causes beef in Spain","headline":"Spanish ministers clash over campaign to eat less meat"},"url":"/news/world-europe-57766345″,"timestamp":1625775278000,"summary":"A minister faces pushback from fellow coalition members after urging carnivores to cut down.","type":"cps","image":{"alt":"A butcher shop sells Spanish speciality ham in the food bazar Mercado de San Miguel in Madrid","height":549,"loading":"lazy","originalSrc":"http://c.files.bbci.co.uk/13CCE/production/_119320118_gettyimages-102582038-594×594.jpg","iChefRecipe":"https://ichef.bbci.co.uk/news/$recipe/cpsprodpb/13CCE/production/_119320118_gettyimages-102582038-594×594.jpg","width":976},"timestampRelative":"1 hour ago"},{"id":"40fcfa29-a11d-4db3-846a-55e7cab9d1c4″,"count":720,"rank":5,"urn":"urn:bbc:curie:asset:40fcfa29-a11d-4db3-846a-55e7cab9d1c4″,"headlines":{"shortHeadline":"Biden defends US withdrawal amid Taliban advance","headline":"Biden defends decision to end Afghan military operation"},"url":"/news/world-us-canada-57770436″,"timestamp":1625779123000,"summary":""The status quo was not an option," the fourth president to oversee the war said as violence flares.","type":"cps","image":{"alt":"Biden","height":576,"loading":"lazy","originalSrc":"http://c.files.bbci.co.uk/10CAD/production/_119318786_gettyimages-1233874918.jpg","iChefRecipe":"https://ichef.bbci.co.uk/news/$recipe/cpsprodpb/10CAD/production/_119318786_gettyimages-1233874918.jpg","width":1024},"timestampRelative":"9 minutes ago"},{"id":"dfe0d149-5aa5-47fc-9e3d-e9c24c923414″,"count":606,"rank":6,"urn":"urn:bbc:curie:asset:dfe0d149-5aa5-47fc-9e3d-e9c24c923414″,"headlines":{"shortHeadline":"Heatwave 'virtually impossible' without warming","headline":"Climate change: US-Canada heatwave 'virtually impossible' without warming"},"url":"/news/science-environment-57751918″,"timestamp":1625705477000,"summary":"Without global warming, the searing heat seen in the western US and Canada "just doesn't occur," say scientists.","type":"cps","image":{"alt":"heat wave","height":549,"loading":"lazy","originalSrc":"http://c.files.bbci.co.uk/29F4/production/_119304701_hi068291661.jpg","iChefRecipe":"https://ichef.bbci.co.uk/news/$recipe/cpsprodpb/29F4/production/_119304701_hi068291661.jpg","width":976},"timestampRelative":"20 hours ago"},{"id":"a84ec35d-9f51-4f48-b5eb-b3836637f007″,"count":580,"rank":7,"urn":"urn:bbc:curie:asset:a84ec35d-9f51-4f48-b5eb-b3836637f007″,"headlines":{"shortHeadline":"England charged after 'laser' incident","headline":"Euro 2020: England charged by Uefa after 'laser' penalty incident"},"url":"/sport/football/57763001″,"timestamp":1625751641000,"summary":"Uefa charges England after a laser pointer is directed at Denmark goalkeeper Kasper Schmeichel during Wednesday's Euro 2020 semi-final.","type":"cps","image":{"alt":"Kasper Schmeichel","height":351,"loading":"lazy","originalSrc":"http://c.files.bbci.co.uk/D67F/production/_119311945_laser.png","iChefRecipe":"https://ichef.bbci.co.uk/news/$recipe/cpsprodpb/D67F/production/_119311945_laser.png","width":624},"timestampRelative":"7 hours ago"},{"id":"2b2cdcd5-5557-46a3-97da-c7101320cb56″,"count":386,"rank":8,"urn":"urn:bbc:curie:asset:2b2cdcd5-5557-46a3-97da-c7101320cb56″,"headlines":{"shortHeadline":"PM's explanation for Mustique trip criticised","headline":"Boris Johnson criticised over Mustique trip explanation"},"url":"/news/uk-politics-57761943″,"timestamp":1625744927000,"summary":"But, Boris Johnson is cleared of breaching parliamentary standards rules over the Caribbean holiday.","type":"cps","image":{"alt":"Boris and Carrie Johnson","height":549,"loading":"lazy","originalSrc":"http://c.files.bbci.co.uk/BFCD/production/_119310194_2_johnson_symonds_getty.jpg","iChefRecipe":"https://ichef.bbci.co.uk/news/$recipe/cpsprodpb/BFCD/production/_119310194_2_johnson_symonds_getty.jpg","width":976},"timestampRelative":"9 hours ago"},{"id":"1d5af263-58a4-4ac2-9ba2-ebd9b17259b2″,"count":383,"rank":9,"urn":"urn:bbc:curie:asset:1d5af263-58a4-4ac2-9ba2-ebd9b17259b2″,"headlines":{"shortHeadline":"Haiti seeks masterminds behind president's killing","headline":"Jovenel Moïse: Haiti seeks masterminds after 'assassins' detained"},"url":"/news/world-latin-america-57766749″,"timestamp":1625776419000,"summary":"The gunmen suspected of shooting President Jovenel Moïse have been killed or detained, police say.","type":"cps","image":{"alt":"Police and burning car in Haiti","height":549,"loading":"lazy","originalSrc":"http://c.files.bbci.co.uk/178EB/production/_119319469_mediaitem119319468.jpg","iChefRecipe":"https://ichef.bbci.co.uk/news/$recipe/cpsprodpb/178EB/production/_119319469_mediaitem119319468.jpg","width":976},"timestampRelative":"54 minutes ago"},{"id":"8f71bdcb-1e84-4c6b-b9eb-aebb455f1464″,"count":312,"rank":10,"urn":"urn:bbc:curie:asset:8f71bdcb-1e84-4c6b-b9eb-aebb455f1464″,"headlines":{"shortHeadline":"Osaka calls for 'privacy' on return","headline":"Naomi Osaka calls for 'privacy', 'empathy' and 'personal days'"},"url":"/sport/tennis/57767495″,"timestamp":1625754678000,"summary":"Naomi Osaka calls for "privacy" and "empathy" from the press when she returns, saying she never wants her personal medical history to be scrutinised again.","type":"cps","image":{"alt":"osaka","height":576,"loading":"lazy","originalSrc":"http://c.files.bbci.co.uk/D3EB/production/_119315245_osaka_reuters.jpg","iChefRecipe":"https://ichef.bbci.co.uk/news/$recipe/cpsprodpb/D3EB/production/_119315245_osaka_reuters.jpg","width":1024},"timestampRelative":"6 hours ago"}],"importance":"SECONDARY","hasFetcher":true},"service-bar?language=en-GB&product=news":{"name":"service-bar","props":{"product":"news","language":"en-GB"},"data":{"title":"BBC News Services","serviceLinks":[{"text":"On your mobile","url":"https://www.bbc.co.uk/news/10628994″,"type":"devices-and-inputs:smartphone"},{"text":"On smart speakers","url":"https://www.bbc.co.uk/news/help-50068132″,"type":"devices-and-inputs:microphone"},{"text":"Get news alerts","url":"https://www.bbc.co.uk/news/10628323″,"type":"content-types:newsletter"},{"text":"Contact BBC News","url":"https://www.bbc.co.uk/news/20039682″,"type":"participate:email"}]},"importance":"SECONDARY","hasFetcher":true},"footer-promos?country=us&identifiers=NEWS_PS%2Cnews_ps&language=en-GB":{"name":"footer-promos","props":{"identifiers":"NEWS_PS,news_ps","language":"en-GB","country":"us"},"data":{},"importance":"SECONDARY","hasFetcher":true},"global-footer?country=us&language=en-GB":{"name":"global-footer","props":{"country":"us","language":"en-GB"},"data":{"accessibilityLinks":[{"label":"Skip to content","url":"#main-heading"},{"label":"Accessibility Help","url":"https://www.bbc.co.uk/accessibility/"}],"signInLabel":"Sign in","accountLabel":"Your account","menuLabel":"Menu","moreLabel":"More","closeButtonLabel":"Close menu","legalLinks":[{"url":"https://www.bbc.co.uk/usingthebbc/terms","label":"Terms of Use"},{"url":"https://www.bbc.co.uk/aboutthebbc","label":"About the BBC"},{"url":"https://www.bbc.co.uk/usingthebbc/privacy","label":"Privacy Policy"},{"url":"https://www.bbc.co.uk/usingthebbc/cookies","label":"Cookies"},{"url":"https://www.bbc.co.uk/accessibility","label":"Accessibility Help"},{"url":"https://www.bbc.co.uk/iplayer/guidance","label":"Parental Guidance"},{"url":"https://www.bbc.co.uk/contact","label":"Contact the BBC"},{"url":"https://www.bbc.co.uk/bbcnewsletter","label":"Get Personalised Newsletters"},{"url":"https://www.bbc.co.uk/news/help-41670342″,"label":"Why you can trust the BBC"},{"url":"https://www.bbcglobalnews.com/home/","label":"Advertise with us"},{"url":"https://www.bbc.com/usingthebbc/cookies/how-does-the-bbc-use-cookies-for-advertising/","label":"AdChoices / Do Not Sell My Info"}],"disclaimer":{"text":"© 2021 BBC. The BBC is not responsible for the content of external sites.","link":{"url":"https://www.bbc.co.uk/editorialguidelines/guidance/feeds-and-links","text":"Read about our approach to external linking."}},"homepageLink":{"label":"BBC Homepage","url":"https://www.bbc.com"},"searchLink":{"label":"Search","url":"https://www.bbc.co.uk/search"},"navigationLinks":[{"label":"Home","url":"https://www.bbc.com","accent":"#007BC7″},{"label":"News","url":"https://www.bbc.com/news","accent":"#BB1919″},{"label":"Sport","url":"https://www.bbc.com/sport","accent":"#FFD230″},{"label":"Reel","url":"https://www.bbc.com/reel","accent":"#0068FF"},{"label":"Worklife","url":"https://www.bbc.com/worklife","accent":"#0052A1″},{"label":"Travel","url":"https://www.bbc.com/travel","accent":"#589E50″},{"label":"Future","url":"https://www.bbc.com/future","accent":"#002856″},{"label":"Culture","url":"https://www.bbc.com/culture","accent":"#482878″},{"label":"Music","url":"https://www.bbc.com/culture/music"},{"label":"TV","url":"https://www.bbc.co.uk/schedules/p00fzl9m"},{"label":"Weather","url":"https://www.bbc.com/weather","accent":"#88CCEE"},{"label":"Sounds","url":"https://www.bbc.co.uk/sounds","accent":"#FF4900″}],"chameleonNavigationLinks":[{"label":"Home","url":"https://www.bbc.com","accent":"#007BC7″},{"label":"News","url":"https://www.bbc.com/news","accent":"#EB1212″},{"label":"Sport","url":"https://www.bbc.com/sport","accent":"#FFD230″},{"label":"Reel","url":"https://www.bbc.com/reel","accent":"#0068FF"},{"label":"Worklife","url":"https://www.bbc.com/worklife","accent":"#0052A1″},{"label":"Travel","url":"https://www.bbc.com/travel","accent":"#589E50″},{"label":"Future","url":"https://www.bbc.com/future","accent":"#002856″},{"label":"Culture","url":"https://www.bbc.com/culture","accent":"#482878″},{"label":"Music","url":"https://www.bbc.com/culture/music"},{"label":"TV","url":"https://www.bbc.co.uk/schedules/p00fzl9m"},{"label":"Weather","url":"https://www.bbc.com/weather","accent":"#149EDC"},{"label":"Sounds","url":"https://www.bbc.co.uk/sounds","accent":"#FA6400″}]},"importance":"PRIMARY","hasFetcher":true}},"paths":[{"path":"/news/:id"}],"page":{"metadata":{"title":"BBC","description":"BBC Page"},"featureToggles":{"enableDotcomAds":false,"enableComscoreMmx":true},"entry":{"levers":{"brandPalette":"news","corePalette":"light","fontPalette":"mixedInformative"},"pageContent":{"header":[{"layout":{"name":"FULL","props":{}},"containers":[{"name":"consent-banner","importance":"TERTIARY","hasFetcher":true,"props":[]}]},{"layout":{"name":"FULL","props":{}},"containers":[{"name":"global-navigation","importance":"PRIMARY","hasFetcher":true,"props":[],"levers":{"brandPalette":"masterbrand","corePalette":"light","fontPalette":"sansSimple"},"fetchParams":[{"__typename":"RequestContext","name":"country","lookup":"country"},{"__typename":"RequestContext","name":"language","lookup":"language"},{"__typename":"RouteParam","name":"service","lookup":"service"}]}]},{"layout":{"name":"FULL","props":{}},"containers":[{"name":"product-navigation","importance":"SECONDARY","hasFetcher":true,"props":[{"__typename":"RequestContext","name":"country","lookup":"country"},{"__typename":"LiteralProp","name":"product","value":"news"},{"__typename":"StoreReader","name":"assetUri","lookup":"assetUri","store":"product-navigation"},{"__typename":"StoreReader","name":"sectionName","lookup":"sectionName","store":"product-navigation"},{"__typename":"LiteralProp","name":"showProductNavigation","value":true}]}]}],"main":[{"layout":{"name":"FULL","props":{}},"containers":[{"name":"dotcom-ad","importance":"TERTIARY","hasFetcher":false,"props":[{"__typename":"LiteralProp","name":"slot","value":"interstitial"},{"__typename":"FeatureToggle","name":"enableDotcomAds","lookup":"enableDotcomAds"}]}]},{"layout":{"name":"FULL","props":{}},"containers":[{"name":"dotcom-ad","importance":"TERTIARY","hasFetcher":false,"props":[{"__typename":"LiteralProp","name":"slot","value":"leaderboard"},{"__typename":"FeatureToggle","name":"enableDotcomAds","lookup":"enableDotcomAds"}]}]},{"layout":{"name":"FULL","props":{}},"containers":[{"name":"dotcom-ad","importance":"TERTIARY","hasFetcher":false,"props":[{"__typename":"LiteralProp","name":"slot","value":"sponsor"},{"__typename":"FeatureToggle","name":"enableDotcomAds","lookup":"enableDotcomAds"}]}]},{"layout":{"name":"FULL","props":{}},"containers":[{"name":"dotcom-ad","importance":"TERTIARY","hasFetcher":false,"props":[{"__typename":"LiteralProp","name":"slot","value":"piano-header"},{"__typename":"FeatureToggle","name":"enableDotcomAds","lookup":"enableDotcomAds"}]}]},{"layout":{"name":"SIDEBAR","props":{"width":"compact","containersInMain":7}},"containers":[{"name":"article","importance":"PRIMARY","hasFetcher":true,"props":[{"__typename":"LiteralProp","name":"uri","value":"/news/world-us-canada-57770436″},{"__typename":"RequestContext","name":"language","lookup":"language"},{"__typename":"RequestContext","name":"host","lookup":"host"},{"__typename":"RequestContext","name":"env","lookup":"env"},{"__typename":"StoreReader","name":"currentPageAnalyticsDestination","lookup":"page.destination","store":"analytics"},{"__typename":"LiteralProp","name":"isAdvertisingEnabled","value":false}]},{"name":"dotcom-ad","importance":"TERTIARY","hasFetcher":false,"props":[{"__typename":"LiteralProp","name":"slot","value":"mpu-main"},{"__typename":"FeatureToggle","name":"enableDotcomAds","lookup":"enableDotcomAds"}]},{"name":"dotcom-ad","importance":"TERTIARY","hasFetcher":false,"props":[{"__typename":"LiteralProp","name":"slot","value":"content-rec"},{"__typename":"FeatureToggle","name":"enableDotcomAds","lookup":"enableDotcomAds"}]},{"name":"dotcom-ad","importance":"TERTIARY","hasFetcher":false,"props":[{"__typename":"LiteralProp","name":"slot","value":"outbrain_ar_5″},{"__typename":"FeatureToggle","name":"enableDotcomAds","lookup":"enableDotcomAds"}]},{"name":"dotcom-ad","importance":"TERTIARY","hasFetcher":false,"props":[{"__typename":"LiteralProp","name":"slot","value":"outbrain_ar_7″},{"__typename":"FeatureToggle","name":"enableDotcomAds","lookup":"enableDotcomAds"}]},{"name":"dotcom-ad","importance":"TERTIARY","hasFetcher":false,"props":[{"__typename":"LiteralProp","name":"slot","value":"outbrain_ar_8″},{"__typename":"FeatureToggle","name":"enableDotcomAds","lookup":"enableDotcomAds"}]},{"name":"dotcom-ad","importance":"TERTIARY","hasFetcher":false,"props":[{"__typename":"LiteralProp","name":"slot","value":"outbrain_ar_9″},{"__typename":"FeatureToggle","name":"enableDotcomAds","lookup":"enableDotcomAds"}]},{"name":"onward-journeys","importance":"SECONDARY","hasFetcher":true,"props":[{"__typename":"LiteralProp","name":"id","value":"topStories"},{"__typename":"LiteralProp","name":"sectionHeader","value":"Top Stories"},{"__typename":"LiteralProp","name":"showFirstSummary","value":true},{"__typename":"LiteralProp","name":"showTimestamp","value":true},{"__typename":"RequestContext","name":"country","lookup":"country"},{"__typename":"StoreReader","name":"section","lookup":"metadata.section.uri","store":"article"},{"__typename":"RequestContext","name":"language","lookup":"language"}]},{"name":"dotcom-ad","importance":"TERTIARY","hasFetcher":false,"props":[{"__typename":"LiteralProp","name":"slot","value":"mpu-side"},{"__typename":"FeatureToggle","name":"enableDotcomAds","lookup":"enableDotcomAds"}]},{"name":"onward-journeys","importance":"SECONDARY","hasFetcher":true,"props":[{"__typename":"LiteralProp","name":"id","value":"features"},{"__typename":"LiteralProp","name":"sectionHeader","value":"Features"},{"__typename":"LiteralProp","name":"showImage","value":true},{"__typename":"LiteralProp","name":"insertAdSlotAtIndex","value":3},{"__typename":"RequestContext","name":"country","lookup":"country"},{"__typename":"StoreReader","name":"section","lookup":"metadata.section.uri","store":"article"},{"__typename":"RequestContext","name":"language","lookup":"language"},{"__typename":"FeatureToggle","name":"enableDotcomAds","lookup":"enableDotcomAds"}]},{"name":"dotcom-ad","importance":"TERTIARY","hasFetcher":false,"props":[{"__typename":"LiteralProp","name":"slot","value":"native"},{"__typename":"FeatureToggle","name":"enableDotcomAds","lookup":"enableDotcomAds"}]},{"name":"onward-journeys","importance":"SECONDARY","hasFetcher":true,"props":[{"__typename":"LiteralProp","name":"id","value":"elsewhere"},{"__typename":"LiteralProp","name":"sectionHeader","value":"Elsewhere on the BBC"},{"__typename":"LiteralProp","name":"showImage","value":true},{"__typename":"LiteralProp","name":"showSummary","value":true},{"__typename":"RequestContext","name":"country","lookup":"country"},{"__typename":"StoreReader","name":"section","lookup":"metadata.section.uri","store":"article"},{"__typename":"RequestContext","name":"language","lookup":"language"}]},{"name":"dotcom-ad","importance":"TERTIARY","hasFetcher":false,"props":[{"__typename":"LiteralProp","name":"slot","value":"piano-sidebar"},{"__typename":"FeatureToggle","name":"enableDotcomAds","lookup":"enableDotcomAds"}]},{"name":"onward-journeys","importance":"SECONDARY","hasFetcher":true,"props":[{"__typename":"LiteralProp","name":"id","value":"mostRead"},{"__typename":"LiteralProp","name":"sectionHeader","value":"Most Read"},{"__typename":"LiteralProp","name":"expiresInMs","value":3600000},{"__typename":"RequestContext","name":"country","lookup":"country"},{"__typename":"StoreReader","name":"section","lookup":"metadata.section.uri","store":"article"},{"__typename":"RequestContext","name":"language","lookup":"language"}]},{"name":"dotcom-ad","importance":"TERTIARY","hasFetcher":false,"props":[{"__typename":"LiteralProp","name":"slot","value":"mpu_bottom"},{"__typename":"FeatureToggle","name":"enableDotcomAds","lookup":"enableDotcomAds"}]},{"name":"dotcom-ad","importance":"TERTIARY","hasFetcher":false,"props":[{"__typename":"LiteralProp","name":"slot","value":"adsense"},{"__typename":"FeatureToggle","name":"enableDotcomAds","lookup":"enableDotcomAds"}]}]},{"layout":{"name":"FULL","props":{}},"containers":[{"name":"dotcom-ad","importance":"TERTIARY","hasFetcher":false,"props":[{"__typename":"LiteralProp","name":"slot","value":"piano-footer"},{"__typename":"FeatureToggle","name":"enableDotcomAds","lookup":"enableDotcomAds"}]}]},{"layout":{"name":"FULL","props":{}},"containers":[{"name":"sign-in-prompt","importance":"TERTIARY","hasFetcher":false,"props":[{"__typename":"RequestContext","name":"env","lookup":"env"},{"__typename":"StoreReader","name":"signInPrompt","lookup":"signInPrompt","store":"bbcAccount"},{"__typename":"StoreReader","name":"pageType","lookup":"pageType","store":"bbcAccount"},{"__typename":"StoreWriter","name":"setSignInPrompt","lookup":"signInPrompt","store":"bbcAccount"}]}]}],"footer":[{"layout":{"name":"FULL","props":{}},"containers":[{"name":"service-bar","importance":"SECONDARY","hasFetcher":true,"props":[{"__typename":"LiteralProp","name":"product","value":"news"},{"__typename":"RequestContext","name":"language","lookup":"language"}]},{"name":"footer-promos","importance":"SECONDARY","hasFetcher":true,"props":[{"__typename":"LiteralProp","name":"identifiers","value":"NEWS_PS,news_ps"},{"__typename":"LiteralProp","name":"language","value":"en-GB"},{"__typename":"LiteralProp","name":"country","value":"us"}]}]},{"layout":{"name":"FULL","props":{}},"containers":[{"name":"global-footer","importance":"PRIMARY","hasFetcher":true,"props":[],"fetchParams":[{"__typename":"RequestContext","name":"country","lookup":"country"},{"__typename":"RequestContext","name":"language","lookup":"language"},{"__typename":"RouteParam","name":"service","lookup":"service"}]}]}]},"stores":[{"name":"analytics","type":"InMemory","initialState":{"props":[{"__typename":"LiteralProp","name":"page","value":{"contentId":"urn:bbc:cps:40fcfa29-a11d-4db3-846a-55e7cab9d1c4″,"name":"news.world.us_and_canada.story.57770436.page","destination":"NEWS_GNL","producer":"NEWS","section":"world::us_and_canada","contentType":"article","language":"en","additionalProperties":{"app_name":"news","custom_var_1″:"2021-07-08T18:56:19.000Z","custom_var_2″:"2021-07-08T21:18:43.000Z"}}},{"__typename":"LiteralProp","name":"sections","value":["News","News – us-and-canada","News – STY","News – us-and-canada – STY","News – news-category"]}]}},{"name":"userLocationData","type":"InMemory","initialState":{"props":[{"__typename":"LiteralProp","name":"userLocationData","value":{}}]}},{"name":"article","type":"InMemory","initialState":{"props":[{"__typename":"LiteralProp","name":"metadata","value":{"id":"urn:bbc:ares::asset:news/world-us-canada-57770436″,"assetId":"57770436″,"curie":"http://www.bbc.co.uk/asset/40fcfa29-a11d-4db3-846a-55e7cab9d1c4″,"locators":{"canonicalUrl":"https://www.bbc.co.uk/news/world-us-canada-57770436″},"seoHeadline":"Biden defends decision to end Afghan military operation","indexImage":{"alt":"Biden","originalSrc":"https://c.files.bbci.co.uk/10CAD/production/_119318786_gettyimages-1233874918.jpg","iChefRecipe":"https://ichef.bbci.co.uk/news/$recipe/branded_news/10CAD/production/_119318786_gettyimages-1233874918.jpg","width":1024,"height":576,"src":"https://ichef.bbci.co.uk/news/1024/branded_news/10CAD/production/_119318786_gettyimages-1233874918.jpg"},"type":"STY","options":{"isIgorSeoTagsEnabled":false,"includeComments":false,"allowRightHandSide":true,"isFactCheck":false,"allowDateStamp":true,"suitableForSyndication":true,"hasNewsTracker":false,"allowRelatedStoriesBox":true,"isKeyContent":false,"allowHeadline":true,"allowAdvertising":true,"hasContentWarning":false,"isBreakingNews":false,"allowPrintingSharingLinks":true},"languageCode":"en-gb","assetUri":"/news/world-us-canada-57770436″,"description":""The status quo was not an option," the fourth president to oversee the war said as violence flares.","lastUpdated":1625779131910,"firstPublished":1625770579000,"lastPublished":1625779123000,"analytics":{"page":{"name":"news.world.us_and_canada.story.57770436.page","contentId":"urn:bbc:cps:40fcfa29-a11d-4db3-846a-55e7cab9d1c4″,"section":"world::us_and_canada","producer":"NEWS","additionalProperties":{"custom_var_1″:"2021-07-08T18:56:19.000Z","custom_var_2″:"2021-07-08T21:18:43.000Z"}}},"site":{"name":"BBC News","uri":"/news"},"section":{"name":"US & Canada","uri":"/news/world/us_and_canada"},"host":"www.bbc.co.uk","canonical":"https://www.bbc.co.uk/news/world-us-canada-57770436″,"amp":"https://www.bbc.co.uk/news/world-us-canada-57770436.amp","title":{"full":"Biden defends decision to end Afghan military operation – BBC News","short":"Biden defends decision to end Afghan military operation"},"contributor":null,"social":{"facebook":{"admins":"100004154058350″,"app_id":"1609039196070050″,"pages":"1143803202301544,317278538359186,1392506827668140,742734325867560,185246968166196,156060587793370,137920769558355,193435954068976,21263239760,156400551056385,929399697073756,154344434967,228735667216,80758950658,260212261199,294662213128,1086451581439054,283348121682053,295830058648,239931389545417,304314573046,310719525611571,647687225371774,1159932557403143,286567251709437,1731770190373618,125309456546,163571453661989,285361880228,512423982152360,238003846549831,176663550714,260967092113,118450564909230,100978706649892,15286229625,122103087870579,120655094632228,102814153147070,124715648647,153132638110668,150467675018739″,"url":"https://www.facebook.com/bbcnews"},"twitter":{"card":"summary_large_image","user":"@BBCNews"}},"schemaOrg":{"logo":"https://www.bbc.co.uk/news/special/2015/newsspec_10857/bbc_news_logo.png?cb=1″,"noBylinesPolicy":"http://www.bbc.co.uk/news/help-41670342#authorexpertise","publishingPrinciples":"http://www.bbc.co.uk/news/help-41670342″},"microsoft":{"tileColor":"#bb1919″,"tileImage":"BBC News"}}},{"__typename":"LiteralProp","name":"tags","value":[{"title":"Afghanistan","url":"/news/topics/c8nq32jw5r5t","isEvent":false},{"title":"Taliban","url":"/news/topics/ckgj731eel1t","isEvent":false},{"title":"United States","url":"/news/topics/cx1m7zg01xyt","isEvent":false},{"title":"War in Afghanistan (2001-present)","url":"/news/topics/c6n97z84601t","isEvent":true}]}]}},{"name":"product-navigation","type":"InMemory","initialState":{"props":[{"__typename":"LiteralProp","name":"assetUri","value":"/news/world/us_and_canada"},{"__typename":"LiteralProp","name":"sectionName","value":"US & Canada"}]}},{"name":"bbcAccount","type":"InMemory","initialState":{"props":[{"__typename":"LiteralProp","name":"signInPrompt","value":{"show":false,"userOrigin":null,"ptrt":null}},{"__typename":"LiteralProp","name":"pageType","value":"content"}]}}],"headers":{"content-return-type":"STY"}},"addons":[{"name":"analytics","importance":"TERTIARY","props":[{"__typename":"StoreReader","name":"page","lookup":"page","store":"analytics"},{"__typename":"StoreReader","name":"title","lookup":"title","store":"analytics"},{"__typename":"StoreReader","name":"sections","lookup":"sections","store":"analytics"},{"__typename":"StoreReader","name":"type","lookup":"type","store":"analytics"},{"__typename":"StoreReader","name":"isUkCombined","lookup":"userLocationData.isUkCombined","store":"userLocationData"},{"__typename":"StoreReader","name":"skipLocationCheck","lookup":"userLocationData.error","store":"userLocationData"}]},{"name":"international-redirect","importance":"TERTIARY","props":[{"__typename":"StoreWriter","name":"setUserLocationData","lookup":"userLocationData","store":"userLocationData"},{"__typename":"RequestContext","name":"env","lookup":"env"},{"__typename":"RequestContext","name":"country","lookup":"country"},{"__typename":"Cookie","name":"countryOverride","lookup":"international_redirect_country_override"}]},{"name":"document-metadata","importance":"PRIMARY","props":[{"__typename":"LiteralProp","name":"title","value":"Biden defends decision to end Afghan military operation – BBC News"},{"__typename":"LiteralProp","name":"description","value":""The status quo was not an option," the fourth president to oversee the war said as violence flares."},{"__typename":"LiteralProp","name":"linkTags","value":[{"rel":"canonical","href":"https://www.bbc.co.uk/news/world-us-canada-57770436″},{"rel":"amphtml","href":"https://www.bbc.co.uk/news/world-us-canada-57770436.amp"},{"rel":"alternate","hrefLang":"en-gb","href":"https://www.bbc.co.uk/news/world-us-canada-57770436″},{"rel":"alternate","hrefLang":"en","href":"https://www.bbc.com/news/world-us-canada-57770436″}]},{"__typename":"LiteralProp","name":"metaTags","value":[{"name":"application-name","content":"BBC News"},{"name":"mobile-web-app-capable","content":"yes"},{"name":"msapplication-TileImage","content":"BBC News"},{"name":"msapplication-TileColor","content":"#bb1919″},{"name":"cleartype","http-equiv":"cleartype","content":"on"}]},{"__typename":"LiteralProp","name":"openGraph","value":{"article:author":"https://www.facebook.com/bbcnews","fb:admins":"100004154058350″,"fb:app_id":"1609039196070050″,"fb:pages":"1143803202301544,317278538359186,1392506827668140,742734325867560,185246968166196,156060587793370,137920769558355,193435954068976,21263239760,156400551056385,929399697073756,154344434967,228735667216,80758950658,260212261199,294662213128,1086451581439054,283348121682053,295830058648,239931389545417,304314573046,310719525611571,647687225371774,1159932557403143,286567251709437,1731770190373618,125309456546,163571453661989,285361880228,512423982152360,238003846549831,176663550714,260967092113,118450564909230,100978706649892,15286229625,122103087870579,120655094632228,102814153147070,124715648647,153132638110668,150467675018739″,"og:description":""The status quo was not an option," the fourth president to oversee the war said as violence flares.","og:image":"https://ichef.bbci.co.uk/news/1024/branded_news/10CAD/production/_119318786_gettyimages-1233874918.jpg","og:image:alt":"Biden","og:locale":"en_GB","og:site_name":"BBC News","og:title":"Biden defends decision to end Afghan military operation","og:type":"article","og:url":"https://www.bbc.com/news/world-us-canada-57770436″,"article:section":"US & Canada"}},{"__typename":"LiteralProp","name":"schemaOrg","value":{"@context":"http://schema.org","@type":"ReportageNewsArticle","url":"https://www.bbc.co.uk/news/world-us-canada-57770436″,"publisher":{"@type":"NewsMediaOrganization","name":"BBC News","publishingPrinciples":"http://www.bbc.co.uk/news/help-41670342″,"logo":{"@type":"ImageObject","url":"https://www.bbc.co.uk/news/special/2015/newsspec_10857/bbc_news_logo.png?cb=1″}},"datePublished":"2021-07-08T21:18:43.000Z","dateModified":"2021-07-08T21:18:43.000Z","headline":"Biden defends decision to end Afghan military operation","image":{"@type":"ImageObject","width":1024,"height":576,"url":"https://ichef.bbci.co.uk/news/1024/branded_news/10CAD/production/_119318786_gettyimages-1233874918.jpg"},"thumbnailUrl":"https://ichef.bbci.co.uk/news/1024/branded_news/10CAD/production/_119318786_gettyimages-1233874918.jpg","mainEntityOfPage":"https://www.bbc.co.uk/news/world-us-canada-57770436″,"author":{"@type":"NewsMediaOrganization","name":"BBC News","noBylinesPolicy":"http://www.bbc.co.uk/news/help-41670342#authorexpertise","logo":{"@type":"ImageObject","url":"https://www.bbc.co.uk/news/special/2015/newsspec_10857/bbc_news_logo.png?cb=1″}}}},{"__typename":"LiteralProp","name":"twitterCard","value":{"twitter:card":"summary_large_image","twitter:creator":"@BBCNews","twitter:description":""The status quo was not an option," the fourth president to oversee the war said as violence flares.","twitter:domain":"www.bbc.co.uk","twitter:image:src":"https://ichef.bbci.co.uk/news/1024/branded_news/10CAD/production/_119318786_gettyimages-1233874918.jpg","twitter:image:alt":"Biden","twitter:site":"@BBCNews","twitter:title":"Biden defends decision to end Afghan military operation"}},{"__typename":"TemplateProp","name":"manifestUrl","template":"${staticBaseUrl}/${manifestName}","templateProps":[{"__typename":"ConfigProp","name":"manifestName","lookup":"manifestName"},{"__typename":"ConfigProp","name":"staticBaseUrl","lookup":"staticBaseUrl"}]}]},{"name":"comscore-mmx","importance":"SECONDARY","props":[{"__typename":"FeatureToggle","name":"enableComscoreMmx","lookup":"enableComscoreMmx"},{"__typename":"RequestContext","name":"nonce","lookup":"nonce"}]},{"name":"dotcom","importance":"SECONDARY","props":[{"__typename":"QueryParam","name":"testMode","lookup":"ads-test"},{"__typename":"FeatureToggle","name":"enableDotcomAds","lookup":"enableDotcomAds"},{"__typename":"RequestContext","name":"nonce","lookup":"nonce"},{"__typename":"LiteralProp","name":"adCampaignKeyword"},{"__typename":"StoreReader","name":"tags","lookup":"tags","store":"article"}]},{"name":"web-vitals","importance":"TERTIARY","props":[{"__typename":"LiteralProp","name":"reportParams","value":{"pageType":"webcore-article"}}]}],"analytics":{},"path":"/news/world-us-canada-57770436″},"stores":{"analytics":{"page":{"contentId":"urn:bbc:cps:40fcfa29-a11d-4db3-846a-55e7cab9d1c4″,"name":"news.world.us_and_canada.story.57770436.page","destination":"NEWS_GNL","producer":"NEWS","section":"world::us_and_canada","contentType":"article","language":"en","additionalProperties":{"app_name":"news","custom_var_1″:"2021-07-08T18:56:19.000Z","custom_var_2″:"2021-07-08T21:18:43.000Z"}},"sections":["News","News – us-and-canada","News – STY","News – us-and-canada – STY","News – news-category"]},"userLocationData":{"userLocationData":{}},"article":{"metadata":{"id":"urn:bbc:ares::asset:news/world-us-canada-57770436″,"assetId":"57770436″,"curie":"http://www.bbc.co.uk/asset/40fcfa29-a11d-4db3-846a-55e7cab9d1c4″,"locators":{"canonicalUrl":"https://www.bbc.co.uk/news/world-us-canada-57770436″},"seoHeadline":"Biden defends decision to end Afghan military operation","indexImage":{"alt":"Biden","originalSrc":"https://c.files.bbci.co.uk/10CAD/production/_119318786_gettyimages-1233874918.jpg","iChefRecipe":"https://ichef.bbci.co.uk/news/$recipe/branded_news/10CAD/production/_119318786_gettyimages-1233874918.jpg","width":1024,"height":576,"src":"https://ichef.bbci.co.uk/news/1024/branded_news/10CAD/production/_119318786_gettyimages-1233874918.jpg"},"type":"STY","options":{"isIgorSeoTagsEnabled":false,"includeComments":false,"allowRightHandSide":true,"isFactCheck":false,"allowDateStamp":true,"suitableForSyndication":true,"hasNewsTracker":false,"allowRelatedStoriesBox":true,"isKeyContent":false,"allowHeadline":true,"allowAdvertising":true,"hasContentWarning":false,"isBreakingNews":false,"allowPrintingSharingLinks":true},"languageCode":"en-gb","assetUri":"/news/world-us-canada-57770436″,"description":""The status quo was not an option," the fourth president to oversee the war said as violence flares.","lastUpdated":1625779131910,"firstPublished":1625770579000,"lastPublished":1625779123000,"analytics":{"page":{"name":"news.world.us_and_canada.story.57770436.page","contentId":"urn:bbc:cps:40fcfa29-a11d-4db3-846a-55e7cab9d1c4″,"section":"world::us_and_canada","producer":"NEWS","additionalProperties":{"custom_var_1″:"2021-07-08T18:56:19.000Z","custom_var_2″:"2021-07-08T21:18:43.000Z"}}},"site":{"name":"BBC News","uri":"/news"},"section":{"name":"US & Canada","uri":"/news/world/us_and_canada"},"host":"www.bbc.co.uk","canonical":"https://www.bbc.co.uk/news/world-us-canada-57770436″,"amp":"https://www.bbc.co.uk/news/world-us-canada-57770436.amp","title":{"full":"Biden defends decision to end Afghan military operation – BBC News","short":"Biden defends decision to end Afghan military operation"},"contributor":null,"social":{"facebook":{"admins":"100004154058350″,"app_id":"1609039196070050″,"pages":"1143803202301544,317278538359186,1392506827668140,742734325867560,185246968166196,156060587793370,137920769558355,193435954068976,21263239760,156400551056385,929399697073756,154344434967,228735667216,80758950658,260212261199,294662213128,1086451581439054,283348121682053,295830058648,239931389545417,304314573046,310719525611571,647687225371774,1159932557403143,286567251709437,1731770190373618,125309456546,163571453661989,285361880228,512423982152360,238003846549831,176663550714,260967092113,118450564909230,100978706649892,15286229625,122103087870579,120655094632228,102814153147070,124715648647,153132638110668,150467675018739″,"url":"https://www.facebook.com/bbcnews"},"twitter":{"card":"summary_large_image","user":"@BBCNews"}},"schemaOrg":{"logo":"https://www.bbc.co.uk/news/special/2015/newsspec_10857/bbc_news_logo.png?cb=1″,"noBylinesPolicy":"http://www.bbc.co.uk/news/help-41670342#authorexpertise","publishingPrinciples":"http://www.bbc.co.uk/news/help-41670342″},"microsoft":{"tileColor":"#bb1919″,"tileImage":"BBC News"}},"tags":[{"title":"Afghanistan","url":"/news/topics/c8nq32jw5r5t","isEvent":false},{"title":"Taliban","url":"/news/topics/ckgj731eel1t","isEvent":false},{"title":"United States","url":"/news/topics/cx1m7zg01xyt","isEvent":false},{"title":"War in Afghanistan (2001-present)","url":"/news/topics/c6n97z84601t","isEvent":true}]},"product-navigation":{"assetUri":"/news/world/us_and_canada","sectionName":"US & Canada"},"bbcAccount":{"signInPrompt":{"show":false,"userOrigin":null,"ptrt":null},"pageType":"content"}},"route":"/news/:id"};