At least 41 women have been burned, shot, or hacked to death with machetes in a massacre at a Honduras female prison after violent clashes between rival gangs sparked a fire that tore through part of the facility, police said.
The riots broke out on Tuesday, June 20.
President Xiomara Castro said Tuesday's riot at the prison in the town of Tamara, about 30 miles (50 kilometres) northwest of Honduras' capital, was 'planned by maras (street gangs) with the knowledge and acquiescence of security authorities.'
Castro pledged to take 'drastic measures,' but did not explain how inmates identified as members of the Barrio 18 gang were able to get guns and machetes into the prison, or move freely into an adjoining cell block and slaughter all the prisoners there.
Sandra Rodríguez Vargas, the assistant commissioner for Honduras' prison system, said the attackers 'removed' guards at the facility – none appeared to have been injured – around 8am on Tuesday and then opened the gates to an adjoining cell block and began massacring women there. They started a fire that left cell walls blacked and bunks reduced to twisted heaps of metal.
Twenty-six of the victims were burned to death and the remainder shot or stabbed, said Yuri Mora, the spokesman for Honduras' national police investigation agency. At least seven inmates were being treated at a Tegucigalpa hospital.
The riot appears to be the deadliest at a female detention center in Central America since 2017, when girls at a shelter for troubled youths in Guatemala set fire to mattresses to protest rapes and other mistreatment at the overcrowded institution. The smoke and fire killed 41 girls.
The worst prison disaster in a century also occurred in Honduras, in 2012 at the Comayagua penitentiary, where 361 inmates died in a fire possibly caused by a match, cigarette or some other open flame.
There were ample warnings ahead of Tuesday's tragedy, according to Johanna Paola Soriano Euceda, who was waiting outside the morgue in Tegucigalpa for news about her mother, Maribel Euceda, and sister, Karla Soriano. Both were on trial for drug trafficking but were held in the same area as convicted prisoners.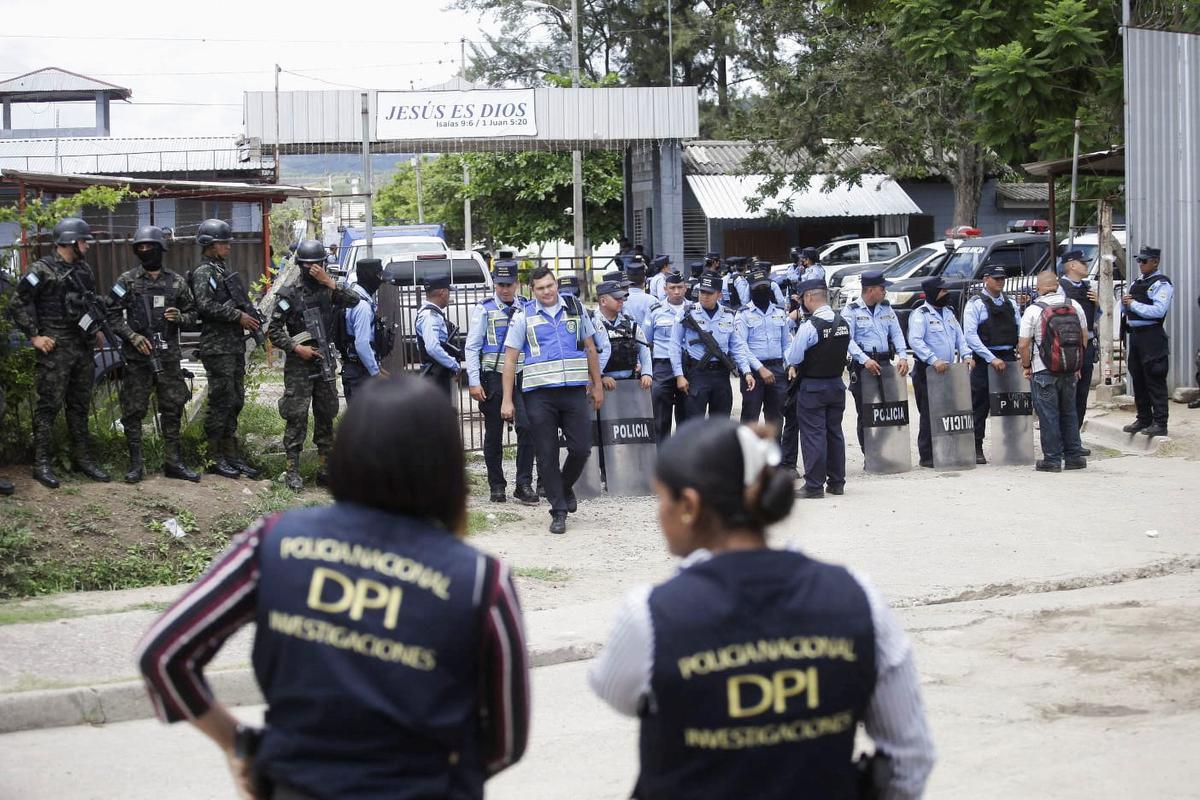 Soriano Euceda said they had told her Sunday that 'they (Barrio 18 members) were out of control, they were fighting with them all the time. That was the last time we talked.'
Officials described the killings as a 'terrorist act,' but also acknowledged that gangs essentially had ruled some parts of the prison.
Julissa Villanueva, head of the prison system, suggested the riot started because of recent attempts by authorities to crack down on illicit activity inside prison walls and called Tuesday's violence a reaction to moves 'we are taking against organized crime.'
'We will not back down,' Villanueva said in a televised address after the riot.
Gangs wield broad control inside the country's prisons, where inmates often set their own rules and sell prohibited goods.
They were also apparently able to smuggle in guns and other weapons, a recurring problem in Honduran prisons.
'The issue is to prevent people from smuggling in drugs, grenades and firearms,' said Honduran human rights expert Joaquin Mejia. 'Today's events show that they have not been able to do that.'
Meanwhile, the grim task continued of trying to identify the bodies, some terribly burned.
'The forensic teams that are removing bodies confirm they have counted 41,' said Mora.
Azucena Martinez, whose daughter was also being held at the prison, said: 'There are a lot of dead, 41 already. We don't know if our relatives are also in there, dead.'